Basel is such an underrated city in Switzerland. The Altstadt (old town) is charming, the pharmaceutical centres are modern and sleek, the museums are world-class, and the surroundings are absolutely beautiful! Here's a list of my favourite things to do in Basel.
Basel is an incredible city. It's absolutely stunning, though often overlooked, as people flock to Zurich or other big cities instead. If you're in Basel, definitely try to make the most of it! There's so much to do in this beautiful place. Here's what to do in Basel, Switzerland.
What to do in Basel if you like museums
Basel is certainly your place! Basel has so many museums in the surrounding area that are well worth a visit. Basel is known around the world for Art Basel, which happens in Basel in June.
It's also important to let you guys know that quite a few museums are free on the first Sunday of the month. Because admission prices can be steep in Switzerland (along with literally everything else), this is worth noting!
The Basel Paper Mill Museum
This museum is housed in a medieval paper mill. This is one of the more unusual things to do in Basel, but it's awesome. You can watch papermaking being done on the old machines, which is absolutely fascinating. While paper doesn't necessarily seem like a fascinating topic, this historical museum is a must-visit. There's also a restaurant on site. It's located along the Rhine River, so you get a beautiful view as well.
Admission: costs 15 CHF (reduced for students/disabled)
Hours: 11 am – 5 pm Sunday-Friday, Saturday 1-5pm, Closed Mondays.
Address: St. Alban-Tal 37
Arrive By Public Transport: take tram 2,3,6,8,10,11,14,15, or 16 to Bankverein.
The Vitra Design Museum
If you're interested in design, the Vitra Museum is a must-see. Some of the most famous designs from the 1800s until the present are located within the exhibition. The building itself is an absolute beauty, and it's funky exterior certainly matches the furniture inside. If you're keen to learn more about the architecture, there's a tour specifically for that. If you're more interested in the designs inside, tickets cost 11 CHF but there are discounted tickets for students, young people, seniors, the disabled, and if you buy three or more tickets.
Admission: 11 CHF
Hours: 10 am – 6 pm daily
Address: Charles-Eames-Straße 2
Arrive by public transport: tram 8 to Weil am Rhein Bahnhof/Zentrum or bus 55 to "Vitra"
The Jean Tinguely Museum
This museum houses some of the sculptures and paintings of the Swiss artist, Jean Tinguely. It's located just outside the Old Basel City Centre, and it's a popular place for people to start floating down the Rhine in the Summertime.
Admission: 18 CHF
Hours: 11 am – 6 pm, closed Mondays
Address: Paul Sacher-Anlage 2
Arrive by public transport: Bus 36 or 38, tram 6
The Culture Museum
This is my favourite museum in Basel. It's an absolutely stunning collection of incredible pieces that display cultures from around the world. I have so many favourite pieces in this museum, and I couldn't recommend it more if you're interested in other cultures. If you're interested in art and culture from around the world, this is absolutely worth a visit.
TIP: Most visitors don't realise that there's a fasnacht museum just next to this museum, and entry is free with your ticket. Fasnacht is one of Basel's best traditions, and it's definitely worth learning a little more about this crazy festival.
Admission: 16 CHF
Hours: 10 am – 5 pm, closed Mondays
Address: Münsterplatz 20
Arrive by public transport: Bus 33, 34, 80, 81 & trams 10,11,14,17
The Spielzeug Welten Museum
Located in Barfüsserplatz, the Spielzeug Welten museum is a toy and dollhouse museum unlike any other. It's Europe's largest toy museum and is a great way to spend a few hours. It's also great to visit with kids!
Admission: 7 CHF, free for children under 16.
Hours: 10 am – 6 pm daily
Address: Steinenvorstadt 1
Arrive by public transport: trams 6,8,11,14,& 15
The Kunstmuseum
This is a famous museum throughout the world, and for good reason! This museum is beautiful. The art is laid out incredibly well throughout the building, and the building compliments the art perfectly. I really enjoy wandering through this museum. This is one of my favourite things to do in Basel on a rainy day.
Admission: 16 CHF
Hours: 10 am – 6 pm, closed Mondays
Address: St. Alban-Graben 16
Arrive by public transport: tram 2 to Bankverein
Fondation Beyeler
This is just a quick tram ride away from Basel's city centre. Located in Riehen, The Fondation Beyeler is home to beautiful art, and there are always cool exhibitions travelling through. The grounds themself are absolutely beautiful and you get to see so much greenery in the surrounding area. A great museum to visit!
Admission: 25 CHF
Hours: 10 am – 6pm
Address: Baselstrasse 101
Arrive by public transport: trams 2 & 6
What to do in Basel if you like the outdoors
While Basel isn't located in the Alps, there's still so much to explore outside, no matter the season! You can't get bored in this region.
Explore the Trails Around Grellingen
Grellingen is a great place to visit in the Wintertime, as the snow doesn't make the conditions dangerous for a long walk/hike. If you're keen to see snow during the winter, this is a good place to go- it's like a winter wonderland! Because Basel is a little micro-climate that doesn't really get extreme temperatures, snow is a little hard to find sometimes. This is the place to go! It's a quick train ride from Basel and absolutely worth a little visit. There's also some caving around here (but don't go caving alone/if you're inexperienced!).
How to get there: there's a train from Basel SBB to Grellingen.
Skulpturenweg Reinach
This is easily accessible from Basel's city centre and is a great way to spend a few hours. This is also a great walk to do with kids. Translated literally to "Sculpture Way," this path takes you to heaps of wooden sculptures. It's a beautiful walk and a great place to bring some picnic stuff on a good day.
How to get there: tram 11 to Reinach BL
Tobias Rehberger's 24 Stop Walk (Through the Vineyards!)
This walk is an absolutely lovely one. In the summertime, there are loads of wild blackberries. There are 24 markers that are super colourful and bright, and counting them as you walk through is always a fun time. You walk through vineyards and end at the Vitra Museum. This is one of my favourite walks near Basel. More information can be found here.
Park Im Grüene
This park is a really beautiful place to go for a sunset walk. There's a giant dinosaur (can't miss it), football pitches, and lots of plants. It's a great place to run (my personal favourite!), and there are some bunnies and chickens to say hello to.
How to get there: Tram 10 or 11 to Freilagerplatz
If You Like to Eat & Drink…
Basel doesn't exactly seem like a foodie kinda place, but there are a few hidden gems that are worth a visit if you need recommendations!
Xocolatl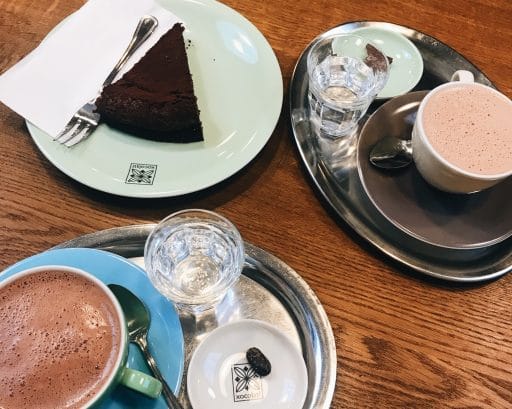 This is a MUST VISIT. If you like chocolate, you absolutely need to pay a visit to Xocolatl. The hot chocolate menu is huge and they have something for everyone. The staff is very friendly and accommodating (they helped me find a dairy-free hot chocolate!), and the hot chocolate is amazing. There are literally SO many to choose from. The classic with whipped cream is always super indulgent and amazing. Also, their flourless chocolate torte was the best thing I've ever eaten. I actually dream about it. Absolute must. If you've fallen in love with a certain chocolate, they have tonnes of artisan chocolates to purchase.
Hours: 9 am – 6:30 pm weekdays, 9 am – 6 pm Saturday, closed Sundays.
Address: Marktgasse 6
Markthalle
If you're not entirely sure what you want to eat, this place has lots of options from all around the world. Markthalle is also in a great location and is a perfect place to stop near Basel SBB (the train station). I personally like the Argentinian and Venezuelan stalls, though everything I've tried there has been a winner!
Hours: varies daily, but open during meal times (until 5 pm on Sundays but later other days).
Address: Steinentorberg 20
Kleinbasel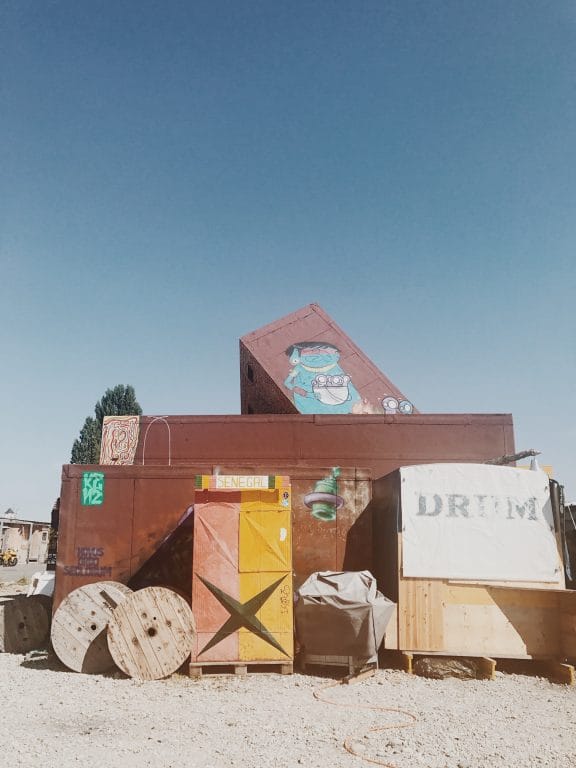 This district is awesome. It's the more 'hipster' and grungy (for Switzerland at least) area, and the food scene around here is really cool. In the Summertime, along the river, there's a big outdoor area that has little stalls to eat from. I like this area, and even if you're not looking for food, I recommend you check it out.
Cheap Things to Do in Basel
I know you're thinking that anything and everything in Switzerland will be expensive, and while that's often true, there's loads to do in Basel that won't break the bank!
Read my guide to travelling Switzerland on a budget!
Pick Tulips in Bruderholz
Around April, there's a pick-your-own tulip garden near the water tower in Bruderholz. It's 0.80 francs per tulip. There's no one manning the station, where they provide the knives, rubber boots, and string (for tying the bouquet), so it's all based on the honour code! It's a fun little outing and a great way to brighten up your home or hotel room.
Walk or Float Down the Rhine River
The Rhine is a lovely part of Basel! There are some beautiful walking paths along the river, and during the late spring and summer, restaurants open up, people float down the river on their Wickelfisch, and it's a great atmosphere! I did this on my rest day during the Eurovelo 15. You can read about my experience floating down the river here.
Take a Day Trip
The SBB connects Basel to so many amazing little towns! I absolutely love checking out the Alsatian region, but Bad Säckingen is a great place for a little walk and 1 euro gelato.
Walk around the Altstadt (old town)
Basel's old town is absolutely adorable! In the morning, there's a market in Marktplatz, which is beautiful! I love the red building (city hall / town hall) as a backdrop to the colourful fruits and veggies. The city center is one of my favourite places to just wander in Basel Switzerland. Walk up towards the Basel Munster for great views of the Rhine. If you're looking for a cheap place to grab a coffee and pastry, the McDonalds right across from the city hall has a good McCafe with a view.
Go up to the top of the Basel Munster
The Basel Munster is the beautiful red sandstone church in Basel. You can climb up the steep stairs for just CHF4! It's well worth the cost (and little trek up!). The views of the city and Munsterplatz are beautiful. I especially like it during the wintertime, when the Christmas markets are right underneath the church.
Rent a bicycle and explore!
Basel is a great hub to explore from! You can ride your bike around Basel or the Rhine, and if you're looking for something a little more challenging, cycle out to Rheinfelden or another cute little town!
Walk from Switzerland to Germany and France!
The great thing about Basel is that it's a border town. You can walk from Basel to Weil am Rhein (DE) to Saint Louis (FR) in just a couple hours! Make sure to get a pastry in France and a beer in Germany!
Seasonal Attractions in Basel
While there are tonnes of things to do in Basel year-round, the city becomes even more magical and lively when something seasonal is happening. These are some of my favourite times to be in Basel, and there's so much to do during these periods.
Fasnacht
Fasnacht is Basel's celebration of Carnival. People dress up in different costumes, all with a certain motif, and at 2am, there's a parade with amazing music and political-inspired floats. In the afternoon, there's another parade and they chuck candy at you!
Fasnacht takes place between February and March each year.
Herbstmesse
Herbstmesse is Basel's Autumn fair. It was traditionally a pottery-market, but now, the city comes alive with tonnes of rides, games, and stalls to get food and amazing gifts, including pottery. It's one of my favourite times to be in Basel, and it lasts a good few weeks!
Herbstmesse occurs in October/November each year.
Christmas Markets in Basel
This is my favourite time to be in Basel. I absolutely adore the Christmas markets that get set up in late November and last through December. It's a magical time to visit this region, and Basel is the perfect base for exploring the Christmas Markets in Alsace. These Christmas markets are an absolute must. If you come, make sure to get hot chocolate with whipped cream (heiße schoggi mit schlagg) from Schoggi-Peter.
---
Like this post? Pin it!