This is one of India's most beautiful regions, and seeing it on a motorbike was the most incredible experience. We stopped in small villages every night and woke up to the most amazing views. Here's my guide to independently motorbiking through this incredible part of India.
Nearly four years ago, I met a traveller in Vietnam who raved about the Spiti Valley in India, where he had just come from. He showed me photos of incredible valleys, blue rivers, and towering mountains. Right then and there, I decided I was going to go someday. And we did it! The Spiti Valley is an absolutely amazing place. The views are stunning and the experience is unlike any other. Here's my guide to independently motorbiking the Spiti Valley.
Renting a Motorcycle in Shimla
Phil and I rented a motorbike for about £12 a day. We rented from Shimla Rider, a great company located just outside of Shimla. We decided to pay 4000₹ more to have the bike picked up in Manali so we wouldn't have to drive it back. We also had a big bag full of trekking gear brought up to Manali for us so we wouldn't have it on the bike. 
Planning Your Itinerary
Throughout the entire ride, you'll be driving on main roads (though sometimes they don't feel like it). That being said, it would be a crime to only stay in the towns that fall along the road. The best views (and experiences) are found a little further away. If you're planning your own itinerary, make sure to stray away from the big roads. It's also important to do the Spiti Valley anti-clockwise, as this is best for acclimating properly! You also get great views coming this way, and you save the worst roads for last, when you've gotten the hang of driving in the valley. Phil and I ventured to many lovely little places. Our itinerary is below.
Our Itinerary & Experience
Day 1: Shimla to Sarahan
This day isn't too bad at all. You'll probably be stuck in some traffic, but you'll be on great roads. Along the side of the road, you'll see stands with people who sell photo opportunities where you dress up in Tibetan clothing and sit upon a yak- I found this quite funny to watch while driving by. You'll also pass loads of honey stalls- the beehives are in boxes along the road! There are also fruit stalls that sell some really yummy and fresh fruit.
When you reach Jeori, there are two roads up to Sarahan. The first is right in town along the main market- this is a tarmac road, however it is currently closed. The second road up to Sarahan is a little further outside of town, and much smaller. It's a rocky, somewhat sandy and muddy road. It'll be the worst road of this day, but it's not a bad road compared to what you'll get later on.
The main attraction in Sarahan is Shri Bhima Kali Temple. They have a guesthouse that you can stay in if rooms are available. Booking is iffy here- we met one couple who had called ahead to book a room in the temple guesthouse and they were told it was full, however, we showed up and asked for a room and got one! If you're told it's full, go anyway and check in person. The rooms are basic but big. Even if you don't stay here, the temple is worth a visit.
Eat at Hotel Srikhand Restaurant- the food here was delicious!
Day 2: Sarahan to Chitkul
This day is really lovely! Roads are good until you get into the hillsides near Chitkul (and even then, the roads are fine) and you'll drive by the river and a dam. The dam is full of turquoise water and it's so beautiful! The views around the hillsides are amazing all the way until you reach Chitkul. Chtikul is near the Tibetan border- in fact, it's the last inhabited village on the Indo-Tibetan road- so you'll be stopped before you enter the town for a police check where they will take down your passport and visa information.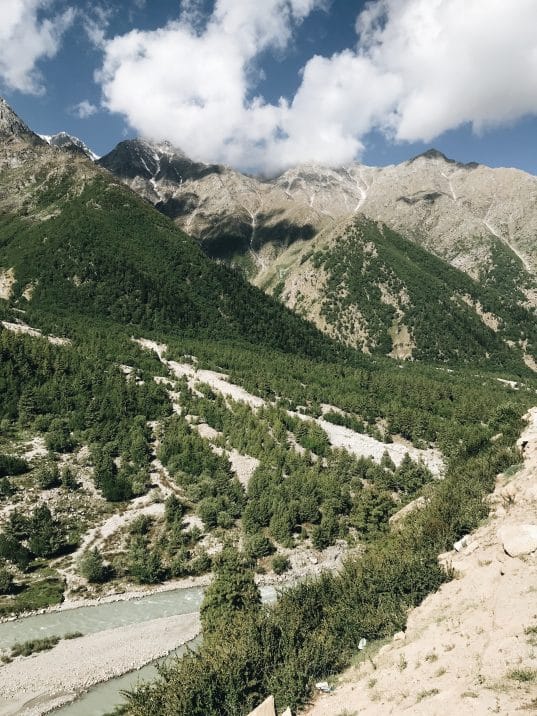 Day 3: Chitkul to Kalpa
You'll drive down along the same road you came up the day before, but the views look different from the opposite direction and it isn't boring at all! Kalpa is a tiny town on the hillsides, but the views of the mountains are pretty incredible. The roads are pretty decent this day. You'll have to stop in Rekong Peo to get your inner line permit, which you can do at the tourist office. This takes about 30 minutes, and while you can do it the day you leave for Nako, I recommend doing it this day.
Day 4: Kalpa to Nako
This day, you'll enter the Spiti Valley! The valley is overwhelmingly beautiful and vast. The roads are pretty good this day. There are lots of switchbacks on the way up to Nako. Nako is an amazing little patch of greenery in the dry valley. We stayed at the Lake View Hotel, which was right over the lake (duh) and it was a lovely place!
Day 5: Nako to Mud via Dankhar
Dankhar is a cute little town that seems to just come straight out of the valley. It's worth driving by and stopping for the view. To get to Mud, you have to go through the Pin Valley. This is way off the main road but the valley is incredible. The roads are unpaved but not terrible to drive on! The Pin Valley is green and only gets more lush later in the summertime. Mud is the starting place for many treks around the Pin Valley.
We stayed at the Tara Guesthouse which had a great view and good food!
Day 6: Mud to Kaza, Drive up to Hikkim, Komic, and Langza
Mud to Kaza is a short drive back through the Pin Valley. Kaza seems like a huge town after the tiny towns you've been staying in, but it's still charming. Once you've put your bags away in your guesthouse and had lunch, drive up to Hikkim, Komic, and Langza. They're a couple hundred meters higher than Kaza and you get clear views of the mountains above and the Spiti Valley below.
Day 7: Kaza to Chandratal Lake via Kee/Key, Kibber
This day, you'll cross Kunzum La, the mountain pass. The roads up to the pass are pretty good! Again, you'll be driving through some pretty amazing views.
Stop at the top of the pass, wehre there's a stupa and loads of prayer flags, as well as the best views of the Himalayas. The way down, the road deteriorates, and when you get off the main path and onto the Chandratal Lake road, the road is quite bad. You'll have to cross some big streams of water. The road is rocky, narrow, and uneven, but doable!
There are loads of camps near the lake. We stayed at a budget option, the Jamaica Camps. It was 1200₹ per person, which included a thali dinner and a small breakfast of buttered toast and chai. The tents were old, but very warm and pretty comfortable! We had the oldest tent, but I can imagine the newer ones are even nicer! You can also get better camps that can cost as much as 7000₹ (about 75 quid) that are pure luxury.
You'll have to give your passport details to a police officer in order to drive up the lake road, then it's a 10-minute walk to the lake.
Day 8: Chandratal Lake to Manali
Once again, you'll have to go on the bad lake road. Once you hit the main road, you have about 30 minutes of decent roads, and once you pass Batal, the roads get really rough. I'm talking big boulders in the middle of the road, crossing big streams of water, and lots of pebbles. You'd think that once you hit the Leh-Manali highway, the road would get better. We saw beautiful tarmac and got SO excited, but it only lasted about 10 meters. The road is very bumpy for a while and you will have a very sore bum. Luckily, the views are incredible.
What comes with great views is tourists. There's a section of road near Manali that takes AGES to get down because of all the tourist vehicles and people stopping and causing traffic. We were going faster on the bumpy terrible roads than we were travelling here.
Once you pass the big tourist area, it's about an hour ride into Manali, even though it's only about 20 kilometres.
---
I highly recommend driving a motorcycle (or hitching a ride on one like I did) through the Spiti Valley. The freedom you get with driving your own vehicle is great- you can stop whenever you want to, take breaks when you want to, and plan your own itinerary. The views you get on a motorbike are so different from what you'd get in a jeep or car- instead of just seeing out of a window, you have a 360* view of your surroundings.
AMAZING.
Like this post? Pin it!