I spent the summer in San Francisco and fell in love! I actually grew up in the Bay Area but left when I was about 4, so I got the chance to discover the city for the first time. Whilst there, I gathered a BUNCH of tips and recommendations from old and new friends, and I made my own memories, too! Here's the ultimate guide to San Francisco in three days.
A 3 Day San Francisco Itinerary & Guide – My tips & favourite things to do!
San Francisco is one of my favourite cities in the US. It's a small city, but there's so much to do, and the more moderate climate makes it enjoyable year-round (but make sure you pack a sweatshirt!). Here's my 3 day San Fransisco itinerary to help you make the most out of your trip to this iconic city.
When to visit San Francisco
San Francisco is a great year-round destination. The weather often surprises tourists, who expect all of California to be hot and balmy. San Francisco has cooler temperatures, with cool winters averaging at around 55F/13C and warm, but not hot, summers averaging at 70F/21C.
If you're looking to sightsee, I recommend visiting in September or October, when it's warmest and less crowded than the peak summer season. Winter is still pretty comfortable, though you'll definitely need to bring a jacket! Actually, bring a jacket year-round. June Gloom is a very real thing, thanks to Karl the fog, San Francisco's infamous resident, and you'll be glad you packed one.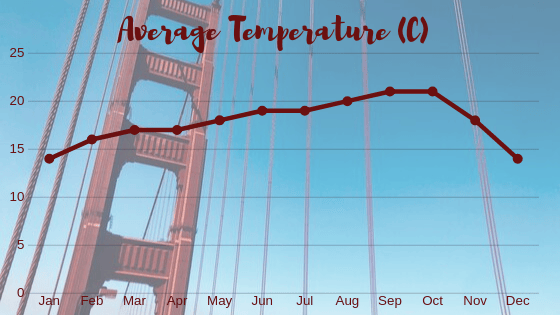 Things to Do in San Francisco
I fell in love with San Francisco over the 13 weeks I spent living there. I found that I was never bored in the city – there was always something to do, new events popping up, and of COURSE, there were the iconic touristy sights (most not at all overrated). I've actually fallen so in love with San Francisco that I've moved here, so you can trust that you're getting a local's guide to this city.
You'll definitely want to see the Golden Gate Bridge whilst in San Francisco – it's iconic! My favourite way to see it is by renting a bike (more on that in the San Francisco Itinerary section) and cycling across the bridge into Sausalito. Even if it's quite foggy in SF, you'll likely get good weather and sunshine in Sausalito.
The Ferry Building is lovely to walk around. I really enjoy walking from here to the Exploratorium, a museum that is so hands-on and interactive. There are plenty of children running around, and if that's going to bother you, the Exploratorium hosts an after-hours event every Thursday evening.
For food, I also LOVE North Beach for Italian and the Mission for some of the best burritos I've ever had.
Union Square, Coit Tower, and Lombard Street are nice to see, but they're quick stops that you can fit in between bigger sights.
Those are just SOME of the things you can do in San Francisco – I told you there was a lot to do! After the itinerary, I'll have more ways to customise the itinerary with even MORE suggestions.
General San Francisco Travel Tips
Don't come on a diet – San Francisco is such a foodie hub and you'll want to try so many different foods.
Bring a sweatshirt – Tourists inevitably end up buying overpriced SF sweatshirts because they don't realise how cold it can get!
Good walking shoes are essential – The city is incredibly walkable.
3 Day San Francisco Itinerary
Day 1: Golden Gate Park
Golden Gate Park is one of my favourite places in San Francisco to recharge. This is perfect for after a flight, when you want to explore but have a slower pace. The park is beautiful, lively, and there are plenty of attractions to see. I recommend bringing a sarong or picnic blanket and people watching near the conservatory of flowers.
Also located in Golden Gate Park, the De Young Museum is one of my favourites in the city. Even if you aren't interested in art, it's worth a visit to go up to the tower for a view of the park and San Francisco. It's free!
There's also the Japanese Tea Gardens and the Botanical Gardens to visit if you need some time to relax after your flight – this 3 day San Francisco itinerary is packed, so take this day easy if you can!
If you don't feel the need to relax, Golden Gate Park is one of my favourite places to run or cycle in the city. You're always looking at something new and exciting so it doesn't get boring (like running on a treadmill).
If you're planning on cycling through the park, I recommend picking up Lyft bikes and cycling to Ocean Beach. The closest Lyft Bike/Bay Wheels station is near the Panhandle, and you can drop them off at Ocean Beach near the Safeway. The ride takes around an hour and a half on the manual Lyft bikes (they're quite heavy) and around an hour on the ebikes. The way down is all flat and downhill, so expect some uphill on the return.
After you've explored Golden Gate Park, either take a bus or walk to Haight-Ashbury. It's a fun, funky neighbourhood with plenty of things to see. Make your way down to Alamo Square to see the Painted Ladies (made famous by Full House) down to Hayes Valley. Hayes Valley is the perfect place for an evening stroll – it's a fun place to hang out and window shop, and you MUST get ice cream from Salt & Straw. Their unique flavour combinations are the best.
Lower Haight (near the Painted Ladies/Alamo Square) and Hayes Valley are the neighbourhoods I most frequently visit living here.
Day 2: Fishermans Wharf, Golden Gate Bridge, & Sausilito!
Start your day in one of San Francisco's most touristy areas: Fisherman's Wharf. This isn't my favourite part of San Francisco, but it's an iconic stop in the city. Here, rent a bicycle, which you'll be taking across the Golden Gate Bridge. Make sure you see the seals at Pier 39!
I recommend using Basically Free Bike Rentals. You pay for the bikes, then you get that value in store credit at Sports Basement, which you cycle past anyway. It's located near Crissy Field and they have so much outdoors and sports equipment. I was able to score a really nice cycling jersey—"free!"
Cycling across the Golden Gate Bridge is so worth doing – even if it's completely foggy. It'll most likely clear up as you enter Sausalito (thank the Bay Area's microclimates for that).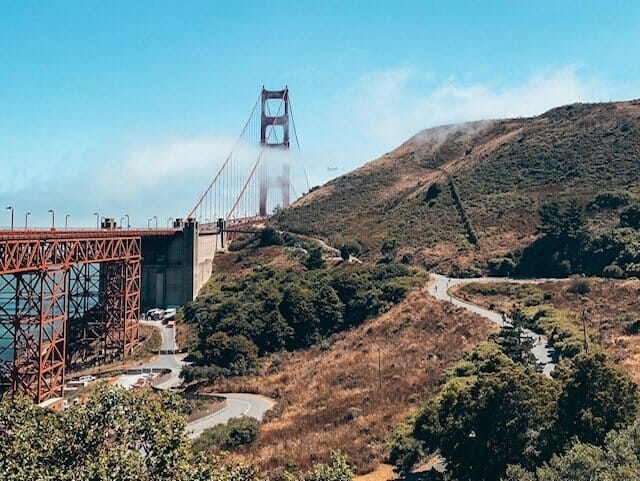 Sausalito is full of cute shops and cafes. It would be a great place for lunch or a drink. We got ice cream!
You can either cycle back or take the ferry to either Fisherman's Wharf or the Ferry Building. If you go on a weekend, expect to wait. The lines can get up to 2 hours long! From the ferry building, it's a short cycle along the coast back to Fisherman's Wharf. At Fisherman's Wharf, if you didn't eat lunch in Sausalito, you can eat at Boudin, famous for their chowder in a bread bowl.
Day 3: The Mission, Chinatown, & More!
Start your morning out with a walk up to Coit Tower. From here, you get a good view of the city.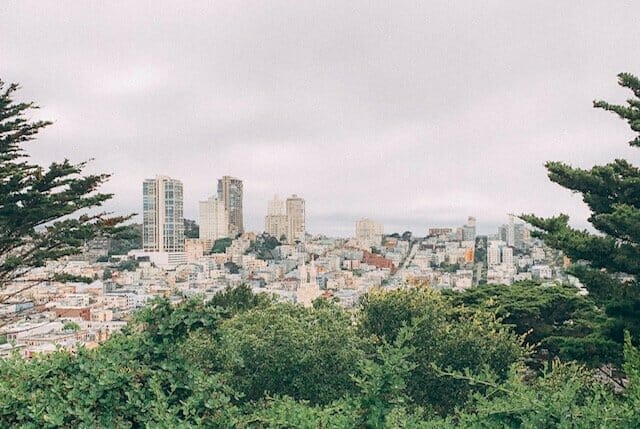 You can continue your walk to Lombard Street, where you'll see the turns and bends of one of the most well-known streets in San Francisco. This is a stop on my morning walk and its particularly beautiful in the Springtime, when there are flowers lining the street.
Walk back to Columbus Ave and turn into Chinatown, where you can get amazing dim sum, visit the Fortune Cookie Factory, and/or shop at local Chinese supermarkets.
When you've had your fill of Chinatown, move onto the Mission! The Mission District is a place that I LOVED to go to when I was in the Bay Area. You can bike or take public transport over to the Mission. If you get off near Market and Valencia, Valencia Street has plenty of fun shops to window shop at while you walk into the Mission. There's some pretty incredible street art throughout the area – Balmy Street and Clarion Alley are known for their murals.
And while you're in the Mission, you CAN'T miss getting Mexican food! El Farolito is my go-to burrito spot, but Pancho Villa is another favourite.
Dolores Park is definitely worth the visit. It's a great place to enjoy the sunshine and relax. I spent a few weekend afternoons here while interning and they were some of my best memories. Now that I've moved here, I'm at Dolores quite often and I highly recommend it.
Where to eat in San Francisco
You'll probably notice that I left out food in the itinerary, and that's because I have SO MANY recommendations. Here they are.
Burritos and Tacos
El Farolito (best burrito in the city)
Pancho Villa (seafood burritos/tacos/quesadillas)
La Taqueria
Garaje
One thing I learned in San Francisco is that if you're going to get a burrito or tacos, ALWAYS get the super burrito/tacos. Super is the way to go.
Ice Cream
Salt & Straw (great monthly flavour rotations, and their salted malted chocolate chip cookie dough is always a safe bet)
Smitten
Humphrey Slocombe
Bi-Rite (honestly life changing)
I will say that getting Ghirardelli ice cream creations in Ghirardelli Square is one of my favourite touristy treats, though possibly not the best ice cream.
Swensons is also a great touristy spot.
Asian Food
Chinatown (duh)
Koja Kitchen (Japanese/Korean fusion that DID NOT disappoint)
ChinaLive
Dragon Eats (bahn mi and bowls!)
Dumpling Time
Bakeries
Tartine Bakery
Acme Bread
The Mill (toasts)
B Patisserie
Arsicault (best croissants I've ever had)
Coffee
St Frank
Sightglass Coffee
Verve
Four Barrel Coffee
SPRO
Other Recs
Touristy but worth it: Boudin Bakery's clam chowder in a sourdough bread bowl. Check out the bread museum while you're waiting!
Food trucks – Off the Grid is a great time. A bunch of food trucks park and you pick and choose what and where you want to eat. Alternatively, you can usually spot a stray food truck within a few blocks, and I've found most are pretty dang good.
The Ferry Building – full of so many gems. You can't go wrong here!
Customise your itinerary!
The great thing about this 3 day San Francisco itinerary is that it's totally customisable. Whilst I've laid out a basic route, many of the sights listed below aren't too far away from the ones in the itinerary so it's easy to swap them out!
If you like museums…
The California Academy of Sciences is a really neat science museum. If art isn't so much your thing, swap the De Young Museum (day 1) for this.
The Exploratorium is a GREAT hands-on museum that will have your inner child out to play. I highly recommend going here.
The MOMA is a stunning museum if you like modern and contemporary art.
The Legion of Honor has great views of the Golden Gate Bridge and houses thousands of years of European art.
If you're a Disney Fanatic, the Walt Disney Family Museum is located in the Presidio. This would be a convenient stop when you have your bikes going to the Golden Gate Bridge.
The Palace of Fine Arts is beautiful, even if you're just going to see the grounds of the museum! Work this into your itinerary by taking a slight detour with your bikes on the way to the Golden Gate Bridge.
If you like the outdoors…
San Francisco is a great hub for getting outside. When I was staying here, I tried to go outside for a little hike every weekend. Here are my favourite places around San Francisco.
Land's End is a great walk/hike in the city. You're along the Bay and its pretty spectacular!
Muir Woods is beautiful. You can see the redwoods and its accessible without a car!
Mount Tamalpais is probably my favourite place to hike in the Bay Area. You can see so many different kinds of terrain. I like to descend down into Muir Woods. Alternatively, you could just see Muir Woods – the paths are well maintained and its a good option if you're not a big hiker but want to see some nature.
The Marin Headlands are really beautiful. The coastline is spectacular and the water is SO blue!
The Presidio is full of little walks and hikes. Some of the most famous are Lovers' Lane and the Batteries to Bluffs Trail.
If shopping is more your thing…
The Westfield Mall on Market Street has tonnes of stores (and the Nordstroms has a cafe with a great view!).
Union Square and the surrounding area has more high street and designer goods.
Filmore Street has trendy but really nice quality clothing stores lining the street.
Thrifting in SF is fabulous and I would check out Valencia Street and Haight Street for some amazing stores and vintage finds.
Hayes Valley – spenny but higher quality goods (usually)
---
And there you have it! A full guide on how to spend 3 days in San Francisco!
Like this post? Pin it!