Located in the beautiful Jungfrau region of Switzerland, the Grütschalp to Mürren hike gives you panoramic views of some of the most iconic Swiss mountains. Even better? There's very little incline, making this a great beginner's hike. And, EVEN BETTER, this hike is accessible year round. It's hard to believe that you can go hiking (really! Without snowshoes or an ice axe!) in Switzerland in the middle of winter, but this hike is gentle and absolutely magical no matter the season. This short hikes ends in Mürren, one of the most picturesque villages in Switzerland.
The Grütschalp to Mürren hike in a nutshell
Grütschalp to Mürren hike key information
Trailhead: Grütschalp Railway Station
Hike End: Mürren
Length: 4.3km / 2.7 miles
Time: 1 hour and 30 minutes (but allocate more time to take some photos!)
Ascent: 150 m / 492 ft
Difficulty: Beginner
How to get to Grütschalp
This hike starts at the Grütschalp Railway station, which is easily accessible from Lauterbrunnen.
From Lauterbrunnen, take the Lauterbrunnen to Mürren Railway from the Lauterbrunnen train station. The railway starts with an aerial cableway (the Grütschalpbahn) and then transfers over to a train. You'll take the cable car up to Grütschalp—no need to transfer to the train!
My experience hiking from Grütschalp to Mürren
From Lauterbrunnen, my mom and I walked to the train station and went to the Grütschalpbahn. We *just* made the cable car leaving and as the cable car started to move, we were greeted with incredible views of the Lauterbrunnen valley below us. This hike starts with some serious views, and that's only a glimpse of the goodness to come!
Once everyone hops off the cable way, you have the option of transferring over to the railway or to hike to Mürren. Start heading up the hiking path! The hike is gentle and slowly ascends. You'll go through the trees up to a clearing with stunning panoramic views of the mountains. There's nothing too crazy and I can almost guarantee that you'll be taking the trail easy—I think we stopped for about 300 photos and the section that was supposed to take us half an hour ended up taking us well over an hour.
We also stopped for lunch (a classic combination of Coop grocery store sandwiches and Rivella. When in Switzerland!) and took our time enjoying the walk. In the wintertime, be careful of ice! We found it quite slippery but the Swiss were walking up in just trainers.
After just under 2 km (1 and a quarter miles), you'll find yourself at Winteregg Station. There's a little restaurant if you're keen for a drink, and in the wintertime, this is where the ski runs end and you can take the cable car back up the mountains. When passing through in the wintertime, it can be a bit confusing to figure out where the path continues. You go just past the ski lift station and on the left there will be a trail.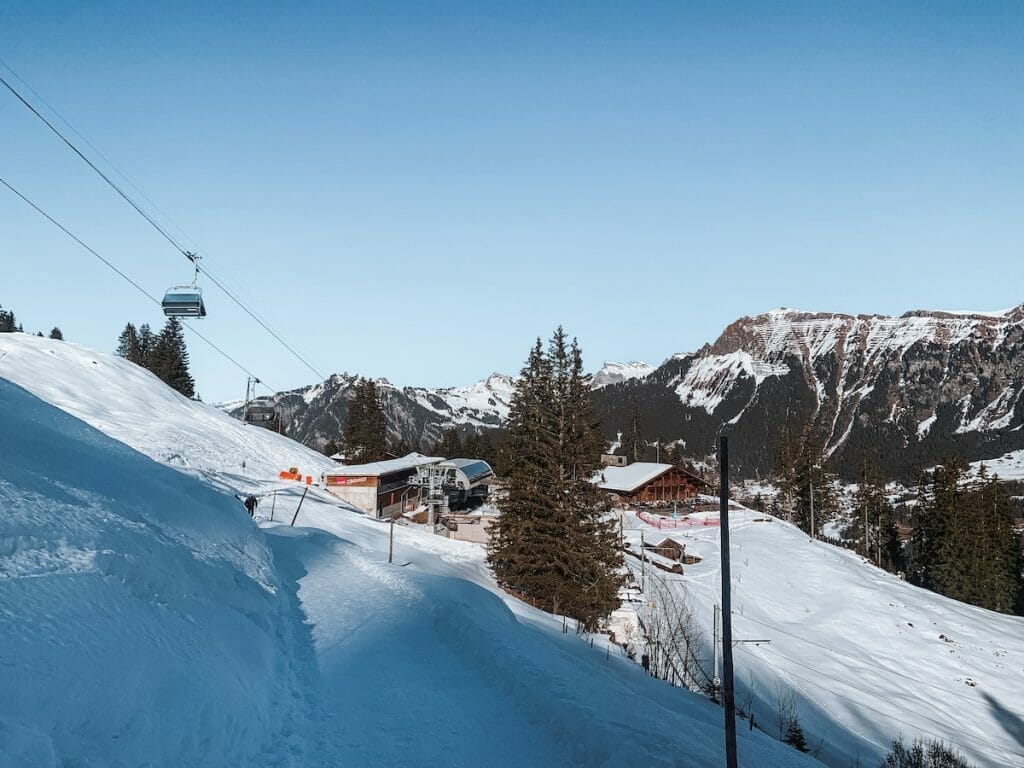 About 45 minutes and 2.3 kilometers later, you'll be in Mürren! Mürren is a car-free village and is a year-round dream destination. It's at the foot of the Schilthorn mountain and is the gateway to Piz Gloria, a revolving restaurant at the top of the mountain, featured in James Bond. In the summertime, the trails around Mürren are popular amongst hikers, and in when it snows, the village is transformed into a winter wonderland, where you can ski to your hotel and surrounding areas.
Ways to return to Lauterbrunnen
When you've had enough time in Mürren, there are a few ways to get back to Lauterbrunnen.
Take the cable car back down to Stechelberg via Gimmelwald and then hike to Lauterbrunnen (+4km)
Hike back to Grütschalp and then take the cable car down to Lauterbrunnen
Take the train back to Grütschalp and the cable car back down to Lauterbrunnen
Summer Only: Hike back down to Stechelberg and then hike back to Lauterbrunnen
If you decide to take the cable car back down to Stechelberg, make sure to read this blog post, which outlines the hike you'll be doing on the way back!
Other helpful Switzerland posts
Below you'll find some other guides I've written to help you navigate through your time in Switzerland!
HOW TO TRAVEL SWITZERLAND ON A BUDGET
THE ULTIMATE SWITZERLAND PACKING LIST
Outdoor Adventure Guides
MT PILATUS HIKE – MY FAVOURITE HIKE IN SWITZERLAND
CHARLES KUONEN SUSPENSION BRIDGE HIKE
WASSERAUEN TO SEEALPSEE HIKE IN EBENALP
SCHÄFLER RIDGELINE – AMAZING VIEWS
CYCLING IN SWISS NATIONAL PARK
KANDERSTEG MOUNTAIN COASTER & OESCHINENSEE HIKING
City Guides
THE ULTIMATE GUIDE TO ONE DAY IN BERN
10 DAY TRIPS IN SWITZERLAND THAT WILL BLOW YOU AWAY
BEST TIME TO VISIT ZERMATT & GORNERGRAT