There's no place like Rome. I've been living here for a while now and figured it was time to write about this incredible city. Here's the ultimate three day Rome itinerary, with all of my insider tips & tricks.
Rome is an absolutely incredible city with so much history, character, and the most amazing food. I've been living here for quite some time now, and I fall further in love with this city each day. Whether it's returning to some of my favourite tourist spots or finding somewhere completely new, there are so many things to do in Rome. Here's my 3 day Rome Itinerary to help you have the best trip to the Eternal City.
This post includes affiliate links. This means that if you purchase something with that link, I'll receive a small commission at no extra cost to you! Thank YOU for helping this website run. I appreciate it!
This itinerary is aimed at Rome first-timers and includes all of the touristy spots (Colosseum, Pantheon, etc.). If you've been to Rome and have already seen these attractions, I've added plenty of things to do below the itinerary. Feel free to customize it and make it your own!
Rome 3 Day Itinerary Map
My Ultimate 3 Day Rome Itinerary: Packed with recommendations & tips
If this is your first time in Rome, you'll have a LOT of sights to see! This 3 day Rome itinerary is going to cover most of the main sights. Day 1 will cover some of the most famous ancient sights, day two will take you to the centre of Rome, and day 3 will bring you to the Vatican.
DAY 1 – Colosseum, Rome's Hills & Trastevere
The Colosseum
Start your morning out at the Colosseum, one of the most well known ancient sights in the world. The history of it is incredible. It was built in 80 CE and used as an arena for all kinds of spectacles, though the most famous of those are gladiator fights. Gladiators would fight wild beasts from far away places, as well as each other, in order to entertain the masses.
Colosseum Ticket Information
Tickets to the Colosseum are a little confusing. I highly recommend getting them in advance online so you can choose your preferred time and skip waiting in the huge ticket line. You do not need a skip the line ticket if you buy your tickets ahead of time. You will, however, have to print out your tickets.
Tickets are 18 euros for adults and they also include entrance to the Roman Forum and Palatine Hill. These tickets are valid for 24 hours- so you can visit the Colosseum as planned and then return to the Forum and Palatine Hill up to 24 hours later. In this itinerary, we'll be doing it all at once, so you won't have to worry about that!
You can get an audio guide for an extra cost. To save some money, I like using online audioguides. Rick Steves is my go-to for free audioguides. He has an app where you can download his guides, or you can download the audio file.
The Colosseum opens at 8:30 am, and I highly recommend getting there around that time to avoid crowds. It's busiest at around 11 am, so definitely get there earlier if possible!
There's also a tour that you can do that allows you to enter restricted areas with your guide. This is an awesome experience if you're into Roman history.
The Roman Forum (the Foro Romano) & Palatine Hill
The Roman Forum was the center of ancient Rome. This is where politics were discussed, people would buy goods, and people would just hang out. It's definitely overshadowed by the Colosseum, but it's a spectacular sight to see. It's adjacent to the Colosseum, so you'll be able to come to the Forum straight after the Colosseum. If you need a little pick-me-up, stop at any bar for a cappuccino.
If you don't have a guide, you won't know how incredible the ruins you're looking at are. Rick Steves also has an audio guide for this, so I recommend downloading that if you aren't planning on purchasing the audio guide from the Forum. This site is ten times more spectacular when you know what's going on.
Rome is built on 7 hills, and the Palatine Hill is the most famous—and central—of them all. There are great views of the forum from above, and it's a wonderful place for a mid-morning stroll.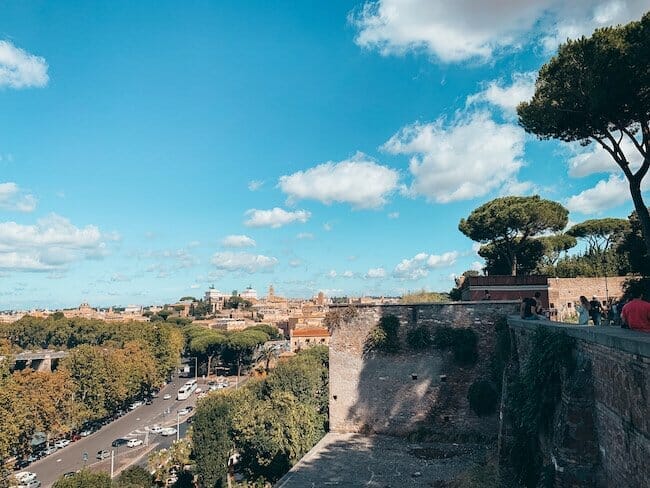 Lunch in Testaccio
By now, you'll probably be starving! Head on over to Testaccio, a super underrated neighbourhood. It's a beautiful area, with plenty of bars and restaurants. You could definitely stop at one of these restaurants, but I recommend going to the Mercato Testaccio for some of the best and freshest food in Rome.
How to get to Testaccio from the Palatine Hill: either walk down Via Aventino (30 min walk) or take public transport. Tram 3 or bus 75 will get you there in roughly 30 minutes.
Mercato Testaccio is a nicer food market. It's indoors with plenty of seating, and there are stalls that have fresh fruits and veggies, meat, and other goods. There are also plenty of stalls where you can choose fresh food.
Recommended stalls:
Bite & Go – sandwiches made with love. Delicious.
Zoe – veggie/vegan
Antico Forno – pizza
Food Box – freshly fried Roman classics (suppli is recommended).
Hands in Dough – FRESH handmade pasta
Da Zi Pitta – think of a crunchy pizza flatbread
Also in Testaccio is the famous Trapizzino. Trapizzinos are a hybrid sandwich and pizza. It's a play on words, derived from 'pizza' and 'tramezzino,' very mayo-heavy and sad sandwiches. Trapizzinos are anything but sad! Toppings are stuffed in between a pizza bianca and you're given a saucy, hot, delicious pizza sandwich. The polpetta (meatball) and melanzana (aubergine/eggplant) are my go-to's.
Aventine Hill
After you've had lunch, head up to Aventine Hill. Aventine Hill is such a stunning place to sit and get a great view of Rome. Seriously – this is one of my favourite viewpoints in Rome. When the weather's nice, there's often someone playing the guitar or another instrument, and you'll find couples and the elderly strolling around the beautiful park.
Hidden Gem: The Aventine Keyhole. While you're here, make sure you visit this place and peep through the keyhole! You'll get a perfectly outlined view of St. Peter's Basilica.
Address: Piazza dei Cavalieri di Malta, 4
Need a gelato stop? Gelateria del Teatro is located just a little ways away from here.
Lungotevere dei Vallati, 25
Trastevere
Trastevere isn't such a secret anymore. The vine-covered terracotta-coloured buildings have become super famous in the last decade and it's one of the most-Instagrammed neighbourhoods in Rome! This is a part of Rome you definitely can't miss. There are sweet bookshops, boutiques, bars, and restaurants everywhere around here. There's a lot of history in this neighbourhood – so again, I recommend listening to a Rick Steves tour so you know the significance of the streets you wander down.
My favourite thing to do in Trastevere is to get lost. Seriously! There are loads of little alleyways that wind away from the main streets and are just as cute. Get lost and explore, and when you're ready for a rest, find a wine bar. There are plenty of bars that will just be opening for aperitivo. Aperitivo, meaning apertifs, is a before-dinner drink, typically around 5 or 6 pm, and it's often accompanied by snacks.
Dinner in Rome typically starts at around 7:30 pm. After your aperitivo, it should be time to find a restaurant. In Trastevere, there are heaps of family-owned trattorie, as well as classic restaurants and quick eats. Here are some places I recommend.
Osteria da Zi Umberto – cosy cute Italian restaurant!
Hours: 12:30-3:00 pm; 7:30-11:30 pm – Closed Mondays
Address: Piazza di S. Giovanni della Malva, 14
Peppo al Cosimato – wonderful pizza & seafood
Hours: 12-3:30 pm, 7 pm – 12:30 am
Address: Via Natale del Grande, 9
Nannarella Osteria – great Italian food all around
Hours: 10 am – 11 pm Sun-Thu; 10 am – 12 am Fri-Sat
Address: Piazza di S. Calisto, 5
DAY 2 – Rome's Central Area
The Borghese Gallery
This is absolutely my favourite museum in all of Rome, and it's a fantastic way to start your day. The villa itself is stunning, and the amazing 15th – 19th century works inside only add to the overwhelming beauty. There are sculptures, mosaics, and frescoes from Caravaggio, Raphael, Titian, and so many other great artists.
Borghese Gallery Ticket Information
Visits are limited to 360 people at a time, which means that you'll enjoy less crowded spaces. This also means you'll have to book tickets ahead of time. You can do this by going to the reservation desk located in the museum ahead of time, but I'd recommend going online to their official booking site and booking your tickets. There's a reservation fee of 2 euros per ticket on top of the admission. You also have to choose your time slot – there's the morning from 9-11am, midday from 11am – 1 pm, the afternoon from 1-3 pm, and from 3-5 pm, and an evening slot from 5-7 pm. You'll want to choose the morning slot so you have the rest of the day to explore! If you do decide to take the 5-7 pm time, make sure you're there at 5 pm sharp, as there's no more admission past 5 pm.
Tickets are 13 euros (plus the 2 euro reservation fee). You pay 6.50 if you're an EU citizen between 18-25.
There's a cafe in the gallery, which is a great place to grab a coffee and pastry if you haven't had time for breakfast!
Villa Borghese
After you've seen the Borghese Gallery, you'll want to walk through the actual gardens. There's quite a bit to do here and it's a lovely place to have a morning stroll.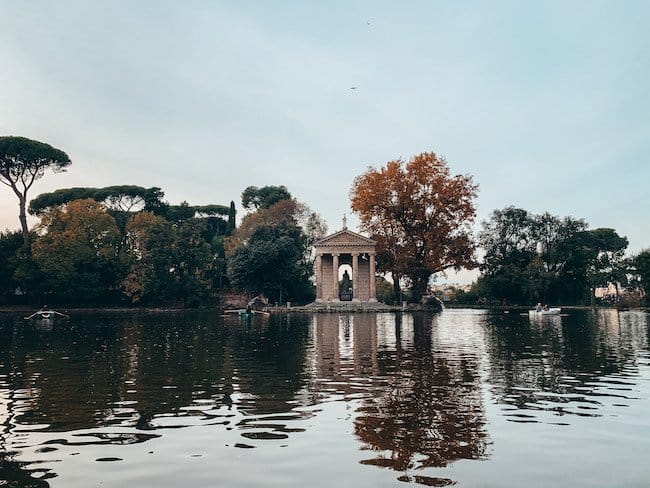 The gardens come alive when the sun is out. You'll find people jogging, families on quadricycles, commuters cycling through the gardens, and couples on a morning walk. If you walk to the Temple of Asclepius, you'll come to a little lake, where you can rent a rowboat for just a few euros per person. You can also rent a JUMP by Uber electric bike, which will allow you to explore the gardens a little faster. Quadricycles are also super fun to rent with others, and they're surprisingly affordable.
Eventually, you'll want to make your way to Terrazza del Pincio, where you'll have a great view over the Piazza del Popolo, our next stop.
Piazza del Popolo & Via del Corso
The Piazza del Popolo is a big open square that acts as the starting (or ending) point of some of Rome's most busy streets, including Via del Corso. By now, you're probably hungry, so stop at one of the many places on this street for pizza al taglio, or pizza by weight. You should definitely try a few toppings – there are some GREAT pizzas out there. Don't stuff yourself, as there are MANY snacks along the way.
Fatamorgana is a gelateria that's based just off Via del Corso. They use fresh, natural, high-quality ingredients and they're definitely on my recommendations list!
Via Laurina, 10
If you haven't had enough sweets, Pompi Tiramisu is one of my two favourite tiramisu places in Rome. They have other treats, but their tiramisu is what stands out. I love their fragola tiramisu (strawberry), but they also have a classic, pistachio, and a few others. Take yours to Piazza di Spagna!
Via della Croce, 82
Piazza di Spagna & the Spanish Steps
Piazza di Spagna is a lovely place to hang out. It's mainly visited by visitors wanting to see the iconic Spanish Steps. These steps are quite controversial nowadays, as they used to be a popular place to sit and eat or people watch, but now… sitting is illegal. There's literally a man with a whistle who will yell at you if you try to sit on the steps.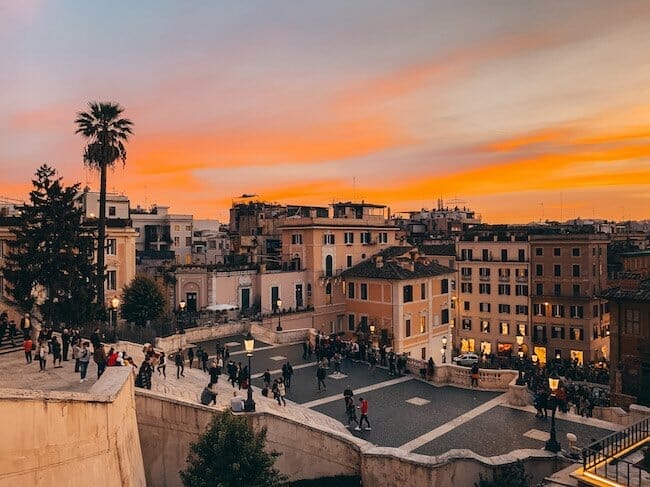 The Spanish steps are still beautiful, so walk up them and admire the view from the top. It's quite the view.
Fontana di Trevi
Walking from Piazza di Spagna to the Trevi Fountain is a quick 10-minute walk. Some people think that going to this fountain is overrated and that it's just too busy. I mean, yeah, it's busy, but it's an iconic sight in Rome and it is breathtaking. You can't spend three days in Rome without seeing this beauty.
Do the classic touristy thing and toss a coin into the fountain – all money goes towards subsidising a supermarket for the needy.
Turn with your back against the fountain and toss your coin. Throwing the coin with your right hand over your left shoulder will ensure you get back to Rome.
Pantheon
The Pantheon is a 7-minute walk from the Trevi fountain. It's free to enter, but expect a little bit of a line. The Pantheon used to be a Roman Temple, but it's now a church. The inside is stunning, with the huge oculus in the ceiling at the height of the dome.
It's worth noting that sometimes, in heavy rain, they'll close the Pantheon to visitors.
If you fancy a little pick-me-up, head to Caffe Tazza d'Oro, famous for their iced coffee granita with whipped cream, or to Sant' Eustachio II Cafe, for what some say is the best coffee in Rome.
If you head towards the river, there are plenty of places to explore and discover. The area is filled with little alleyways and gems just waiting to discover. Spend an hour or two running around and getting lost. I'm a full advocate of getting into some Unexpected Occurrences 😉
Piazza Navona
Around dinnertime, head to Piazza Navona. This Piazza has some beautiful fountains and incredible architecture. There are also tonnes of touristy restaurants in the Piazza, but skip these!!! They will be super pricy and there are much better restaurants right next to them.
The best restaurants in this area are just behind Piazza Navona, on Via dei Governo Vecchio. Here are my recommendations for this area.
Where to Eat in Piazza Navona
Cantina e Cucina – This place is super cute and it has amazing pasta. We also loved their fried artichokes (a Roman speciality). This is a good place if you want an early dinner, as they fill up super quickly and there's a long line at peak hours.
Hours: 11 am – 1 am
Address: Via del Governo Vecchio, 87
Pizzeria Pasquino – Okay, I know this says PIZZERIA, but I think their pasta is so dang good. The spaghetti alle vongole and the spaghetti carbonara are amazing.
Hours: 11 am – 12 am
Address: Piazza di Pasquino, 1
And if you need dessert?
Two Sizes – amazing tiramisu. The classic is, well, a classic, and the pistachio is super creamy and rich.
Frigidarium – incredible gelato!
DAY 3 – The Vatican
BEFORE you arrive at Castel San'tAngelo, make sure you cross the Ponte Sant'Angelo (St. Angelo Bridge). This is one of the most beautiful bridges in Rome, with amazing statues lining the sides of the bridge.
Castel Sant'Angelo
This is an incredible fortress and it's often overlooked. It's also called Mausoleum of Hadrian, as he had it built for himself and his family when he was the emperor. It's also where the Pope was informed that the plague was over. There's so much history in this building and it is lovely!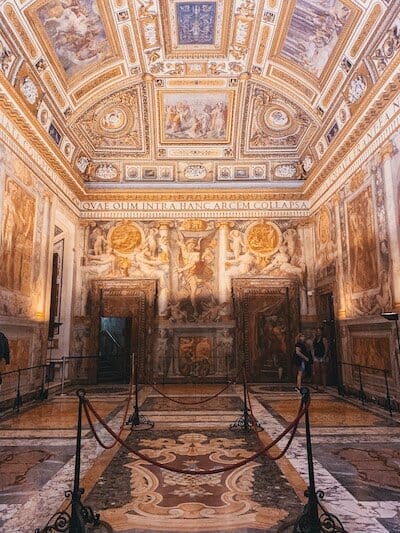 They have an app you can download, but there's great signage around the building, so you don't really have to worry so much about guided information.
Tickets are 14 euros and the fortress is open from 9 am until 7:30 pm. It is closed on Mondays.
Vatican City
The reason we're doing Vatican City second is that tour groups usually go in the morning! If you're going with a guide, you'll probably go first thing in the morning, so feel free to swap Castel Sant'Angelo with the Vatican City.
The Vatican City is one of the most popular attractions in Rome, and for good reason! Home to the Sistine Chapel, St. Peter's Basilica, and the Vatican Museums, there's so much art and history to see here.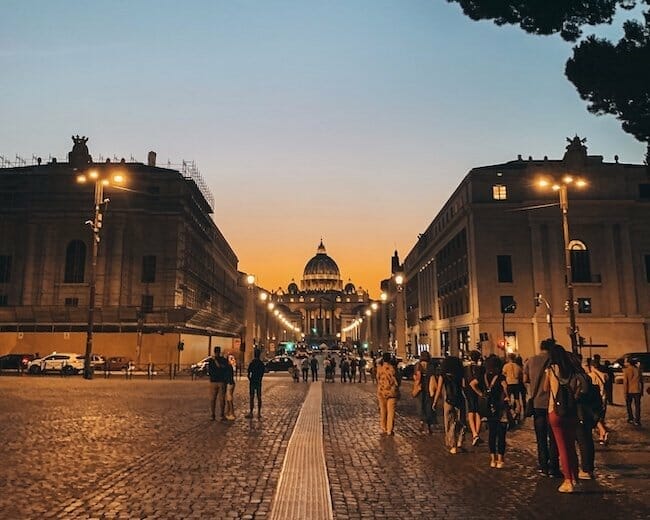 I would consider a guided tour for the Vatican Museums. Having a guide lets you skip the line (and lines can be massive). There's also so much art within the museums – it IS the world's largest private art collection – and a guide will help you navigate through this! If you're not keen, you know who I'm gonna recommend: Rick Steves! He's got a free audio tour that takes you through the Vatican Museums and St. Peter's Basilica, so you'll know what you're looking at.
Vatican Ticket Information
Tickets for the Vatican Museums cost 17 euros. There's also a 4 euro reservation fee. And if you want an audio guide, it'll be another 7 euros. If you're considering getting an audio guide, it might be worth it to just go with a guided tour so you can skip the line. You'll already be paying 28 euros, and to join a group tour costs 33 euros.
Hours: Monday – Saturday, 9 am – 6 pm (last admission at 4 pm)
Things you MUST know before visiting Rome
Coffee Culture in Rome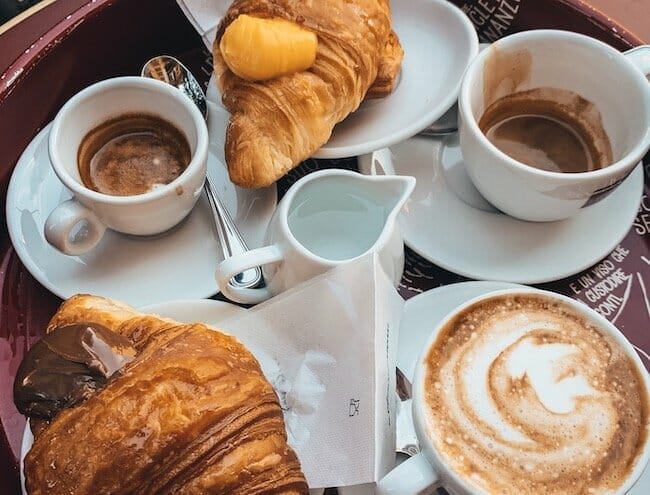 First things first. Coffee is taken at the bar – it's very rare that an Italian will sit to drink their coffee. If you have a seat, 99% of the time, it'll be more expensive. Also, milky coffee is not to be had after midday. Starting at around 11:30 am, you'll stand out like a sore thumb if you ask for a milky coffee.
Here's how to order coffee.
Caffè is how you say coffee in Italian. If you order a caffè, you will be given an espresso.
If you want a latte, you'll have to ask for a caffè latte, or you'll just be given a glass of cold milk.
When ordering an americano, make sure you ask for a caffè Americano, or you'll be asking for an American person.
Caffè macchiato is an espresso with just the smallest splash of milk. Latte macchiato is a lot of milk with just a little coffee.
If travel is really hitting you hard, a caffè corretto is an espresso with a shot of liqueur.
Free Museums! Domenica Al Museo
Every first Sunday of the month, MANY of Rome's museums (including the Colosseum!) are free. Some, like the Villa Borghese, still require a booking fee, but the actual entrance is free (for this museum, book at least a month ahead for Domenica Al Museo). I like to take this day to wander around and pop into any museum I stumble upon. There are so many amazing museums in Rome that aren't well known, and when they're free, it's great to see what gems you can find.
The Vatican Museums are NOT included in Domenica Al Museo. The Vatican Museums are closed every Sunday EXCEPT the last Sunday of the month, when the Vatican Museums offer free entry. Only attempt to do this if you are willing to wait in line at 6:30 am. If you arrive at 9 am, when the museum opens, there will be like 400 people in front of you. Trust me. I tried to go on the free Sunday – I even arrived half an hour early at 8:30! The line wrapped around the entire city walls and I didn't even attempt to visit the museums. I had a friend who waited in line at 6:30 and she was one of the first 50 people in, so it's worth it if you don't mind waking up early.
You'll get around with English, but a little Italian will get you a LONG way
Most young Italians speak English. In the touristy areas, you'll be totally fine just using English. I try to practice my Italian, and sometimes people will just speak in English to make it easier. BUT attempting to speak a little Italian is a very appreciated gesture, and I recommend learning a few phrases before you come to Italy. Here are some basics that I think are the most important!
Buongiorno – Good day
Ciao – hello (informal)
Grazie – thank you
Come stai? – How are you?
Bring a Water Bottle!
There are plenty of free-flowing water fountains in Rome where you can easily fill up a water bottle. this is an especially important tip in the summertime, when it gets HOT. These water fountains are filled with really cold water. Don't have a water bottle? That's fine! You can plug the tap with your finger and water will shoot out of a little hole in the spout, making a stream for you to drink from!
Skip the Restaurants in the Main Piazzas
Near every big tourist sight, there will be at least 3 restaurants with English menus and great views. Skip these! They're often super overpriced and not the highest quality. I find that there are always a few restaurants just slightly further away (even just a street away!), and they have better, more authentic, and more affordable food.
Eating gelato is a year-round activity.
Even when it's freezing. Don't let anyone tell you differently.
The best gelaterias:
Otaleg
Fatamorgana
Frigidarium
Gelateria del Teatro
Brivido Gelateria
How to Get Around Rome
Rome is such a walkable city! I highly recommend walking your way around Rome – the public transportation system isn't too efficient. Living in Rome, I bought a transport pass the first two months of living here, but then ditched it because 1) I wasn't using public transport as much as I thought I would be, and 2) trams and buses are incredibly unreliable. Sometimes they just don't show up!
If you're going to walk, having a good map or internet connection is important. Offline maps are useful (download google maps offline or maps.me!).
I recommend walking when possible, but I understand that there are some situations when you need to rely on public transport. If it's a super long walk or it's late at night, take public transport! Here's what you need to know.
Cost of Public Transportation in Rome
Each ticket costs €1.50 and it lasts for ONE 100-minute journey. So you can change from bus to bus or tram to bus, or bus to tram, or even subway to bus, as long as you're going in the same direction, and it's no problem. The only thing you can't do is go from bus/tram to subway. You'll have to buy a different ticket if you need to transfer to the subway.
Tickets can be purchased from 2 places. In subway stations or at tabacchis. A tabacchi is a corner shop that can be found because there will be a 'T' sign in front of it. You can ask for 'l'autobus biglietti' and you can purchase multiple at a time so you can have them on hand.
Is the Roma Pass worth it?
In my opinion, the Roma Pass isn't really worth. If you pay for the 72-hour pass, you get free entrance to two of the museums they're affiliated with, as well as free access to the tram, metro, and buses. The 72-hour Roma pass costs €38.50, but most museum entrance tickets won't cost that much.
For example, the Colosseum costs 18 euros and the Borghese Gallery costs 13. That's €31! And public transport costs €1.50 per 100-minute ride, so you'd have to take public transportation 5 times in the course of 3 days to even break even. Rome is such a walkable city and public transport is incredibly time-consuming. I'd skip the Roma Pass.
HOWEVER, if you're planning on relying on public transport during your stay, it might be easier to just buy the Roma Pass so you don't have to hunt down a tabacchi every time you run out of tickets.
Other Things to do in & Near Rome
Cooking Class
A cooking class is a must in Italy. This is a perfect rainy day activity, too! I feel like most people think Italian cooking is really difficult, but you'd be surprised at how easy some of the dishes are. My favourite thing about Italian cuisine is that there's so much pride in traditional cooking and using fresh ingredients. Definitely learn more about this with a cooking class (my mind was BLOWN when I learned just how easy carbonara is to make and now we eat it like twice a week).
The Appian Way
The Appian Way is one of the oldest roads in Rome. It was one of the most important roads of its time, connecting Rome all the way to Brindisi. The road is super beautiful and VERY bumpy, so wear good shoes if you decide to walk along the Appian Way. The catacombs are along here and there are so many little treasures to discover along this road.
If you're feeling REALLY adventurous, you can cycle down the Appian Way, though I must warn you – it's really REALLY bumpy and you will probably have a sore bum the next day.
Campo di Fiori
The Campo di Fiori is held near Piazza Navona every morning at around 7 am. It's a great place to stroll and look for gifts for the foodie in your life, as well as a good place to get some fruits or veggies for the day. People love this market, though personally, I would only go if you're in the area. I think it's a little overrated (unpopular opinion).
Ostia Antica
Ostia Antica is an incredible archaeological park near Ostia and Fiumicino, by the seaside. It's pretty well preserved and it gives you an excellent look into what used to be a harbour city. I especially love Ostia Antica in the springtime, when the red poppies start to bloom.
How to Get There: Take Metro B to Piramide, then take the Roma Lido Train to Ostia Antica. Takes roughly an hour.
Hours: opens at 8:30, closing time depends on time of year.
Tickets: 12 euros
Tivoli
Tivoli is a beautiful town just outside of Rome. It's known for it's stunning parks, the Villa d'Este and Villa Adriana, though there's so much more to do, INCLUDING thermal baths. The parks are absolutely beautiful, with amazing fountains and waterfalls. It's a great place to visit if you need to escape the hustle and bustle of Rome.
Tickets to enter Villa d'Este are 8 euros. The thermal baths/spa cost 40 euros for the day on weekdays, and 45 on weekends.
The Beaches Around Rome
In the summertime, Rome's heat can feel pretty unbearable. On extremely hot days, I recommend going to the beach! There are plenty of beaches near Rome, most of which have very sweet towns to grab lunch in.
Sperlonga – a beautiful coastal town in between Rome and Naples. Has a beautiful coastline and beach!
How to get there: train from Roma Termini – 1 hr 15
Santa Marinella – crystal clear water & loads of beach chairs for hire!
How to get there: train from Roma Termini – 45 minutes
Santa Severa – has a really pretty castle! North of Rome.
How to get there: train from Roma Termini – 1 hr
Nettuno – a lovely & cute beach! I liked walking from Nettuno to Anzio!
How to get there: train from Roma Termini – 1 hr 15
Where to Stay in Rome for 3 Days
When it comes to choosing where to stay, there are quite a few options! Because this 3 day Rome itinerary is so jam-packed, you'll want to stay in a relatively central location. Trastevere, Centro Storico, and Monti are great neighbourhoods to look in.
You'll find that if you really want to be in the heart of these neighbourhoods, you'll be looking at mainly apartments. Airbnb is a good option here. Here are some of my top picks.
This apartment is really sweet and cosy, and it's located right next to the Pantheon, making it a super central location.
Trastevere Penthouse – sleeps 4 (but best for 2)
Trastevere is definitely where I'd want to be for three days. It's the cutest part of Rome and it could very quickly feel like your home. This is definitely something I'd consider.
Trastevere Airy Apartment – sleeps 5 (but best for 2 or 3 people)
This is probably the most beautiful apartment you'll find in Trastevere. This is a super light and airy place to stay and it would be my top choice.
Roman Holiday Colosseum Apartment – sleeps 2
This is a lovely location, just a ten-minute walk from the Colosseum. Monti is the neighbourhood this apartment is located in. Monti is an amazing upcoming place, with great shops and cafes all around.
This is a B&B in Monti and it makes the perfect base for exploring because of it's close proximity to the Cavour Metro Station.
Budget Options
Termini is where most of the budget options in Rome are! I wouldn't stay super close to the train station if you're coming in and out of Rome late at night, but if you're not planning on staying out too late, this is a great option.
Where to Go From Rome
Rome is an incredible place to start your Italy trip because it's so central. I feel like everyone thinks Rome is in the South of Italy, but it's right smack dab in the middle of the country!
You can get from Rome to Naples in just under 2 hours with the high-speed train. It's super convenient and Naples is an incredible city to spend a weekend in. From Naples, there are plenty of other places to go – the Amalfi Coast, Sorrento, Pompeii, and Herculaneum!
Florence is also super accessible from Rome, and you can get there in about 2.5 hours (again, with the high-speed train). As the capital of Tuscany, Florence puts you in touch with cute towns like San Gimignano, Lucca, Pisa, and Siena. The same train takes you to Bologna.
Venice is a little further from Rome, taking about 3.5 hours to get there, but Venice is incredibly charming, and it's the easiest way to get to the Dolomites for hiking.
---
Like this post? Pin it!