The past few weeks, I've been getting quite a few messages wondering what it's like in Italy with all of this going on. Yesterday and today, I've received a signifiant number more. Here's my take on the situation.
Also probably should have worded the title differently – I do not have the coronavirus.
Italy hasn't faced a threat so large since the second world war.
The coronavirus, COVID-19, has hit the country particularly hard. In just a weekend, Italy became Europe's epicentre of the virus, with numbers exploding from roughly 30 cases to over 200 in the regions of Lombardia and Veneto. That was in mid-February.
The media has been blamed for causing excess panic. A few weeks ago, that's all I thought it was – excessive. In Rome, things were continuing business-as-usual. People were running around the city, tourists still flocking to the main sites, and we still had plenty of toilet paper stocked in stores! There wasn't any real threat, just the occasional face-mask at Roma Termini, our central train station. I had heard schools in Milan had closed, but the situation was fine down here. Over the next week or so, the cases climbed to 1,000, then 2,000.
Fast forward to March 4th – all schools in Italy were closed from the 5th to the 15th. I wasn't upset, more time to explore! Everything was still shockingly normal, despite a fewer number of tourists. There were about 500 new cases each day, but most were still in the north.
The next day, 500 new cases turned into 700, and then 700 turned into 1,000. By March 8th, there were 6,387 cases in Italy, with every region having at least a handful of cases.
March 8th, we visited the colosseum. We bought our tickets the night before. Usually, there are few tickets if you book that late, but every time slot had around 80 tickets. Tourism had slowed quite a bit.
At 8:30, we entered the colosseum – I'd never seen it that empty! Less than an hour later, the entrances to the colosseum and forum shut with no explanations. No personnel to answer questions from those who had purchased tickets for a closed site, no notes to tell us why. Around the Colosseum and forum were small crowds of people, wandering around, wondering what the heck had just happened. After wandering a little bit, I found a small paper taped to the closed entrance gate of the Colosseum. It was a government decree about the coronavirus. The only reason I had noticed it was because an Italian student in my exchange student group chat had sent us the document the night before. Apparently, it had changed overnight, and all museums and cultural sites are closed until April 5th.
Today is March 9th, and the government has just announced that restrictions will be set throughout all of Italy. No travelling unless you're given permission from the government. The news is primarily in Italian, so those of us who live here, but don't speak Italian, are confused. I'm part of a few Facebook groups for expats, which are going crazy with rumours. Some have proven to be true, some are simply rumours. I've heard everything – that we're free to walk around, that we aren't allowed to leave our homes unless given permission, to see a doctor, or to stock up on food. I'm not entirely sure what to believe, but I'll stay inside, just in case.
There are now 7,985 cases of COVID-19 in Italy, and I'm hearing that we're running out of hospital beds. I'm starting to wonder if we, collectively, should have taken media panic more seriously back in February. While the common sentiment is 'don't worry, the virus only kills the weak and the old!,' I wonder why our lives, those of the young and the healthy, seem to matter more.
Tomorrow morning, a new legal decree will be officially signed, so we'll hopefully have more information then. I'll keep updating this post with info as it comes.
Quick Info
A fantastic resource for getting data about COVID-19 in Italy
Museums, cultural sites, schools, theatres, cinemas – ALL CLOSED
Restaurants and bars – Open until 6 pm as long as they can ensure 1m between patrons CLOSED.
Grocery shops – still open
Public transport – still running
Trains – probably will be limited
Travel for Italian residents – not allowed unless given government permission
Travel for non-Italian residents – still allowed, though check your country's embassy website for information about returning home
11 March Update
All non-essential travel is not permitted. Everyone who leaves their home must carry a form stating why their time outside is a necessity (work, health, or grocery shopping are acceptable reasons to leave). All retail and commercial activity, excluding grocery shops and pharmacies, are closed.
16 March Update
We've been in lockdown for one week, and not much has legally changed. Life in Italy is calm, with everyone staying inside and only leaving for necessities.
I went to the supermarket a few days ago. I needed groceries (and chocolate, obviously). I wanted to stretch my quick, 4-minute walk to the store out as long as I possibly could, but that was completely unnecessary, as I had to wait 45 minutes outside to get into the store. The line to enter wrapped around two blocks, with people standing a meter apart from each other. Only two to three people were allowed in the store at a time, and only one person was allowed to check out.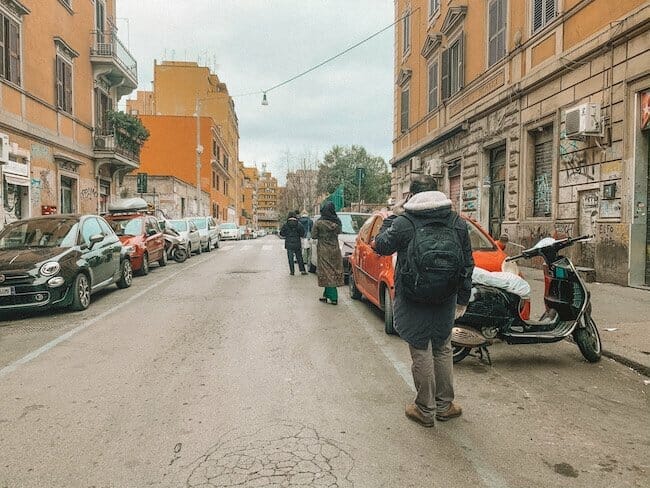 Fruits, veggies, and meats were fully stocked. There were few shortages. Dried pasta was sparse, except for Barilla (apparently Italians frown upon Barilla), and canned tomatoes were running low. Other than that, everything was probably better stocked than normal.
I truly believe that we're safer in lockdown here than we'd be in other countries, say the US. We have food, we're staying inside, and we're taking this virus seriously. Even if we're young and healthy, we recognise that travelling or going out too often puts others at risk, and that seems to be the common sentiment here in Italy. The hashtag #iorestoacasa (#Istayhome) is trending and at six every evening, music is played from windows, people sing, and we share a moment of togetherness.
It's so frustrating to see people around the world saying 'If I'm gonna die, I'd rather die on a deeply discounted holiday!' and booking flights. It's selfish to assume that you're the only one affected by the virus. Travelling and going out for fun is how this virus is spreading, and it's how the elderly, immunocompromised, and others are dying.
The healthcare system is overwhelmed in Italy – there aren't enough hospital beds or respirators; doctors have to choose who lives and who dies. There are people as young as their 30s that are hooked up on respirators, unable to breathe effectively on their own. This is a serious pandemic and making light of the situation or ignoring pleas not to travel is extremely selfish and ignorant.
So. One week down, 3 more to go. I hope that other countries will start taking this seriously, stop panic buying (think of those who can't carry everything they need or who live paycheck-to-paycheck!), and start implementing more strict measures to stop this virus. Help those who need assistance, reach out to friends and family, and stay inside as much as possible! There's only one way that we'll all get through this current situation – collectively.