If you're looking for itineraries for 3 days backpacking in Hetch Hetchy, look no further! This loop brings you to stunning campsites and viewpoints, and is such a lovely way to experience Yosemite National Park. Here's the ultimate guide to backpacking the Hetch Hetchy Loop in 3 days. I'll share what I wish I packed, what information you need to know before you go, and how to plan your days on the trail. Happy hiking!
The Hetch Hetchy Loop in a nutshell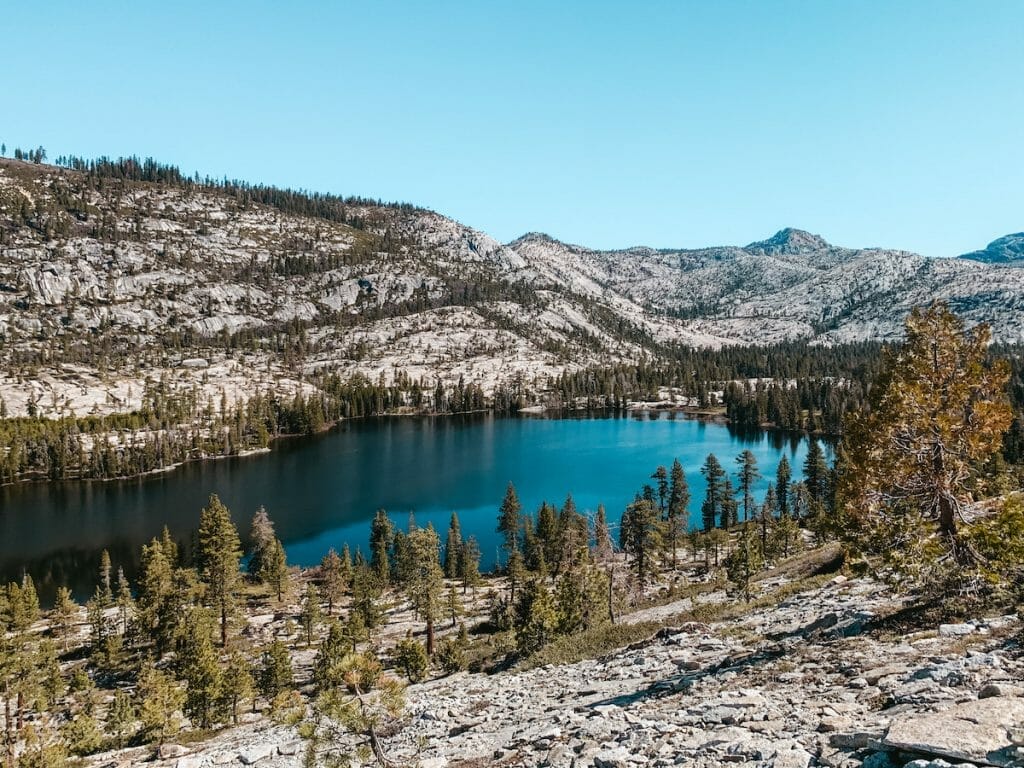 Hetch Hetchy Loop key information
Trailhead: O'Shaughnessy Dam
Wilderness Permits: Beehive, Rancheria Falls
Trail end: O'Shaughnessy Dam
Hike type: Loop
Length: 28 miles (45 km)
Time: 3 full days!
Ascent: 5800 ft (1767 m)
Difficulty: Intermediate
Getting a wilderness permit for Hetch Hetchy
In order to backcountry camp, you'll need to secure a wilderness permit, which you can book here. Hetchy Hetchy is much less crowded than Yosemite Valley, making it easier to get a wilderness permit for backcountry camping, but you should still enter the lottery 24 weeks ahead of time, or start looking exactly 7 days in advance. There's a small fee to pay to reserve the permit.
When booking, you only need to select the day you want to start hiking, and later you'll specify how many evenings you'll be staying in the backcountry.
After you get a reservation, you'll need to submit details for your hike. We got a Beehive Meadows permit (although you could also do Rancheria Falls!) and these were our details:
Entry point: Beehive Meadows
Exit point: Rancheria Falls
Night 1: Lake Vernon
Night 2: Rancheria Falls
Getting your permit and entering Hetch Hetchy can be a little tricky with timing, so make sure to read the section below for more information!
How to get to Hetch Hetchy & first night camping
The Hetch Hetchy entrance closes at 5pm, so you'll need to enter a little bit before then. Make sure to give yourself enough time to drive to the entrance! Once you arrive at the fee station, you'll have to fill out a form and sign waivers to get your wilderness permit, which takes about 10 minutes. You'll be given your permit, which you'll need to bring with you on your hike, so I recommend bringing a Ziploc bag to keep it safe and dry.
If you're staying in Hetch Hetchy overnight, you'll park at the Overnight Parking Lot. The main lot is near the bathrooms but there's a large overflow lot across from the bathrooms.
You can stay at the Backpacker's Camp one day before your permit and one day after your permit. Make sure to bring cash for the fee. You'll put it in an envelope (so bring exact change!) and the fee is $8 per person. Make sure to bring a pen too!
The sites are first come, first serve, but the camp is never really full. We stayed at campsite 6 which had a great view and so many wildflowers blooming.
All campsites have a food storage locker and picnic table. Water is a 10-15 minute hike away from camp, so make sure to fill up your bottles before you head into camp!
Trail guide: Hetch Hetchy to Lake Vernon (day 1)
This is probably the toughest of your days because it's all uphill! From backpackers camp, walk on over to the dam. After crossing the dam and going through the small tunnel, continue along the trail around the reservoir until you see signs for Lake Vernon, to the left.
From there, you'll be going up switchbacks for a while. The switchbacks aren't too steep, but the heat can make this section a bit of a slog. I'd recommend putting mosquito repellent on when you meet the trees. The terrain is a bit chossy at the beginning, but once you get to the forest section, the trail becomes a dirt trail. When you reach the forest, where you'll find your next signpost, you've gone about 4 miles.
You'll continue uphill with sections of flat bits and downhill bits until you reach a stone clearing. The forest has a fair bit of debris and burnt trees that you'll sometimes need to crawl over. At the stone clearing, you only have about 2 more miles until the lake.
The trail is pretty well marked with red and yellow tags on trees, so it's hard to get lost! Once you reach the sign pointing you the final way towards Lake Vernon, continue walking along the shores until you find a great campsite. Ours had a pre-established fire ring, so we built a fire and had a cozy evening along the lake.
This day is 11.5 miles (18.5 km) with 2700 ft (820 m) of elevation gain.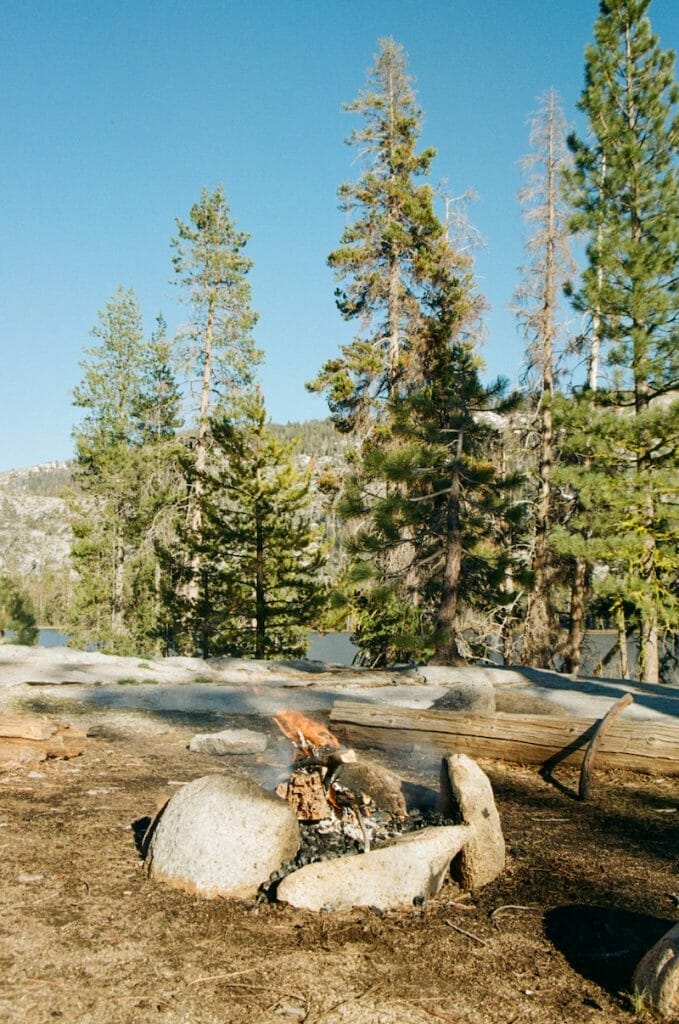 Trail guide: Lake Vernon to Rancheria Falls (day 2)
Day 2 was pretty technically challenging! You start by going uphill above Lake Vernon. This part isn't too challenging or technical, just chossy, and the views are great!
When you get to the forest, there's still a bit of uphill. In the early springtime, there's often snow up here. It was still knee deep when we visited in early May. Similarly to day 1, there are some fallen trees to avoid!
Once you get to the river, there's a very small uphill section, then it's all downhill! We found the downhill bit to be very tough—you're walking over and under plenty of dead trees and charcoal. There are switchbacks the whole way down, but fallen trees mean that there's a fair bit of agility needed to go down. There's also quite a bit of ash and soot, so you'll be pretty dirty by the time you reach Rancheria Falls.
Once you make it downhill, you'll reach the Tiltill Valley, a STUNNING valley! We took a nap here and then headed across the valley. The snow melt made the whole valley a marsh and my feet were soaking at the end of the day.
From the other side of the valley, there's a very short uphill section before dropping down another set of chossy switchbacks.
Rancheria Falls can get crowded, but there are plenty of camp spots. In the summertime, you can swim in the falls—we took a small dip in and the water was FREEZING, but it was so refreshing after a long hike.
Make sure to wear mosquito repellent at camp.
This day is 10.3 miles with 1845 ft (562 m) of elevation gain.
Trail guide: Rancheria Falls to Hetch Hetchy (day 3)
Day 3 is so much fun. You start off by going downhill until you reach two bridges. After that, you go uphill!
Right as you start to see the dam bridge you crossed at the very beginning of the hike, you start to go downhill again. The trail is straightforward and its a lovely hike, especially when you get to the waterfall!
The waterfall is BIG and you'll certainly be splashed as you walk across the bridges under it. It's a really fun way to see the waterfall and to end your trip.
From there, continue just a little bit longer until you reach the first fork in the road, where you went left up to Lake Vernon. Continue on straight and you'll be looping back around the reservoir towards the dam!
This day is 6.3 miles (10.2 km) with 1305 ft (398 m) of elevation gain.
Packing List
Here's a very basic packing list for this trip. The bolded items are things that you must/I highly recommend bringing on this trip specifically (along with your basics).
Clothing
Tent
Sleeping bag
Sleeping pad
Food
Bear canister
Mosquito repellent
Hiking shoes
Camp shoes
Socks
Stove
Trowel
Gas
Toiletries
Sunscreen
Hat
Water filter
Headlamp