If you're passing through Utah and only have one day to visit Zion National Park and Bryce National Park, don't you worry! While you may not see all of the iconic sights, you certainly can get a little taste of what these national parks have on offer. From sunrise views to lunches looking over thousand-foot drops, this itinerary is sure to get your heart pumping! Here's my itinerary for visiting Zion and Bryce in one day!
Logistics when Visiting Zion and Bryce in one day
In this section, I'll cover some helpful tips & things to know before you set off on your trip!
Getting around
To be able to see both national parks in one day, you'll need a car! Know that in the summertime through Thanksgiving weekend, you'll need to take a shuttle bus around Zion National Park.
Get to Zion early if you want to find parking within the national park. If you arrive late, there's parking in Springdale, just outside of Zion National Park, and a shuttle that takes you from different spots in Springdale to Zion's entrance. From there, you'll need to grab another shuttle around the park.
The bus is free.
Food & drink
To be able to squeeze in ALL of the activities below, you should bring your own food and drink with you. Whenever we have a particularly busy day, we tend to make sandwiches or wraps (with proper planning), or eat a bunch of snacks like granola and protein bars, nuts, and chips (we do this more often than not).
We both carry quite a bit of water with us when we hike. There are a few places within the parks to fill up, but we like to have our water ready to go so we can minimize stops!
National park fees
We highly recommend getting a national parks pass for this trip. A national parks pass is $80, and when it costs roughly $30 to visit each national park, it's a steal! Just this day trip alone will cost you around $60, and for $20 more, you can get into as many national parks as you'd like, as many times as you'd like, for the rest of the year. I bought my national parks pass at REI, although you can get them online or at select national parks.
The ultimate Zion & Bryce day trip itinerary
Use this itinerary as a guide, or tweak it how you see fit. I'll offer alternatives and solutions for each activity so you can build an itinerary that works for you.
[Optional] Sunrise/Morning Walk along the Pa'rus Trail
This is a glorious way to wake up! Depending on the season, it can be a little chilly in the shade before the sun comes out, but watching the sun slowly light up the valley is absolutely magical. The Pa'rus trail is an easy out-and-back walk on a flat surface. It's also wheelchair, dog, and bike-friendly. If you do this walk in addition to Angels Landing, know that you may run out of time to do the Fairyland Loop at Bryce!
Alternative option: Sleep in past sunrise or rent bikes & cycle along the trail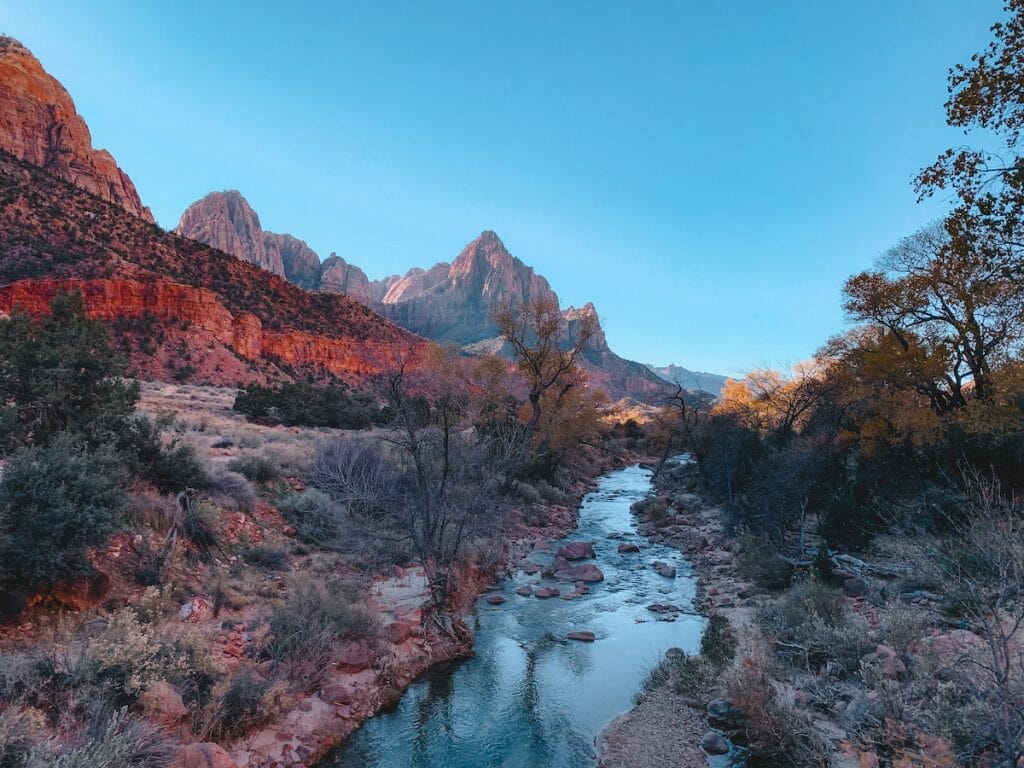 Hike Angels Landing
Angel's Landing is possibly the most iconic hike in all of Zion National Park—and for good reason! While the hike can get a little bit crowded, the sweeping views of the valley from the top of the hike is absolutely worth the effort. Be warned—this hike isn't for those who are afraid of heights or suffer from vertigo. There's a few thousand feet of exposure and while there are chains to support you, you want to be sure-footed.
Read more about the Angels Landing hike here.
This hike will take you roughly 3-5 hours. You'll also need a permit to hike Angels Landing, which you can apply for at the beginning of the season or the day before. It costs $6 to apply for a permit.
Alternative options: If you're looking for a less exposed, shorter trail, I recommend the Emerald Pools hike. If you're still looking for an adventure, but Angels Landing doesn't interest you, The Narrows is another hike you could do!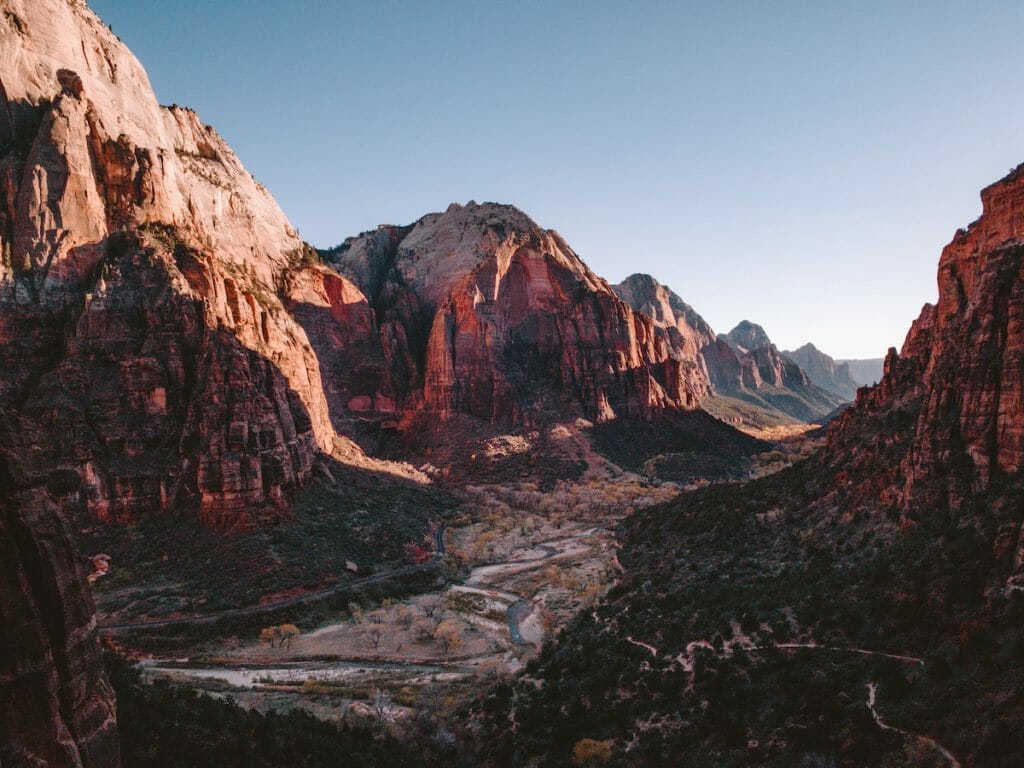 [Optional] Drive to the Canyon Overlook Trail
After that hike, it'll be good to rest your legs! Hop on the shuttle back to your car (or just head back to your car if you're doing this in the winter) and drive to the Canyon Overlook Trail. This trail is on the way to Bryce Canyon, along Route 9 after you've driven through the Zion-Mt Carmel tunnel (great views!). It's a 1-mile hike, although you can easily skip this trail and continue along towards Bryce Canyon National Park.
Alternative Option: Keep driving towards Bryce!
Drive to Bryce Canyon National Park
Continue on your way towards Bryce Canyon National Park! It takes a little over an hour to reach Bryce Canyon from the Canyon Overlook Trail, but it's well worth the drive. On the way towards Bryce, you'll drive through Red Canyon, a jaw-droppingly beautiful place with stellar views.
Once you get to Bryce Canyon, you have two options to round out the day!
Option 1: Hike the Fairyland Loop
You may have read my report on the Fairyland Loop here, and if so, you know that I LOVE THIS HIKE. The Fairyland Loop is such a hidden gem and it takes you above and amongst the hoodoos. The views of the rocky towers, colored ribbons on the hills, and vast landscapes beyond are just *chef's kiss*.
This is a bit of a longer hike at around 8 miles, so if you're tired or coming to Bryce a little late, there are plenty of other beautiful hikes in the area/along the rim!
Option 2: Drive the Bryce Canyon Scenic Drive
Alternatively, the 18-mile Bryce Canyon Scenic Drive is another great way to get some incredible views with minimal physical effort. The scenic drive is chock-full of viewpoints that you can drive into—no hiking required! For a more in-depth look at the scenic drive, check out my Bryce Canyon 1 day itinerary.
More Helpful Resources
[Zion] Angels Landing Trail Guide
[Bryce] One Day in Bryce National Park Itinerary (including more Bryce tips & info!)
[Bryce] The Fairyland Loop Trail Guide