If you're looking to hike in Zion National Park, you've probably come across the Angels Landing Hike. Angels Landing is a 1488 ft rock structure in Zion, and this hike takes you from the valley floor all the way to the top. On this unforgettable hike, you'll go up brutal switchbacks before meeting the famous chained section, where sheer drop-offs surround you. This hike isn't for the feint-hearted, but is so worth doing.
The Angels Landing hike in a nutshell
Save this post for later! Pin it!
Angels Landing hike key information
Trailhead: The Grotto shuttle stop
Hike End: The Grotto shuttle stop
Length: 5.2 miles / 8.4 kilometers
Time: 3-5 hours (your time is also going to depend on how much foot traffic there is near the top!)
Ascent: 1500 ft / 460 m
Difficulty: Intermediate/Strenuous if you aren't afraid of heights – it's technically not too difficult, but it's exhausting as there are uphill switchbacks nearly the entire way up, and then exposed sections with chains at the top. If you are spooked by heights or exposure, this would be a very mentally-challenging hike.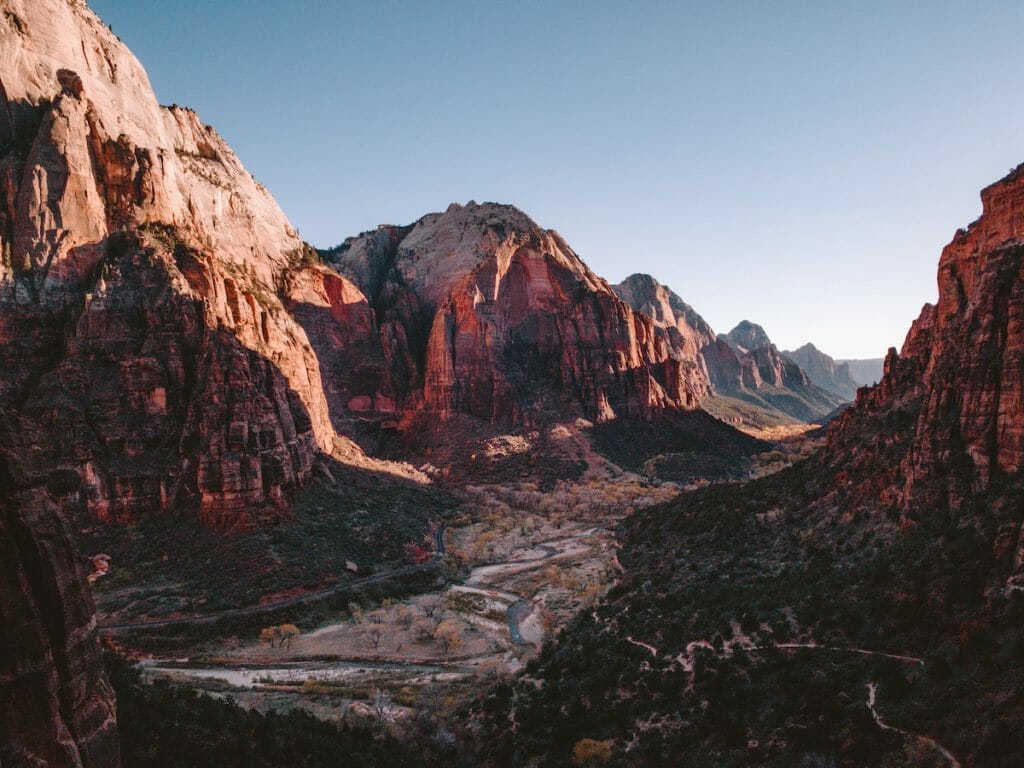 How to get to the Angels Landing hike trailhead
By Shuttle: This hike starts at The Grotto shuttle station. From the summertime until after Thanksgiving, you can take the free Zion Canyon shuttle to this trailhead. No cars are allowed down this road when the shuttle is available, so I'd highly recommend catching the shuttle.
By Foot/Bike: If you want to get to the trailhead in the summertime (or whenever the shuttle is running/the road is closed to private vehicles), you can also bike or walk to the Grotto Trailhead. This will add on six miles – one way – so I'd definitely recommend biking over walking. This is especially convenient if you want to visit Angels Landing before the shuttle buses start operating in the morning.
How to hike Angels Landing without crowds
Angels Landing is one of the most popular hikes in Zion National Park. With that title come crowds! Don't let the crowds stop you from hiking this amazing trail, but plan ahead so you can hike without crowds. Here are my tips!
Start early or late. Wake up before the sunrise and cycle 6 miles to the Grotto trailhead, or start in the late afternoon. The bulk of hikers come in the late morning to early afternoon, so avoid then! That being said, don't start hiking too late. I wouldn't recommend this as a sunset hike – its dangerous to hike this trail in the dark and the sun will go behind the cliffs, so you won't be able to see the valley in all its glory.
Visit during the shoulder season. Summertime is CRAZY at this national park, so lace up your hiking boots in late spring or autumn. Avoid winter (ice + exposed edges = not good) or any time there's still ice (early spring) for this particular hike.
Bring a thermos or a snack and wait a while. We found that there were pockets where there wouldn't be anyone else on the trail near us if we waited a little bit! Don't feel the need to rush up and then down – enjoy the view and you'll probably get some time to yourself!
My experience hiking Angels Landing in November
We drove into Springdale, UT (just outside of Zion!) at 1:30ish and walked into the park by 2. We caught the shuttle and were on the trail at 3pm. We got off at The Grotto shuttle stop and crossed the street to the trailhead. The trail started out pretty flat and was already full of incredible views!
As we continued along the flat path, I started to worry about how crowded this hike was going to be! There were quite a few people on the trail, but many of them ended up turning back farther up, making the hike much less crowded than we had initially anticipated.
The trail is paved from the beginning of the trailhead, so it's pretty technically easy for the first section. After a little while, the trail starts to switchback and your heart will start beating much quicker than before! The good news is that there are plenty of places to stop and take a break. While you're resting, have a look at the view around you. IT IS INSANE.
The trail will flatten out again as you enter into a section with walls of rock to your left and right. It'll be shaded and cool here, but you'll soon be working up a sweat! You're at the infamous section, Walter's Wiggles, 21 steep switchbacks back and forth towards the top of the trail. These were harder than I thought they'd be!
Once you get to the top of Walter's Wiggles, you'll make your way to a wide open area (more good views!). Take a rest here, because this is the last place without exposure!
As you continue on your hike, you'll come across the first set of chains. The rock here is kinda slopey and I actually found it to be the most technical part of the trail. Luckily, this area is also wide and the rock has traction, so you don't really have to worry.
As you move forward, you'll get away from the weirdly slopey rock and start scrambling more – there are chains wherever you may need them, but it isn't too technical! I think the hardest part about hiking with exposure is mental – physically, this trail isn't too demanding after Walter's Wiggles.
You'll continue for about 30 minutes on the section with chains, and when you reach Angels Landing, the chains will disappear and there will be a little more open space. We recommend having a rest and taking in the view – it is spectacular! We went just as the sun started to go down, and the colors that bounced through the valley were rich and saturated – it was one of the most incredible views I've ever seen.
The time it takes to hike Angels Landing will really depend on how crowded it is. On the way there, we got caught in a few different crowds and had to awkwardly shuffle around and wait for passing, which added a lot of time to our hike. On the way back, we didn't have many people on the trail at all, and it was a much faster process to hike out!
You go back the same way that you came. If you do decide to hike in the late afternoon, make sure you're at the top of Walter's Wiggles when it gets dark. While its possible to hike the chained section in the dark, you'll want to be surefooted, so we highly recommend leaving enough time to hike out with sunlight.
We were back at the Grotto shuttle stop 3.5 hours after we'd arrived. We kept a pretty fast pace but stopped for photos and a long rest at the top. It would definitely be possible to do this hike in about 2.5 hours if you're fast and have no crowds towards the top. As always, budget more time rather than less time for your hike!
This hike was so worth the hype. The sheer drop-offs, views of the entire valley beneath you, and scrambling make Angels Landing an absolutely exhilarating hike.