After over 2000 km on the trails, I've figured out the perfect way to pack my bags for hiking. Here are my day trip essentials and the best clothes to wear.
When thinking about what to pack for a day hike, as well as what to wear, one quote comes to mind.
There's no such thing as bad weather, just bad clothes.
What you wear hiking, as well as what you pack in your bag, is so important. Being prepared is what makes a miserable day bearable, it's what makes a good day great! I've done quite a bit of hiking over the years, and this is my guide to what to pack for a day hike and what to wear for a day hike.
What to wear on a day hike
Let's start top to bottom! I like to plan out my outfit this way, as it makes it easy to remember everything you need.
First up: Your head!
If I'm in a cold region, I'll wear a beanie. Sometimes I'll wear a big knit headband if I know there's a lot of ascent and I'll be sweating. If it's super sunny out, I'll wear a baseball cap or sunhat to protect my face from the sun. I'll also wear sunglasses, no matter the temperature, if it's going to be sunny out.
Tops: Layering
My base layer is typically a tank top. Honestly, something with sleeves is probably a better option to protect your shoulders from the sun, but I get so so so hot and prefer a tank top. Long sleeves are the way to go when you're in cold weather, but material matters. Go for a wicking material and skip out on the cottons.
My middle layer is always my fleece. I have two that I go between: a Uniqlo fluffy fleece and a Patagonia quarter-zip. They both keep me warm and they're easy to throw on. If it's particularly cold, I'll also wear a down jacket. I really like my Patagonia down sweater because it folds up super small and because it's incredibly light. Extra weight is the worst!
Finally, if the weather looks a little iffy, I'll wear my raincoat. I had an amazing one with zip vents at the underarms, but I unfortunately lost that on a bus ride in India. I have another now without the vents, but I highly recommend getting one WITH vents if you're going to be hiking in it.
Bottoms & Shoes
Trekking pants are a great option if you're going on an unmarked or rugged trail, but if you're hiking a popular trail, leggings will be just fine. The reason hiking/trekking pants are so great is that they offer a little more protection. If it's really cold out, I'll layer the two!
I'll always always always wear wool socks, no matter the temperature. I'm a huge fan of wool because it keeps your feet dry, warm in the cold, and cool in the hot weather. Smartwool is my go-to brand, but I've also heard great things about Darn Tough Socks.
I really like my hiking boots (Lowa Renegade GTX mid boots). They provide ankle stability, incredible grip, and they're super comfortable. I see people hiking in sneakers a lot. If you're on a trail that isn't too technical, this should be fine, but I wouldn't do a hike in the rain or along skree in sneakers, as you'll want the extra grip hiking boots provide.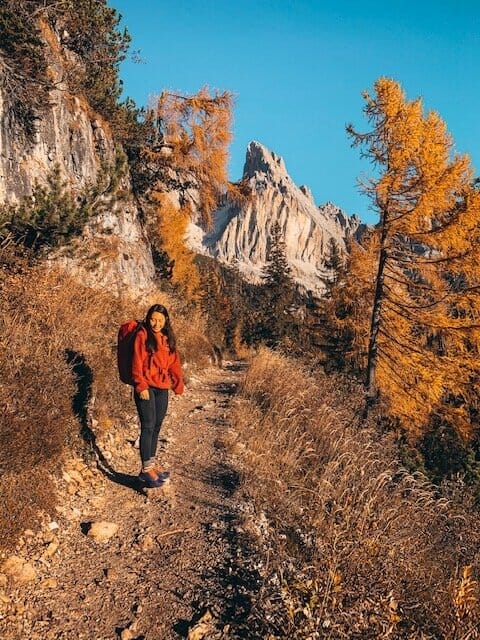 What to pack for a day hike
Backpack
The most important thing to remember when choosing a backpack to bring on a hike is that you will be wearing it for HOURS. Support is the most important thing! I make sure that any backpack I'm going to bring on a day hike has both a waist belt and a chest strap. Deuter is my favourite brand for hiking bags.
Water
This is possibly one of the most important things to bring with you on a hike. Aim to bring at least a litre of water, and remember, the more you drink, the lighter your pack will be!
Snacks
For me, the most important thing about a good trail snack is that it's easy to carry. Think nuts, jerky, granola bars. I usually have a Clif bar and apple on me and more often than not, a cheeky bar of chocolate. If I'm going for a long hike and need a packed lunch, I'll usually pack a sandwich at home. If I'm travelling and don't have access to refrigerated goods, I'll pick up some sardines/tuna and rice crackers.
First Aid
On day hikes, I'll usually just bring a few bandaids and painkillers. I'll also have lip balm and sunscreen in my first aid kit. DON'T forget the sunscreen.
Room For Layers
In the section where I talked about what to wear, I walked you through all my layers. I'll always make sure my bag has enough room to carry my raincoat, my down jacket (if needed), and my hat/gloves (if needed).
---
I know that sounds like a LOT to carry, but it doesn't take up much room once everything is said and done. I like to pack light in order to ensure the day is still enjoyable, but I like to also be prepared for anything that comes my way.
---
Read more! Some of my favourite hiking adventures: