Not sure what to wear in Paris during the wintertime? Emma from Petite Maison of Fashion has you covered! She's a Franco-American fashion blogger that has some great Paris fashion tips for you.
Hello friends! Today Emma from Petite Maison of Fashion is going to share an outfit of the day for winter in Paris. Emma is a Franco-American fashion and lifestyle blogger, as well as one of my best friends, a total #girlboss, and my previous college roommate! We're collaborating to help you figure out what to wear in Paris during Winter.
---
If you're thinking of going to Paris during the Winter time, there are some staple items you should bring to blend in with the sea of black-clad Parisians. No one wants to be that tourist with the cargo shorts, white New Balance sneakers, fanny pack and camera hanging around the neck. It may seem harder with cold weather during a winter trip, but we've got you covered.
Paris Packing List : How to Pack for Paris During Winter
Paris is such a glamourous city, and you won't want to stand out amidst the Parisian women! These items are great to get you through a Paris Winter, and I bet you'll love these items so much, you'll keep them in your staple winter packing list.
Jackets/Coats
I'm a sucker for a big wool coat during the winter months. I think these are beautiful in the style of a trench coat, as the longer length keeps you warmer. If you're going during the rainier months, I'd recommend either packing an umbrella or a winter coat that is water resistant. Also note that it can get windy up at some major tourist attractions (think the Eiffel Tower) so you should bundle up bring a winter coat for Paris.
Tops
It's really important to layer when visiting cold destinations. I like to pack a sweater or two and long sleeve tops. I'll wear a long sleeve under the sweater, which goes under my jacket – the more layers, the better, when you're exploring a city! To help with the bulkiness whilst packing, packing cubes can come in handy!
Bottoms
Skinny jeans go with everything, so I'd definitely bring a pair. If it's really cold, I like to pack a pair of fleece-lined leggings to wear under them. If skirts are more your thing, pack a good pair of tights. Tights are also great for rainy days because they dry out considerably faster than jeans. Some subtly printed trousers are also a great way to dress up a sweater. My go-to is pinstripes!
Accessories
This is what really makes an outfit. I like to go for basic tops and bottoms and to change my look up with accessories. A cute hat goes a long way! A bright scarf will keep you warm, too. It's easier to pack three scarves than three sweaters, so I say load up on accessories to make your travel wardrobe stretch.
Makeup is another way to change up your look. When I don't want to carry a lot of makeup, I bring my everyday makeup, and two or three lipsticks. A red lip can totally change an outfit and is super small to pack!
As for handbags, I'd choose something smaller over something bigger to carry your valuables. Pickpockets in the paris metro often grab handbags right as doors are closing, so I'd go for something like a crossbody purse. My phone was stolen from me when I was in Paris, and I wish I had brought a small bag to keep valuables close to my body.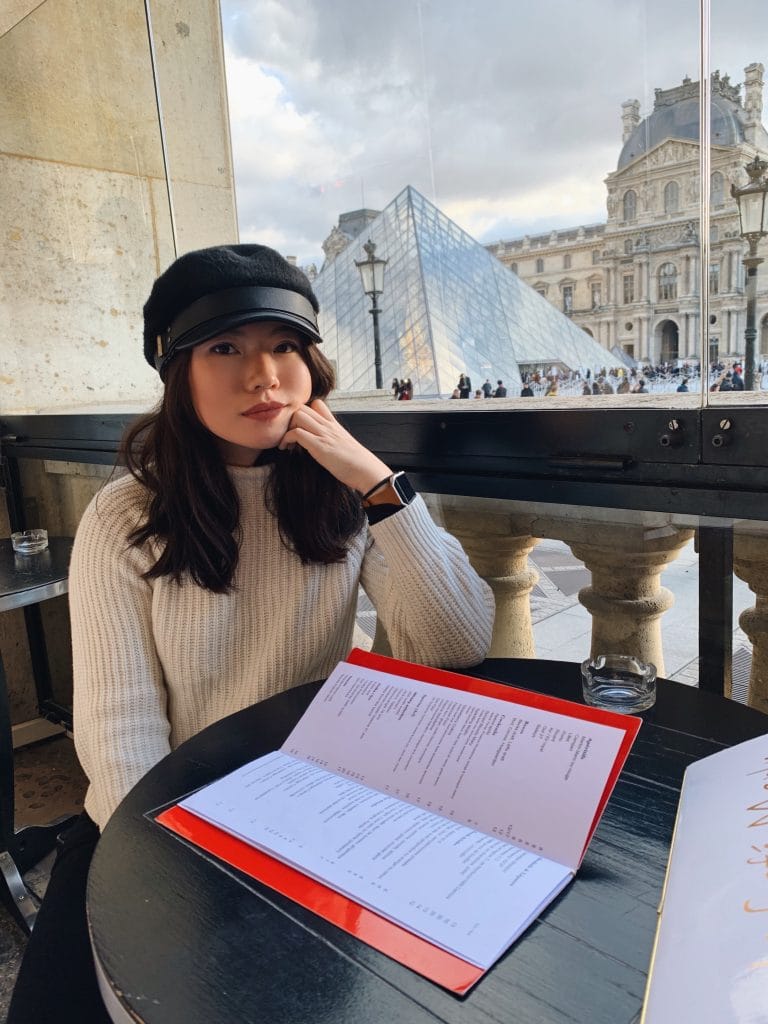 OOTD to Consider for Your Paris Packing :How to Dress Like a Parisian in Winter
Leather jacket
A (preferably) black leather jacket will help tie your outfit together while keeping you warm. Wrap a large scarf around your neck, slip into warm gloves and you're good to go. Black goes with everything which will allow you to pack light and leave room in your suitcase for some Paris shopping. How could you leave Paris without shopping?!
Walking shoes
Though Paris is a fashion capital, you'll still need a good pair of walking shoes. Pick urban sneakers, like dark-coloured Vans, Converse, Stan Smiths etc. or leather boots that you feel comfortable walking up to 15-20,000 steps per day. Paris is an excellent city to discover on foot, especially if you plan to go to Le Maris which is hardly accessible by car. This is also why I like to layer clothes – it's cold outside, but if you get warm walking around, you can always cool down. Leather boots are my favourite shoes to wear because they dress up outfits. To make a comfortable pair even better, buy a good insole.
Black pants
Pack a pair of black jeans or pants to go with your leather jacket. This is your Parisian uniform. Wear them on the plane and you'll land at Charles de Gaulle airport already looking like a true French citizen. I love black flared jeans or straight trousers for a more fashionable look.
Urban sweatshirt
Stay warm yet comfortable with a good looking structured sweatshirt. Be conscious of the lettering and message. Stay away from college sweatshirts or XXL and stained ones. Pick something neutral or discrete that you can wear layers under and still fit under your leather jacket or coat of choice. You'll also be able to lounge around in your Airbnb or hotel room with this sweatshirt, while also transition it to go out and about in the city. This is a good alternative to sweaters if you find them too bulky. Again, something you can dress up or down would be a good sweatshirt to pack.
Accessories
Cool sunglasses
Keep your act together after a late night in the clubs or bars with some large sunnies. These will spice up your touristy pics, pull together an otherwise basic outfit and keep you looking stylish all day.
Minimalistic jewellery
Don't pack too much jewellery while travelling. Pick a couple of staple pieces that will go with each outfit you've packed. I like to avoid bringing my expensive jewellery on travels with me. To keep necklaces untangled when travelling, put the chain through a straw – seriously, this hack is a lifesaver!
---
Whatever you do, don't overpack! You'll want to leave some room in your suitcase to fit all of your latest finds from the hidden thrift shops like Kiloshop, fast fashion stores like Pimkie and Mango or more high-end department stores lies BHV, Galleries Lafayettes or even Bon Marché, depending on your budget. Bon voyage!
---
Like this post? Pin it!