The Wasserauen to Seealpsee hike is an incredible way to head up to Ebenalp. Seealpsee is a breathtaking alpine lake in Switzerland. Located on the border of Austria and Germany, Seealpsee is a popular spot in the Apenzell region. In the summertime, people head up to the lake to sunbathe, enjoy a picnic lunch, and even swim (though the mountain water is freezing!)! In the spring and autumn, it's a fantastic hiking destination, as Seealpsee can connect you from the base of the mountains to Ebenalp's many trails. Here's everything you need to know about the Wasserauen to Seealpsee hike!
The Wasserauen to Seealpsee Hike in a Nutshell
Wasserauen to Seealpsee hike key information
There are two routes up from Wasserauen to Seealpsee – there's a direct route and an indirect route. The direct route is shorter, but it's in the sun and very steep the entire way up. The indirect route is longer, but I find it much more pleasant, as you walk through the forest and next to waterfalls before getting to a flat area with incredible views! I'll be focusing on the indirect route in this post.
Trailhead: Wasserauen
Hike End: Seealpsee
Length: 3.5 km / 2.8 km (direct)
Time: 1.5 hours (walking slowly!) I walked at a fast pace and got there in roughly 50 minutes, but I recommend slowly going up to enjoy it a bit more! The direct route takes roughly one hour.
Ascent: 270 meters
Difficulty: Beginner
Like this post? Save it for later!
How to get to the Wasserauen to Seealpsee Hike Trailhead
Wasserauen (and the Apenzell region) is easily accessible by public transport or car. Here's how to get to Wasserauen.
How to get to Wasserauen by train
Take the Appenzeller Railway up to Wasserauen. You can get direct connections from St. Gallen or Gossau. This railway is included in the swiss day pass, which is my recommendation if you're travelling far by train to Wasserauen.
How to get to Wasserauen by car
You'll drive through Apenzell and Gossau to get to Wasserauen. It takes roughly 1 hr 15 minutes from Zurich, 2 hours from Basel, and 3 hours from Interlaken.
Parking in Wasserauen
There's public parking in Wasserauen for 3 CHF per day. It's a small parking lot, but on busy days this will fill up quickly! There's another lot in the grass with people to steer you in the right direction. You'll pay as soon as you arrive in the grass lot, so make sure you have cash ready!
My Experience on the Wasserauen to Seealpsee Hike
After arriving in Wasserauen, we headed up on the road towards Hotel Alpenrose along the trail. You'll see yellow hiking signs along the road. The trail splits shortly after Hotel Alpenrose, where there's a yellow hiking sign. If you continue straight along the paved road, you'll be taking the super steep direct trail. I recommend instead going left on the trail to Seealpsee that takes 1 hour 30 minutes.
My mom and sister wanted to take the shorter route, so they went the direct route. I was keen to see what the longer trail was like, and I definitely recommend going the longer route. It's much more pleasant, and it's actually easier than the direct trail.
You'll start hiking by going uphill into the forest. The forest is shaded which is great if you're hiking in the summertime. You'll hike next to a waterfall. There are quite a few stairs, but the trail isn't uncomfortably steep.
The trail marker says that it takes roughly an hour and a half to hike up the forest trail, but I reached Seealpsee in 50 minutes. After about 30 minutes of hiking, I was done with the uphill bit, and the trees cleared to an incredible plateau with cows everywhere.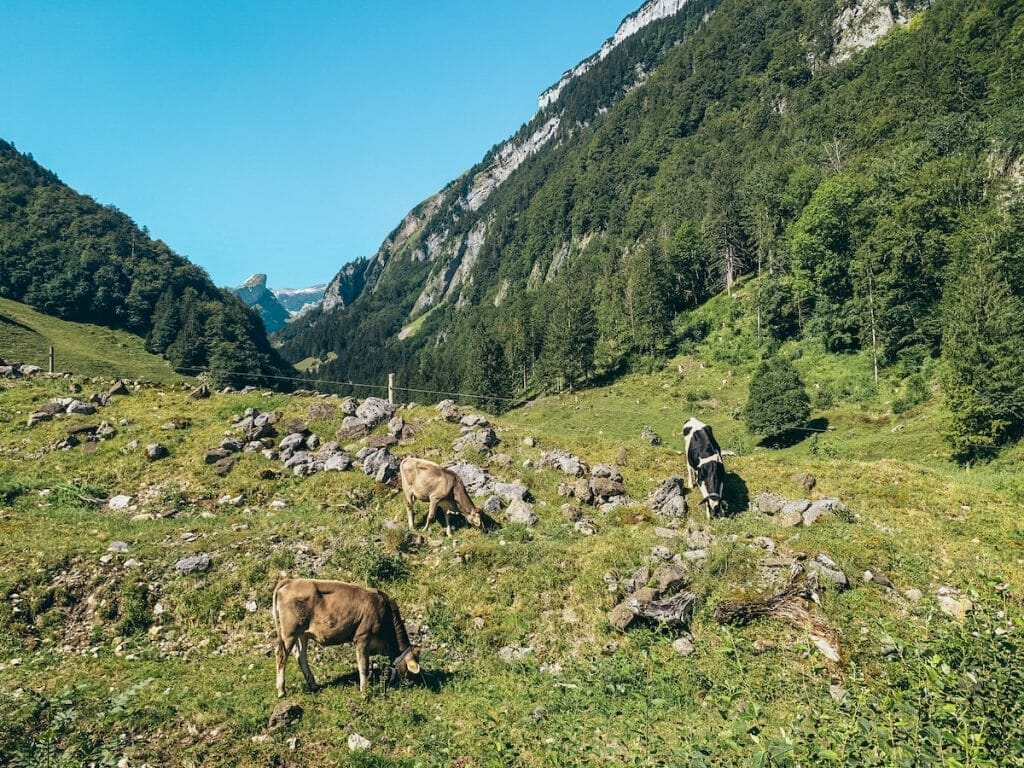 There are a few shops where you can buy alpine cheese if you're looking for a quick snack!
Eventually, you'll start going downhill, and you'll get your first glimpse of Seealpsee lake! Once you reach the lake, you can either hike counterclockwise to get to the restaurant (amazing view!) or you can hike clockwise to hike around the lake.
Alternate for non-hikers
If you're worried about hiking uphill, you can also take the cable car up to Ebenalp from Wasserauen. From Ebenalp, you can hike via Äscher and Wildkirchli down to Seealpsee. It takes about an hour to hike down to Seealpsee from Ebenalp. The cable car costs 20 CHF one-way, but you can get 50% off with a Swiss GA card or day pass.
Hiking Trails from Seealpsee
From Seealpsee, you can head up to Ebenalp. On the way, you'll reach Äscher, the hut built into the mountain, popularised by National Geographic, and Wildkirchli, an amazing church in a cave. You'll head through a separate cave and head through it to end up on the other side in Ebenalp! From Ebenalp, you can hike up to Schäfler to see a dramatic ridgeline.
Alternatively, if you're an advanced hiker, you can hike straight up from Seealpsee to the Schäfler ridge, bypassing Ebenalp. It takes about 3 hours to hike up to Schäfler along an incredibly steep and narrow trail. There are cables to help you along, but I would only do this hike if you're comfortable with heights, steady-footed, and an experienced hiker. I also recommend only going uphill this way and going downhill via Ebenalp, as there's lots of scree on this route.
Where to stay near Ebenalp
Alpenrose Guesthouse, Wasserauen – This guesthouse is located at the bottom of the region, where you can easily catch the Ebenalp cable car! It's only a 2 minute walk away from the cable car station and only 5 minutes from the Wasserauen train station. Rooms start at 60 CHF for a single room and go up to 200 CHF for a four-person room.
Ebenalp Guesthouse – The Ebenalp Guesthouse is located up near the Ebenalp Cable Car Station. It costs 45 CHF for a place in a dormitory. It's a great place to stay if you don't want to stay below and have to take the cable car two days!
Seealpsee Guesthouse – If you aren't opposed to hiking, the Seealpsee Guesthouse is a great place to stay! Getting to and away from Seealpsee takes some hiking, either all the way from Wasserauen or from the Ebenalp cable car station. The views from this guesthouse are incredible. A single room costs CHF 80 and a double room costs 75 per person. They also have triple and quadruple rooms.
Schäfler Guesthouse – This is the ultimate place to stay for sunrise and sunset. The Schäfler ridgeline is insanely beautiful and I highly recommend checking it out! It costs 45 CHF to stay in the dormitories, and it costs 70 CHF per person in their single or double rooms.
When to Hike in Ebenalp
Ebenalp is a great summer and autumn hiking destination.
NOVEMBER – MAY | You can expect to see snow in Ebenalp during the winter and spring months, so I wouldn't recommend hiking during this time. With snow and ice, the trails could be potentially quite dangerous.
JUNE – OCTOBER | You can expect to get great weather during these months! During June, you might experience a little snow, so keep an eye out on the weather and don't hike steep/difficult trails if there's ice. July and August will likely be HOT, so make sure you wear cool clothing, bring plenty of water, and load up on sunscreen!
Other helpful Switzerland posts
Below you'll find some other guides I've written to help you navigate through your time in Switzerland!
HOW TO TRAVEL SWITZERLAND ON A BUDGET
Outdoor Adventure Guides
CYCLING IN SWISS NATIONAL PARK
KANDERSTEG MOUNTAIN COASTER & OESCHINENSEE HIKING
City Guides
THE ULTIMATE GUIDE TO ONE DAY IN BERN
10 DAY TRIPS IN SWITZERLAND THAT WILL BLOW YOU AWAY
BEST TIME TO VISIT ZERMATT & GORNERGRAT