Located 3160 m above sea level, Shangri La (also known as Zhongdian) is the Himalayan paradise of the 1933 James Hilton novel Lost Horizons (or so they say, although other towns also claim to be THE Shangri La). My friends and I decided to do a weekend trip here to see the mountains and Tibetan culture. Here's how to go from Kunming to Shangri La for a weekend trip!
Getting From Kunming to Shangri La
We bought our tickets at Kunming West Passenger Bus Station (Xi Bu Ke Yun Zhan). It's best to take a taxi here (¥25), as it's quite far away.
The tickets were about ¥208 one way. You can only buy one-way tickets at the station. We took the 8pm bus, and while it was supposed to take 12 hours, it actually took 16. This was because the two drivers were chatting all night and then pulled over for 3 hours to nap, instead of taking shifts (???). I'm not sure if this is a regular occurrence, or if it was just delayed this one time!
Either way, I'd allocate some extra time for this journey.

The night bus was actually quite comfortable, although my taller friends (aka all of my friends) were too tall for the beds, so their legs had to be propped up. I'm 5'1, so I think most people will be slightly cramped.
We stopped 2 or 3 times for bathroom breaks. These were very basic and I wouldn't expect Western toilets – they'll all be squat! The breaks are taken every 5ish hours and often the bus will refuel. You'll have maybe 15 to 20 minutes to get up and stretch your legs.
The views are supposed to be wonderful when you wake up, although it's a bit hard to see from a sleeper bus if you're on the bottom bunk.
Accommodation in Shangri La
We stayed at Tavern 47, an adorable Tibetan-teahouse inspired hostel. Our room was incredibly clean and we had electric blankets to keep us warm at night. We actually were so cosy that we had to turn off the electric blankets pretty quickly! The common room is very cute and there's a resident cat that stole our hearts.
If you're there, definitely get the lemon ginger honey tea. This is a drink that I often get in Nepal's Himalayas and it was so comforting to have again.
What to do in Shangri La
We had planned for one day to hike up a mountain, but due to the bus ride being longer than anticipated, we didn't have time to do so. I think that would have been wonderful, but it is what it is. If you're planning on going to Shangri La and are interested in climbing the mountain, there are plenty of places in town to get taxis and information about getting there.
Instead, we wandered around the city and peeped into a few temples. We climbed up to the top of 100 Chicken Temple, and the prayer flags lining the entire path up was beautiful. This was one of the highlights of the trip – this temple was beautiful!
We also decided to try these yak meat walnut balls that we saw being sold all over the old town. Honestly, I had no idea what to expect, but they were delicious. There's no yak meat in them (I think), and they were more of a slightly sweet dessert ball/snack. They're definitely worth a try, at least! We liked them so much, we bought a few more bags for the bus ride home!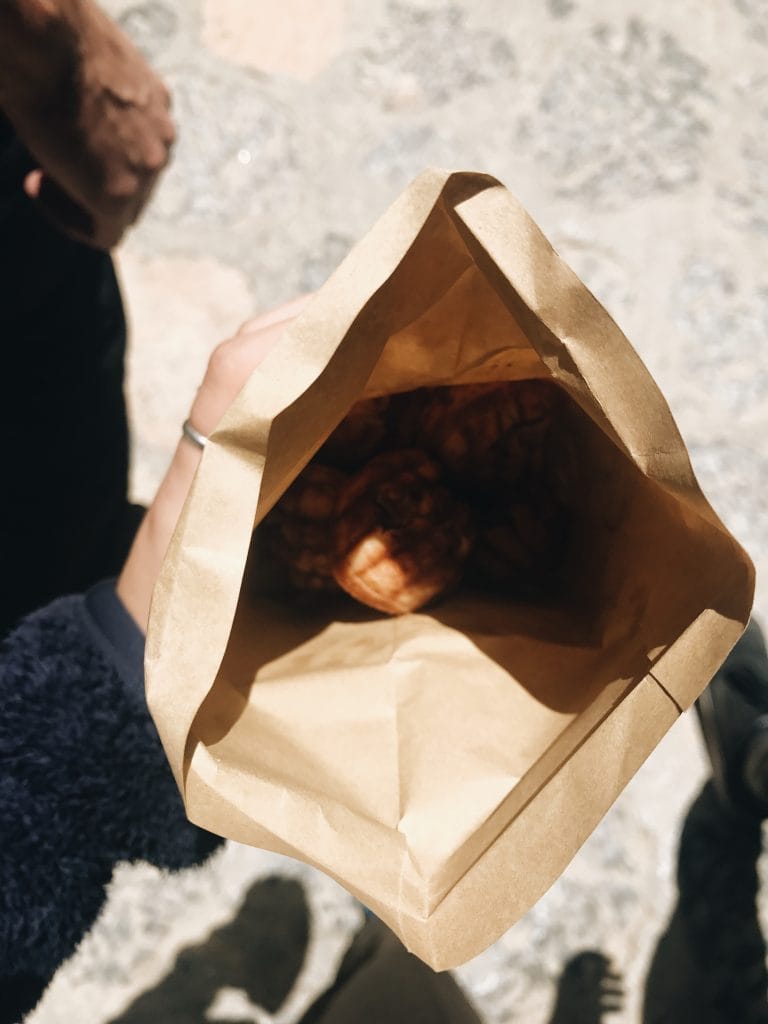 I think it's important to note that about half of Shangri La's old town was destroyed in a 2014 fire, so there's a lot of reconstruction going on. The town is less crowded than it used to be, which means it's a little harder to find tourist infrastructure. We enjoyed the old town nonetheless.
Make sure to check out the huge prayer wheel. It took about 10 people to get it spinning! It's the world's largest prayer wheel and it is absolutely amazing. Team up with fellow tourists to pull the wheel and get it to spin.
If you want to go to the bigger monasteries, they'll come with a hefty price tag. We decided to skip those, as there are beautiful ones all around the town just waiting to be discovered (and they're free!). Wander around and see what you stumble upon!
Going Away
Because of our 16-hour bus ride surprise, we decided to take an early bus in order to get to our Monday 8:30 am classes. When we arrived in Shangri-La, we bought our train tickets back to Kunming. We got the 2pm bus.
This was actually a WONDERFUL move. Although we didn't have sleeper seats, we were able to see the scenery that we had missed on the way up. The winding roads reminded me of buses in Nepal. That, mixed with the Tibetan culture we had just seen, made my heart ache for the Himalayas!
Shangri La wasn't what I had expected it to be, however, it was a really nice weekend trip. It was just enough of a taste of the Himalayan culture I have grown to love, and it was a fantastic way to spend the weekend.