Castle Crags State Park is a beautiful, highly underrated state park in California. With picture-perfect views of granite towers, endless hiking and climbing, and close proximity to Mount Shasta and beyond, Castle Crags is certainly worth a few days. If you have two days to spend in the area, this guide is for you! Here's my 2 day Castle Crags Itinerary.
When to visit Castle Crags State Park
Castle Crags is a great place to visit year-round. In the wintertime, some hikes turn into incredible snowshoeing trails. When it's hot and the snow melts, the state park looks completely different. The views of Mount Shasta and the Sacramento River are gorgeous year-round.
So the scenery is great all year, but what about the weather? In the summertime, temperatures climb and it's often above 100 degrees. In the wintertime, expect plenty of snow and freezing temperatures. I've visited in July when it was about 100 degrees out, and while it was hot, it wasn't unbearable (but know the right activities for the weather—more on that below!).
This guide will serve as a late Spring-Autumn hike, before the snow turns the park into a winter wonderland.
Camping in Castle Crags State Park
The Castle Crags Campground is open year-round. The campground is easily accessible from the I5 and each campsite costs $25, with a reservation fee if you book online. I paid $32.99 total for my campsite. Well worth it.
Before I had gone, I kept hearing about how the pleasantries of the campsite were overshadowed by the noise of traffic coming and going past on the interstate. The campsite *is* quite close to the interstate. Try to pick a campsite in the Upper Loop to get as far away from the freeway as possible. That being said, I didn't notice the noise one bit. If anything, it added some white noise that made me sleep better!
The campsites near the Pacific Crest Trail campgrounds and the lower loop are definitely a little bit noisier, but they're also closer to the Sacramento River, which can be a big benefit in the summertime.
When you arrive at Castle Crags State Park, there's an entrance fee/visitor center station where you can purchase isobutane gas canisters and other things you might have forgotten. When you arrive, you'll be greeted by park rangers and can let them know you're there to camp. They're great and they'll check you in in no time at all!
There is service in the park. Each campsite comes with a bear-proof locker for your food/smelly things (including toothpaste, lotions, sunscreens, etc.!), and a nearby tap and bear-proof rubbish bin.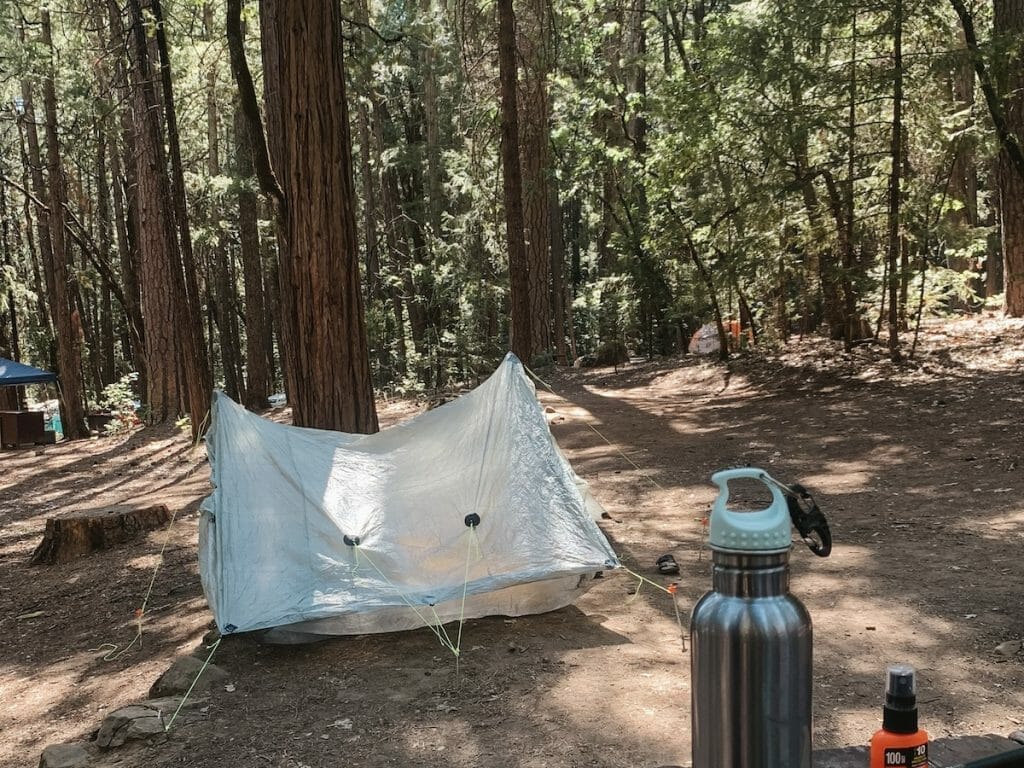 Getting to Castle Crags State Park 
One of the best parts about Castle Crags State Park is how close it is to the freeway, making it an EASY detour from any road trip up or down California. From the I5 exit X, it's only about 10 minutes until you're at the park entrance and 20 minutes to the Vista Point Trailhead!
If you're driving an electric vehicle to Castle Crags State Park, here are the closest charging stations:
[Electrify America] Yrkea (going south to the park) and Andersen (going north to the park) [Chargepoint] Mount Shasta town, Dunsmuir (going north to the park) [Tesla] Mount Shasta town
Getting Around Castle Crags State Park
You'll likely need a car to get to Castle Crags State Park. Driving around the park is the best way to get around, but It's also quite walkable—it'll just add some elevation or mileage to any hike you do! There are no public shuttles, so if you need a pickup or drop-off, you'll need to arrange private shuttles or ride shares.
2 Day Castle Crags Itinerary
This 2 day Castle Crags itinerary is jam-packed with summer adventure. You'll spend one full day in the park (with the option of extending that to two days), and then head on over to a nearby viewpoint for one of the most beautiful viewpoints and hikes. Sound good? Keep on reading!
Day 1: Exploring Castle Crags
Start off your day with the best hike in Castle Crags State Park! When you arrive at the park, immediately head up to the Vista Point Trailhead. There are about 30 parking spaces at the trailhead and a bathroom. There is no water tap to fill up bottles.
There are a few options here. For this itinerary, you're going to hike up to Castle Dome along the Crags Trail.
The hike is 6 miles long with 2200 ft of elevation gain. It's not long, but it takes a while because you're heading uphill the entire time! When you reach the trail end, you go a little bit further to the most incredible viewpoint. You'll get a jaw-droopingly beautiful view of Mount Shasta between Castle Dome and other granite giants. It takes about 4 hours to complete at a relatively quick pace, and if you're visiting in the summertime, you'll want to head out on the early side, before the sun starts baking you.
If you're looking for something easier, the Vista Point Trail gives great views and is only 0.4 miles long, with 50 feet of elevation gain. You could definitely have a nice picnic here—there are tables at the trailhead.
Once you're done with the hike, head on back to camp and set up. Rehydrate, have some lunch or a snack, and just take a break–you deserve it after that hike! I'm telling you, it's short but steep.
After your camp is set up, change into your swimsuit! I know after hiking up to Castle Dome, I was sweaty, not smelling too fresh, and HOT. I peeled off my hiking clothes, changed into my bikini, and headed towards the River Trail.
To get to the River Trail, walk through camp towards the lower campsites and the Pacific Crest Trail camp. You'll see a sign for the River Trail, which takes you under the I5. You'll walk along a slip road and turn right back into the woods. You can't miss the turnoff; there's a big sign advertising the River Trail. After one more underpass and then a suspension bridge over the Sacramento River, you'll be able to walk either left or right and find yourself a spot to dip into the river.
The water is cold, but so refreshing. Be careful when you walk in, as the rocks can be a little slippery. If you're not keen to swim, there are picnic tables all around the river, and you'll also find spigots to fill up your water bottles. Don't get dehydrated out in that summer heat!
Spend a few hours dipping in and out of the river, then head back to camp where you'll cook up a nice dinner (fire optional—I was much too warm to think about starting a fire!) and get a good night's rest.
Day 2: Castle Lake & Heart Lake
After a morning at camp and a hearty breakfast, pack up your campsite and head out of Castle Crags State Park.
Drive forty minutes to Castle Lake, where you'll park and enjoy some time hiking and on the lake. I recommend hiking first. Take the path on the left side of the lake towards Heart Lake. The hike to Heart Lake from Castle Lake is short, only 3 miles round trip, but the payoff is HUGE. The views? Insane.
You have the views of the mountain lakes and Mount Shasta in the distance and it is just *perfection*. And after only about an hour and a half hike (BOTH WAYS!). iiiincredible.
I took my time relaxing around Heart Lake; it was just too beautiful. Eventually, when I did decide to head back down, it was a quick walk back down the the car. I highly recommend going swimming in Castle Lake. If you have a kayak or stand-up paddle board, bring it! You can have an amazing afternoon on the lake.
On your drive home, if you have the time, there are quite a few towns you can stop in, including Mt Shasta, Yreka, and Redding.
Tired of reading? Watch instead!