Ticino, Switzerland is one of my favourite places in Switzerland. Sunny weather, Alp views, and great food – it has it all! Here are all of my favourite things to do in Ticino.
Ticino is one of Switzerland's most beautiful cantons. It's in the Italian region, where you'll find Italy's influence in the language, pace of life, and food! You'll find amazing lakes, views of the Alps, historic city centres, and old castles here. Convinced you need to go? Here's my list of things to do in Ticino, Switzerland.
Explore Bellinzona's castles
Bellinzona is such an overlooked destination in Ticino, but it's my favourite! There are three incredible castles that you can thoroughly explore. There are also plenty of walks and hikes that start in Bellinzona, including one with a Tibetan bridge.
Things to do in Bellinzona
Castelgrande
Montebello Castle
Sasso Corbaro Castle
Hiking
Ponte Tibetano Carasc
Explore the old town
Ascona's lungomare
Ascona is a beautiful town on Lago Maggiore. The colourful promenade is stunning – I'd recommend grabbing a tea or hot chocolate there!
Things to do in Ascona
Promenade (lungomare)
Walk through the old town
Monte Verita – a hill that used to hold Utopian events, now a cultural centre
Madonna del Sasso outside of Locarno
Locarno is a cute city with big plazas, cute restaurants, and plenty of cafes, but my favourite thing to do in Locarno is to walk up to the Madonna del Sasso. It's around a half-hour walk uphill, but the views you get of the Alps and the lake below you is amazing.
Wander through Lugano
Lugano is the sweetest city, located right on Lake Lugano. I absolutely love the old town, where you can find cute artisanal shops and plenty of Italian food.
Things to do in Lugano
San Lorenzo Cathedral (view the iconic tower!)
Santa Maria Degli (church)
Stroll through the Centro Storico
Visiting Lugano in Winter? Here's everything you need to know.
Visit Monte Brè
Monte Bre, located just outside Lugano, is a lovely viewpoint over Lake Lugano and the town. In the summer months, you can take a funicular up, and in the winter, when the funicular is closed, you can take the bus up. You can also hike up to Monte Bre if you're looking for a challenge! At the top, you'll find a cafe (in the summer months only) and you'll be rewarded with a great view.
Monte San Salvatore
This viewpoint is easily accessible by funicular from Lugano. Offering 360-degree views of the Lake beneath you, this is definitely somewhere you should go if you like views!
Personally, I'd choose between Monte San Salvatore and Monte Bre for a viewpoint. They offer quite similar views. Monte San Salvatore has a slightly better view, but Monte Bre has a lovely walk back down to Lugano.
Swiss Miniatur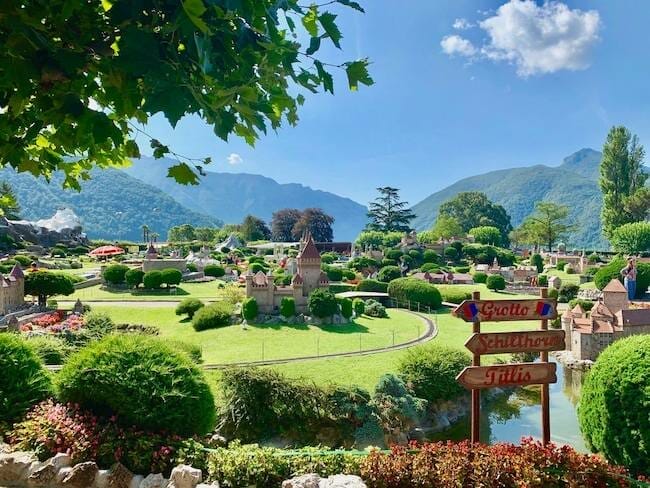 Swiss Miniatur is one of my favourite things to do in Ticino. It's a park that houses over 100 miniature models of some of Switzerland's most iconic sights. Visit if you're just starting your trip in Switzerland, so you can get a full feel of the places you want to see. It's also a wonderful way to get some inspiration and to add some lesser-known Swiss destinations to your list.
YOU MAY LIKE: 9 Swiss Day Trips That Will Blow You Away
Opening Times & Things to Know
Swiss Miniatur is only open during the summer season. You can find the exact dates on their website.
Hours: 9 am – 6 pm daily
Ticket Cost: CHF 19.50 for adults • CHF 12.50 for children 6-15 years old • Free for 5 and under.
You can save some money on tickets by buying tickets online. They also offer student and senior discounts.
Valle Verzasca
This picturesque valley is the ultimate place to visit if you like scenic nature, beautiful trails, and exhilarating biking trails. If you're looking for something a little more extreme, there's a bungee jump with an incredible view. It's located in the Locarno region of Switzerland and is a wonderful day trip from Locarno or Ascona.
Corippo
This sweet town is the smallest municipality in Switzerland, with just 12 inhabitants! It's a mountainous village located in Valle Verzasca (see below!), so there's plenty of hiking and biking nearby.
Brissago
Brissago is a stunning town right on the shore of Lake Maggiore. It's best visited in the summertime, when you can take a boat to the Brissago Islands. The small island has a peaceful botanical garden to explore.
---
When to Visit Ticino, Switzerland
Ticino is a fantastic year-round destination. In the summertime, Ticino is lively, warm, and a perfect lakeside destination. You can enjoy watersports and being out on the lake, so it's a really fun destination. Because of its location, also a great place to visit in Switzerland if you're planning on also visiting Italy.
In the wintertime, Ticino is quiet, but most attractions will be open. Ticino is always my go-to day trip destination when the weather is less than ideal in other parts of Switzerland, as Ticino has an incredible mild climate. Winters aren't too cold and there's sunshine more often than not!
In the shoulder seasons, Spring and Autumn, Ticino is perfect. The weather is amazing and the cities aren't too empty. They don't have the summer crowds, but the weather is perfect, so this is my favourite time to visit Ticino.
Where to stay in Ticino
Disclaimer: This section may include affiliate links. These come at no extra cost to you, but if you choose to book through them, I gain a small commission.
There are so many places to stay in Ticino, but I'd choose to stay in Lugano or Bellinzona. They're the biggest cities in the Ticino region, and they'll be great hubs to catch trains and take day trips from.
Lugano Accommodation
Hotel Lido Seegarten – This 4-star hotel is located right on the water. There's a beautiful courtyard pool and easy access to the lake, where you can sunbathe on the platoon, paddleboard, or swim.
Hotel & Hostel Montarina – This place is a dream. Located outside of the hustle and bustle of central Lugano, but still just a few minutes walk away, this hillside hotel and hostel is a perfect balance of nature and city.
Bellinzona Accommodation
Boutique and Business Hotel La Tureta – Come here if you want a nicer place to stay. The rooms have great views, the hotel is clean, and the staff is out of this world.
Casa Nataliya – This is one of the best options if you want to stay in an apartment. It's clean, close to the centre of town, and a super convenient way to see Ticino.
---
Like this post? Pin it!