Sitting nearly 9000 feet above the sea level, Half Dome is an iconic hike in Yosemite National Park. With over 5000 ft of elevation gain over about 8 miles, this hike is demanding but rewarding. This bucket list hike requires a little bit of forethought and organization but is certainly worth doing—here's my guide to doing the Half Dome Hike in a day!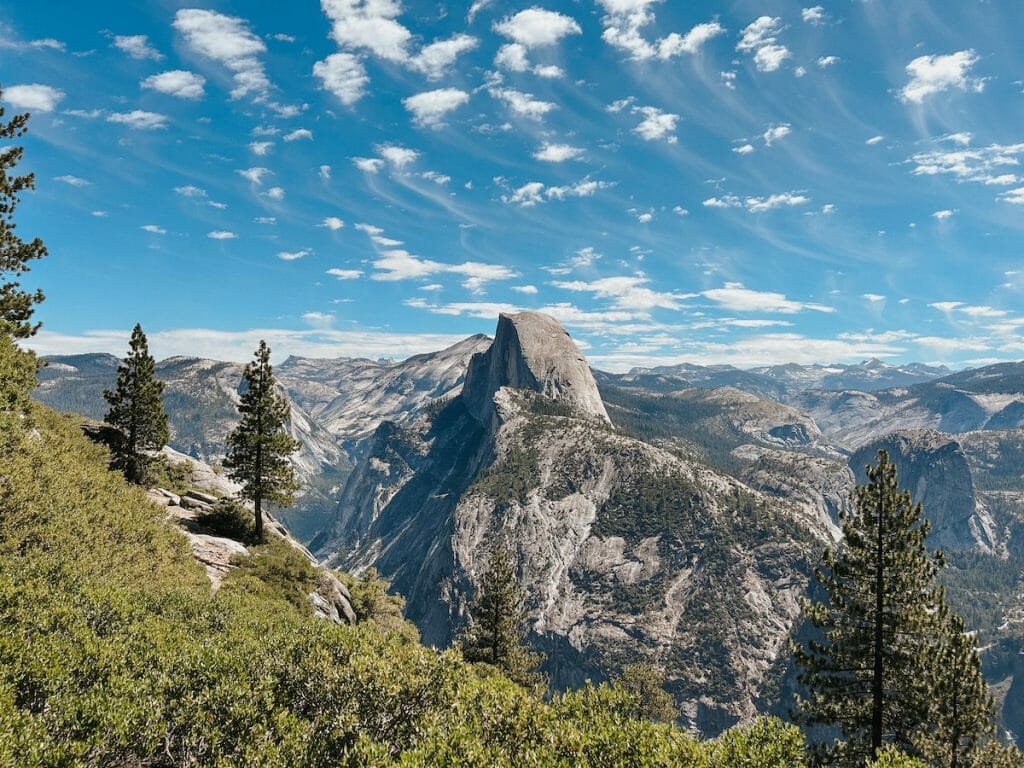 Half Dome Day Hike Key Information
Trailhead: Trailhead Parking—this is the parking lot for the Mist Trail, Vernal Fall, Nevada Fall, and the John Muir Trail (JMT).
Hike End: Trailhead Parking
Hike Type: Out & back
Length: around 17 miles / 27 km round trip
Time: 12 hours (with many stops for photos and time enjoying the view at the top!)
Ascent: around 5000 ft / 1524 m
Difficulty: Strenuous—a long, severely uphill hike and then the cables as a final sucker punch… and then back down!
Half Dome Permits
There are 3 ways to get Half Dome Permits, each with varying degrees of certainty. While thousands of people apply for permits, the National Park Service only issues 300 permits per day (225 for day hikers, 75 for backpackers), so unfortunately, your success depends mostly on luck.
First Option: Sign up for the pre-season lottery in March
Your best bet is to sign up for the lottery that opens in March. You can enter the lottery at recreation.gov. Unsurprisingly, you'll have the best chances of getting permits on a weekday.
Second Option: Daily lottery two days before
If you are unsuccessful at getting permits during the preseason lottery, you could also try signing up for the daily lottery. The daily lottery opens up two days before the hiking date, so if you wanted to hike on a Saturday, you would enter the lottery on a Thursday.
Third Option: Wait around at Sub Dome—very uncertain
Some hikers choose to hike around 8 miles to the bottom of Sub Dome, where the ranger checks permits, waiting for a party with an extra permit spot to come around. This is pretty risky—I definitely wouldn't bet on any party having an extra permit but if you want to do the hike and aren't fussed about the cables, go for it!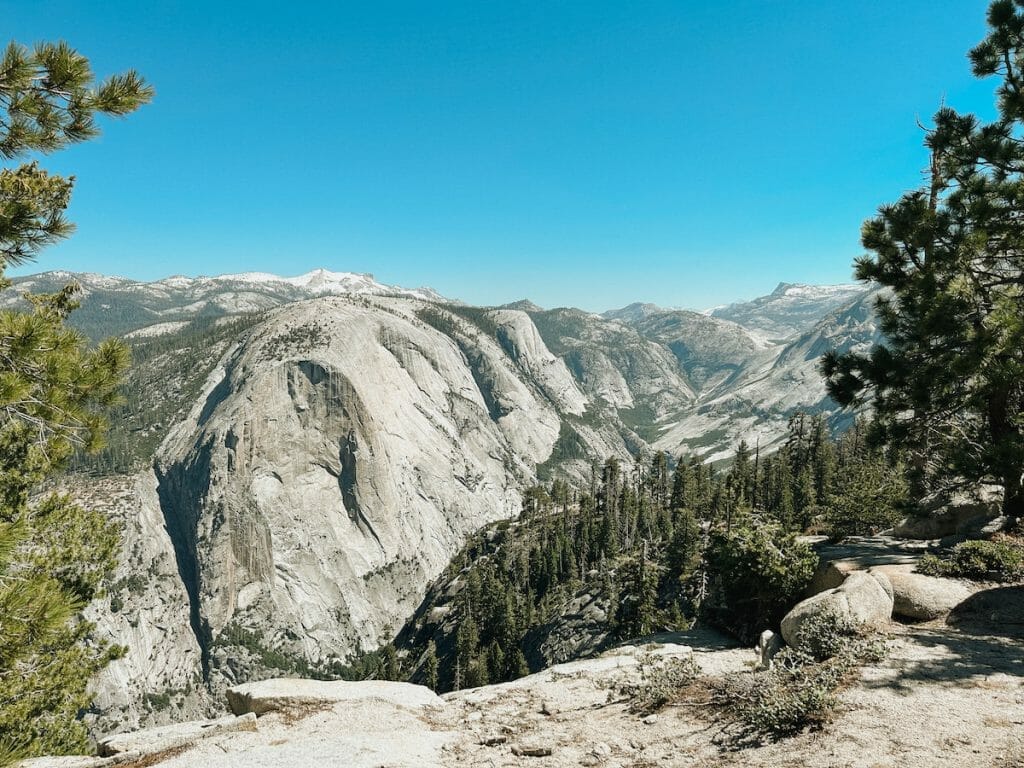 Half Dome Trail Guide: Our experience hiking Half Dome in a day!
We got to the trailhead at 5:30am, which some people already consider pretty late. I've seen people starting the hike at 3 or 4am! After a quick parking lot breakfast and packing all of our food/smelly things in the parking lot bear lockers, we got on the Mist Trail up toward Vernal Fall.
The Mist Trail is paved but quite steep, with no switchbacks. After a short hike, you'll cross a bridge and get to your last potable water fountain and a bathroom stop, then start heading up into the mist of Vernal Fall.
I've been on the Mist Trail a few times, and usually there's a fair bit of mist, but with so much snowfall in 2023, walking along the Mist Trail was like walking into a downpour. Our clothes were completely soaked through and we needed to put rain coats on and rain covers on our backpacks. The trail also had water cascading down it, so I highly recommend wearing waterproof boots.
We were glad to have started a little later because we were able to get into the sun and dry off—that water is cold!
You'll arrive at the top of Vernal Fall and continue upward toward Nevada Fall. You'll keep heading uphill and walk alongside Nevada Fall before entering a switchback section to the top of it. There was another section of cascading water down the trail, making it impossible to see the steps, but with caution and waterproof boots, we were fine.
Your last bathroom is just after the top of Nevada Fall. Continue heading uphill until you get to the Little Yosemite Valley, where you'll get about a mile of flat trail, and then continue up towards Half Dome.
After about 8 miles, you'll reach the bottom of Sub Dome, where a ranger will check your permits for Half Dome. This is the last stop you'll be able to get any privacy if you need a last wilderness pee. After getting a safety briefing from the ranger, you'll start walking up to Sub Dome. This part of the trail was one of the hardest parts! There's a lot of sun exposure as you walk up the steep rocky steps and the altitude had caught up to me.
Once you finish the steep section of Sub Dome, there's a flat section where we rested before tackling the cables. Here's where you'll see everyone leaving trekking poles, which you're required to do, and putting on gloves.
Every resource I'd read before hiking Half Dome said that the cables weren't really a big deal and they weren't that difficult. I grew up rock climbing and thought I would be totally unaffected by the exposure, but I was a little apprehensive when I got to the bottom of the cables!
Luckily once you get going, you realize it isn't too technically difficult. You really do rely on the cables, though, and I found my upper body pretty tired at the top of Half Dome. I had belay gloves on while going up the cables, and in hindsight these were NOT the right gloves to wear because they're meant to reduce friction, meaning I had to really grip the cables. I would recommend wearing work gloves instead so you have some traction.
At the top, we had lunch and rested while taking in the views. There are sweeping, stunning 360 degree views from the top of Half Dome, but my favorite view was over the Yosemite Valley.
Descending the cables is less scary and physically demanding then going up them. Really lean back and shove your feet against the rock to reduce the amount of work your arms have to do. After descending the cables, you hike back the way you came.
Just above Nevada Fall, you can go down to the Valley via the JMT instead of the Mist Trail, which is usually recommended. It adds an extra mile or two to your hike but the trail is much more gentle on your knees. Unfortunately, as of July 2023, this section of the JMT is closed for repair.
We got back to the parking lot at about 6pm after a full 12-hour hiking day. While we rested a fair bit at the top of Half Dome, this is a FULL day.
What to pack for hiking Half Dome
These are the items I found super useful.
Trekking poles (reduces impact on my knees!)
Sunscreen
LOTS of water
Sunglasses
Rain coat (needed for the Mist Trail)
Rain cover for backpack
Backpack
Map
Chapstick
Bandaids
Many, many snacks
Lunch
What food to pack for Half Dome
This is everything I ate on our Half Dome Hike!