The Blue Mountains are one of my favorite places in Australia. Stunning, sweeping views of dense, lush forests, craggy peaks, and blue skies make visiting the Blue Mountains absolutely worth the journey. A Blue Mountains Day Trip from Sydney is a full day endeavor, but there are so many things to do and see.
How to get to the Blue Mountains from Sydney
You have three options for your Blue Mountains day trip from Sydney: Rent a car, take the train, or take a tour. I highly recommending visiting Katoomba if you're doing a day trip—you'll be able to see SO many amazing things without spending too much time traveling around.
Rent a car
This is a convenient way to see the Blue Mountains and offers you more flexibility in the sights you see. It only takes an hour and a half to drive to the Blue Mountains from Sydney and rental cars will cost anywhere from $100-250 AUD.
Take the train
This is my recommended way to get to do a Blue Mountains day trip! The train is incredibly convenient, leaving from Sydney Central and arriving in Katoomba only 2 hours and 9 minutes later. Even better? It only costs about $7 AUD.
Take a tour
There are many tour companies that will take you on a guided day trip from Sydney to the Blue Mountains. Tours aren't my favourite way to see nature, but these are great if you want to hear more about the area you're in or have limited time to plan your trip.
Blue Mountains 1 day itinerary
Leave Sydney early—because the train takes about 2 hours, you'll want to leave no later than 9 to ensure you have enough time to get everything in.
After arriving, pick up some lunch! Katoomba Street (where you'll exit the train station) is the main road in Katoomba and has plenty of restaurants to choose from.
Look out over Echo Point for jaw dropping views
From Katoomba Street, either take the 686 bus or walk to Echo Point. The walk takes 20 minutes and takes you down Katoomba Street and into a residential area before reaching Echo Point. At Echo Point, there are a few cute cafes, the tourism office, and public restrooms. There's also a drinking fountain—fill up your water bottles before leaving!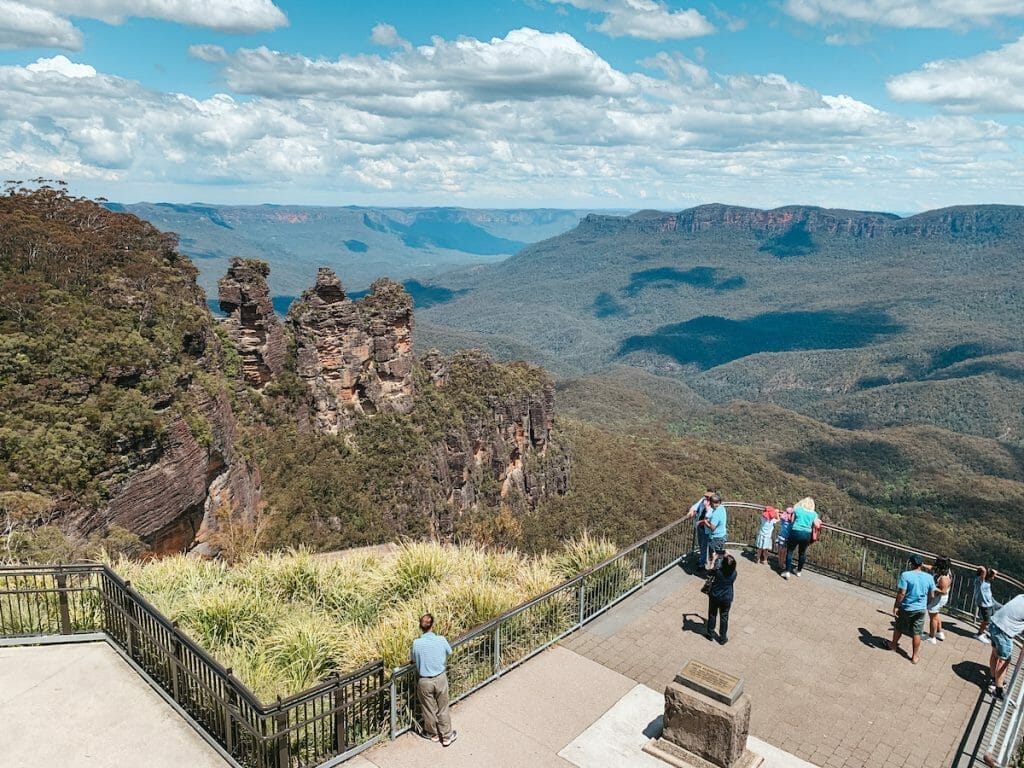 Visit the iconic Three Sisters
The Three Sisters are perhaps the Blue Mountains' most famous sight. They're three sandstone towers (created by sandstone erosion) that look over the Jamison Valley. Aboriginal Legend has it that the three sisters of the Katoomba tribe, Gunedoo, Meeni, and Wimalah, fell in love with three men from the neighbouring tribe. Tribal law prohibited this love, but the men refused to accept it and started a war between the two tribes. In order to protect the sisters, an elder from the Katoomba tribe turned the sisters into stone, but died in battle, stopping him from turning them back.
You can spot the Three Sisters from Echo Point, but my favourite way to see them is to walk at the base of them. From Echo Point, turn back towards the visitor center and walk towards your right. Follow signage for the Three Sisters Walk and you'll find yourself on a path. This path will slowly ascend until you hit metal stairs. If you're unsteady on your feet or fearful of heights, I'd stop here! If not, continue down the stairs until you reach the Three Sisters.
You could continue further down to the forest floor, which I've previously done and recommend if you have more than one day in Katoomba. If you only have the one day, I'd recommend skipping this and continuing through this itinerary—there's so much more to come!
Make your way back up and to Echo Point, which is where we'll head off to our next stop!
Stroll the Cliff Walk to Katoomba Falls
If you continue walking back and past Echo Point, you'll find the Cliff Walk. This walk is gorgeous—you get sweeping views of the trees below you and the mountains in the distance. It reminds me a lot of the Rim Trail in the Grand Canyon. If you continue far along enough, you'll pass the Cliff View Lookout and get to Katoomba Falls.
The Katoomba Falls are beautiful tiered waterfalls and are absolutely worth a visit. When you reach the waterfalls, don't turn back; instead, continue along the trail.
Visit Solitary Lookout
You'll know when you reach Solitary Lookout—the views of Katoomba Falls are insanely beautiful. This is the last stop on the Cliff Walk that we'll visit on our itinerary—there are more places to go!
When you've had your fill of views, head back to Katoomba. You can either take a bus back or walk back along the Cliff Walk and up to town.
Catch the Bus to Minnehaha Falls
Just a 20-minute bus ride from downtown Katoomba is the trailhead for Minnehaha Falls, a relatively well-hidden gem amongst the throngs of tourists that visit Katoomba each year. The hike to Minnehaha Falls is short and easy, with only one small section of downhill. When you reach the waterfall, you can go for a dip or swim. The water isn't warm, but it's definitely not as cold as some other lakes and swimming holes.
Head back to Sydney
You could either grab food in Katoomba or back in Sydney. Trains back to the city leave every hour and it takes two hours to get back to Central.