This hike is truly one of the most jaw-droppingly stunning hikes in the Dolomites! This Seceda hike covers the Seceda ridgeline and Puez Odle Nature Park, featuring panoramic views of the Dolomites mountain range the entire way!
Located in Puez Odle Nature Park (also called the Puez Geisler Nature Park), Monte Seceda has one of the most iconic ridgelines in the Dolomites. Huge drop-offs and jagged peaks are the signature of the Dolomites, and Seceda has the most dramatic in the region! While you can easily take a cable car up towards the peak for a good view, this hike, starting from the Col Raiser cable car further below, is the best Seceda hike in the Dolomites. It's truly one of my favourite hikes in South Tyrol. Hiking in Puez Odle brings insane views from start to finish, making this trail one of the best day hikes around. The trails are well-paved and while there is certainly elevation gain, this hike isn't too strenuous. Here's everything you need to know about the best Seceda hike.
Disclaimer: This post is not sponsored, though it contains affiliate links. Thank you for supporting my blog and for helping me create more content for you!
Key information
Length: 12 kilometers / 7.5 miles
Elevation Gain: 466 meters / 1529 ft of ascent
Time: 3.5-4 hours
Difficulty: Beginner/Intermediate. This hike has a fair bit of uphill, but the trails are solid and well-constructed. It isn't a technical hike, but it does require some fitness as the trails are at a relatively steep incline. If there's bad weather and the ground is wet, I'd rate this an intermediate hike, as it may be a bit slippery.
How to get to this Seceda hike
Start & End Point: Col Raiser Cable Car
By Car
From Bolzano, it takes roughly 50 minutes to drive to the cable car station. Take SS12 and then the SS242. From Cortina d'Ampazzo, it takes an hour and a half to drive to the cable car station along the SR48 and SS243.
Parking: There's a good amount of parking at the Col Raiser cable car station, through it does fill up by afternoon! I would advise getting there earlier rather than later.
By Public Transport
This hike is easily accessible by bus from Bolzano. From the Bolzano bus station, located right next to the train station, take the 350 bus towards Val Gardena. It takes roughly an hour and 15 minutes before you reach your bus stop, St. Cristina, Dosses. Alternatively, you could get off the stop before at St. Cristina, Rathaus. It's about a 20 minute walk from either bus stop to the Col Raiser cable car station (and it's quite a steep uphill walk!).
How to do the Seceda hike
I love a good cable car, and this Seceda hike starts with with incredible views from one! The Col Raiser Cable Car has stunning views of the Dolomites mountain range and passes over grazing pastures. Alternatively, you could hike up, though I wouldn't recommend this, as the views from the cable car are fabulous and it's quite a steep hike up.
Cable Car information
Cost: The Col Raiser Cable Car costs 21 euros round trip and 15 one-way. I recommend buying a round trip ticket to save money.
Opening Dates: mid-June through early October
Times: The cable cars run one after another, so any lines will move quickly! The first cable car leaves at 8:30 and the last one returns down at 17:00 (or 17:30 during July, August, and most of September!).
Parking: There's a lot with quite a few spaces at the station. The Seceda Cable Car parking lot also has a great view!
After getting off the cable car, walk up the flight of stairs and you'll get a great view of the mountains. Don't miss this viewpoint, opposite the Almhotel Col Raiser.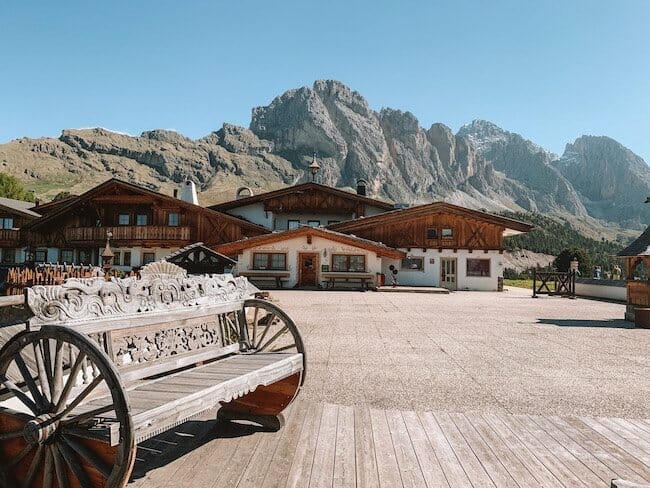 Trail Guide: The Best Seceda Hike in the Dolomites
This hike is one of the most picturesque hikes I've done in the Dolomites – I took about 200 photos this day and there's a great view literally every step of the way.
The actual Seceda hike starts from the cable car station, where you take the trail towards Rifugio Fermeda Hutte. The trail starts off pretty flat and on a good road, which allows you to take in the insane landscape before you. You can see hundreds of peaks all around you!
From the rifugio, the trail starts to go uphill. You'll be following trail #2, but you'll turn right onto a smaller (un-numbered) trail towards Restaurant Daniel. After passing restaurant Daniel, turn left at the junction, and then once you reach Restaurant Mastle, you start the steep incline towards the Seceda cable car. The directions sound a bit confusing, but it's pretty straightforward when you're there. I recommend downloading this GPS file to the maps.me app for offline navigation.
When you reach the Seceda Cable Car station, head uphill towards the viewpoint. There will be trails that are flatter that also take you to the iconic ridgeline (also called la Forcella Pana), but the highest trail has the best views by a landslide. At the very top, there's a panoramic view of the Dolomites, and this is a great spot to rest. There might be paragliders taking off from there, as well!
Don't miss the metal ring – you can step inside it and the ring has the names of all of the peaks that surround you.
Continue down the trail, which will start to descend towards the Seceda ridgeline. This ridgeline is so well-known and it's easy to see why.
You'll eventually be on trail #6, which you follow until a crossroads. You'll then turn right onto a trail, which will lead you to another crossroads, where you turn left onto trail #1. There, go straight when the trail intersects with trail 2b, continuing onto trail 2b. Follow 2b until you reach Malga Pieralongia, where you head to the right. At the signpost, turn right again, following signs back to Col Raiser. There are beautiful views the entire way down.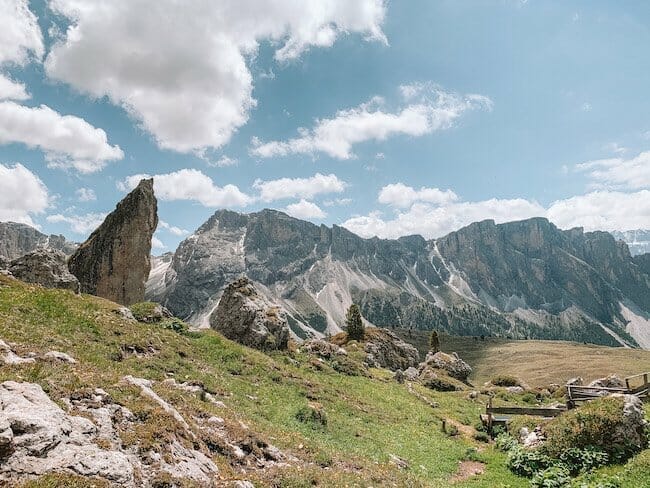 You'll end up back on the first, flat trail where you started, and then it's an easy 20-minute walk back to the Col Raiser cable car!
Alternative route from Ortesei
You can start this hike from Ortesei by taking the cable car up to Seceda via the Furnes cable car. The Seceda Cable Car will bring you right to the high point of this hike! I personally would rather start from Col Raiser, as the views from the Col Raiser cable car are incredible, and you'd miss the hike down to the cable car if doing the loop from Ortesei. Alternatively, you could make the slight detour down to the cable car for the views, and then hike back up. It's not too much of a detour, so if you do need to start from Ortesei, it's worth it.
If you're only keen to go downhill and to avoid all uphill, you can take the cable car to Seceda, and then head down to the Col Raiser cable car – this would be an excellent half-day hike, though the cable cars are a little pricey!
Lunch at the Rifugios
There are some absolutely stunning rifugios along this loop. Many have deck chairs and lounges, and ALL have incredible views of the mountains in front of you. If you don't pack a lunch, I recommend stopping at one of these rifugios and grabbing a bite to eat. You could also get a tea/coffee and take a short break. Prices are a little higher up in the mountains, but the ingredients do travel a long way to get up there! It's roughly €14-22 for one dish.
Also (AND THIS IS IMPORTANT), bring cash with you if you are planning on eating at a rifugio. Most accept credit cards, however, sometimes the machines act up if there's an unstable connection, which means they'll only accept cash! Bring some cash with you to be on the safe side.
How to see a Seceda sunrise / sunset
Unfortunately, the only way to really see sunrise or sunset from Seceda is to spend a night in a rifugio! The first cable cars leave at 8:30, which is too late to catch sunrise. You COULD hike up before sunrise, but seeing that during the summer, the sun rises at around 5 am, you'd have to start hiking at around 3:45! Similarly, the sun sets at around 21:00 in the summer, and the last cable cars are at 17:00 or 17:30. If you're keen to catch a sunrise or sunset from Seceda and the Puez Odle Nature park, stay in one of the many rifugios around!
What to wear when hiking Seceda
This hike has a max elevation of around 2600 meters, which means it'll be significantly cooler than in Ortesei or St Cristina. The mountains also carry cold wind down to you, so definitely bring a jumper with you! I wore shorts and a long sleeve top and was really comfortable for the hike, but I also brought a fleece with me and I'm glad I did – it can be pretty windy and cold at the top! If you have hiking boots, I recommend wearing those, however I got away with wearing trail running shoes and came out unscathed 🙂
Where to stay for this Seceda Hike
Seceda and Puez Odle Nature Park are located in Val Gardena. Val Garden's biggest town is Ortesei, which has plenty of accommodation to choose from! Here are my mid-range and luxury picks.
Alternatively, if you want to roll out of bed and get to the cable car, St Cristina is a charming little town and is right where you start this hike! This hotel is more mid-range hand has a beautiful view, and this spa hotel is more luxury, but so so so relaxing!
Staying in Val Gardena can be quite expensive. If you're looking for a good base to do this Seceda hike from, but want to stay within budget, I recommend staying in Bolzano. I like staying in apartments so I can save a little money on food and cook for myself. Cooper Apartments and Casa Cristina are both centrally located and good value!
---
Like this post? Pin it!