The West Coast of the US is absolutely stunning. There are so many little hidden gems along the way, and I wanted to get a taste for them. We spent a few days driving from Portland, Oregon to San Francisco, California, and here are all the wonderful things we did (and you can do too)!
There's nothing that screams summertime like coastal road trips. The Portland to San Francisco drive (along Highway 1) is iconic and filled with incredible sights and towns. I did this road trip during my last few days on the West Coast, and I've pinned some amazing places you must see! This is one of my favorite road trips, as there's so much variation in landscape and terrain, but its super accessible and the sights are all so easy to get to. Get ready for an incredible drive!
The Perfect Portland to San Fransisco Road Trip Itinerary
There's so much to see along the drive from Portland to San Fransisco. There are (of course!) the cities of Portland and San Fransisco, which you can't miss, but there are also so many smaller hidden gem towns, and you can't forget the iconic coastline! Here are some of the best places I found and highly recommend stopping in!
Portland, Oregon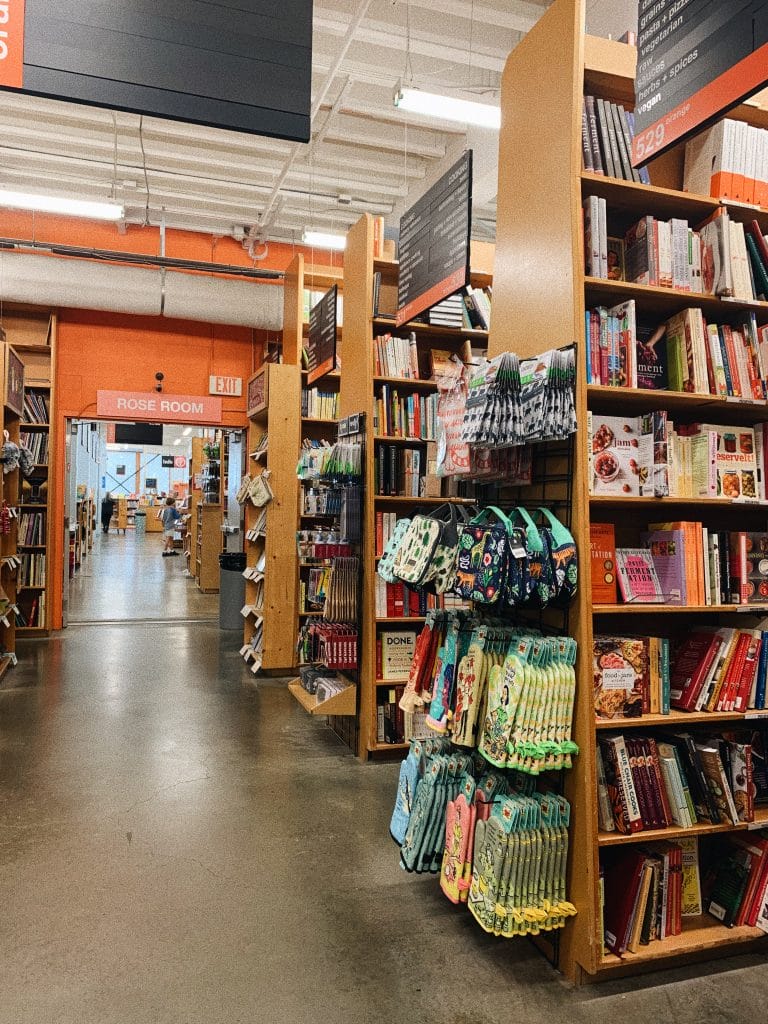 Portland is a city I wish I had more time in. I really enjoyed exploring the city during the brief time I spent there. It seemed like such a young, fun, and relaxed city, and I certainly need to go back! I would love to do this road trip again, this time driving up to Portland, Oregon. Whilst I was only there for a night (and a little bit of the morning), I put together some of my recommendations!
Things to do in Portland, Oregon

Byways Cafe – big hearty breakfasts. I loved the blue corn pancakes – imagine if cornbread and pancakes had a baby and you get these. Divine!
Powell's City of Books – a Portland must if you like browsing shelves upon shelves of books or quirky gifts.
Compare Voodoo and Blue Star Doughnuts – From what I've heard, Voodoo is the trendy one, Blue Star is the one locals love.
If you're in Portland anywhere from April to October, check out the Rose Test Garden!
The Portland Japanese Gardens are peaceful and well worth a visit.
Astoria, Oregon
If you want to drive the entire length of Oregon's coastline, this is where you'll start your road trip! If you aren't too bothered about driving the WHOLE coast, I say you can probably skip this town, as it's quite small and getting here from Portland is quite the detour. I decided to drive all the way from the top of Oregon down to SF, so this is where I started my road trip. Here are some recommendations for Astoria, Oregon.
Things to do in Astoria, Oregon

The Maritime Museum
The Oregon Film Museum – in an old jail and where the beginning scene of The Goonies was filmed!
Riverwalk Trolley – this takes you along the water and is super cute!

My favourite thing to do in Astoria is to walk through the town – I loved the old-timeyness of it and I thought it was really charming. You don't need to spend too long in this town, but it's worth a stop if you're looking to stretch your legs or if you're going to drive the whole length of the Oregon coast.
Cannon Beach, Oregon
This place has gathered quite a bit of attention as a great stop on your Portland to San Fransisco drive, and for good reason! Cannon Beach isn't actually referring to the beach, but to a small town. That being said, the town is on the water and the beach is beautiful and oh-so-inviting! On days with really warm weather, the beach gets quite crowded, but even then, it's really lovely. It's a good stop for having a rest or re-energizing with a dip in the water or a little hike or walk.
Things to do in Cannon Beach

Don't miss catching a glimpse of Haystack Rock, where the puffins like to live!
Ecola State Park is slightly North of Cannon Beach and has some hikes with incredible views of the coast (and to a lighthouse!)
Hug Point – sea caves!
Pelican Brewing – famous for clam chowder and Tsunami Stout (perfect place to switch drivers – please be safe and don't drink and drive!)
Tillamook Creamery, Oregon
Definitely stop here! Try free samples of cheese and GET ICE CREAM. I particularly like the flavors with local Oregon ingredients. It's a touristy little stop but it's one of the things you've just gotta do – it's right off the road and why turn down an opportunity for ice cream?!
I actually thought this was one of the road trip highlights—I'm such a foodie and it was so fun to get a little tour of the famous Tilamook Creamery!
Pacific City, Oregon
Pacific City is pretty small, but there's the MOST incredible beach. The water itself is okay, but the sand dune on the beach is massive and climbing to the top, though challenging, is met with an absolutely stunning view (pictured above!). This is 100% one of the highlights of this road trip for me! I spent a good chunk of time here looking at the view and running up and down the sand dune.
Yachats/Cape Perpetua Area, Oregon
We weren't blessed with great weather, so we flew past some iconic Oregon coast landmarks. If you are in this area (and the fog allows you to see more than 10 meters in front of you), there are some really beautiful natural landmarks to see. They're in the list below! I am not even going to share the photo I took as it is essentially a white wall of fog haha.
Places I recommend (though try to go on a day with good weather)

Devil's Churn
Thor's Well
Sprouting Horn
Heceta Head Lighthouse, Oregon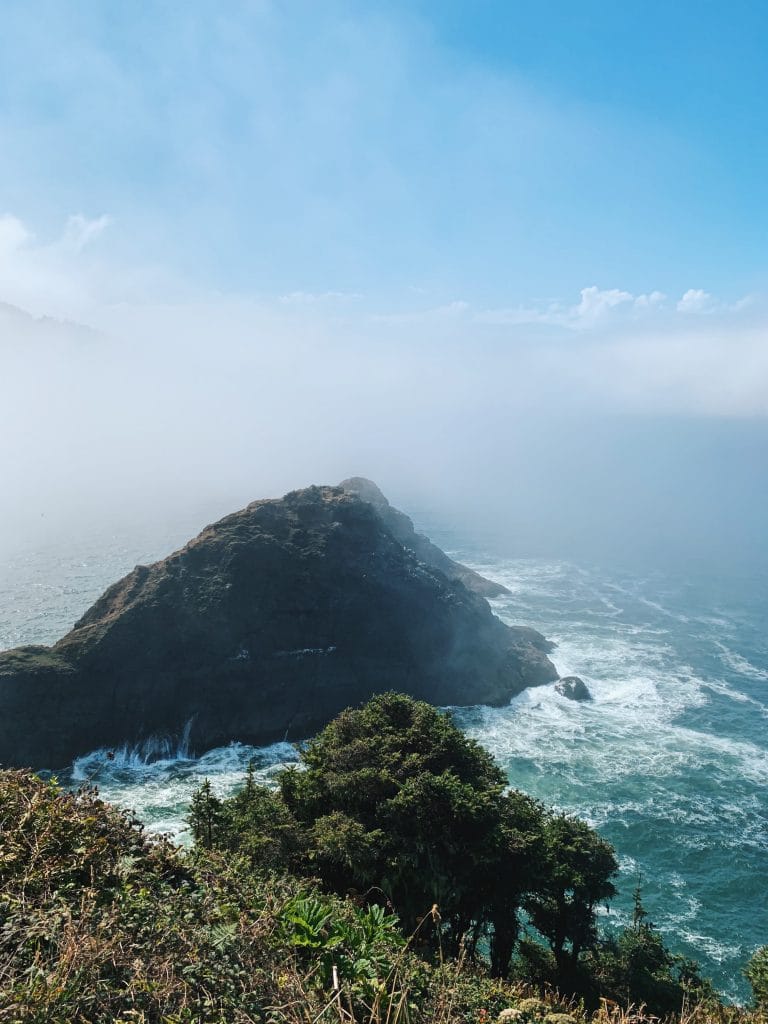 Fun fact: this lighthouse is one of the most photographed in Oregon! Personally, the lighthouse wasn't what blew me away, but instead the walk to the lighthouse. The road that you walk on is absolutely lovely and I really loved getting outside and having a look at the lighthouse and the ocean beyond. It costs $5 to park near the lighthouse.
Further down just a few hundred meters are the Sea Lion Caves. Worth a visit if you like sea lions!
Oregon's Dunes
From Florence to around North Bend, you'll find Oregon's dunes. You might want to rent dune buggies and ride around, though I personally find walking through them more peaceful. It's hard to believe you can find sand dunes in the US, so these are worth a visit. If you aren't too keen on sand dunes, keep on driving!
Port Oreford's Prehistoric Gardens
This is a pretty neat stop if you have kids (or like dinosaurs). It's a great chance to stretch your legs and stroll in the forest and come across some life-size dinosaur statues.
Eureka, California
Stop here if you want a bigger town to spend the night in or grab a meal here! After so many small towns, it was nice to have some options! There are also TWO Starbucks if you need a coffee fix, which was so welcome after having to search for little cafes to get coffee from in the towns before here. We ate at a Vietnamese/Thai restaurant and had no complaints. It was nice to have a good sit down meal after days on the road. There are also some touristy landmarks to visit here. I hear that people often fly by Eureka, but I thoroughly enjoyed our time here.
Things to do in Eureka, California

Sequoia Park Zoo
Carson Mansion
Old town- charming!
Clarke Historical Museum – highlights some of this part of Northern Californian history
Avenue of the Giants, California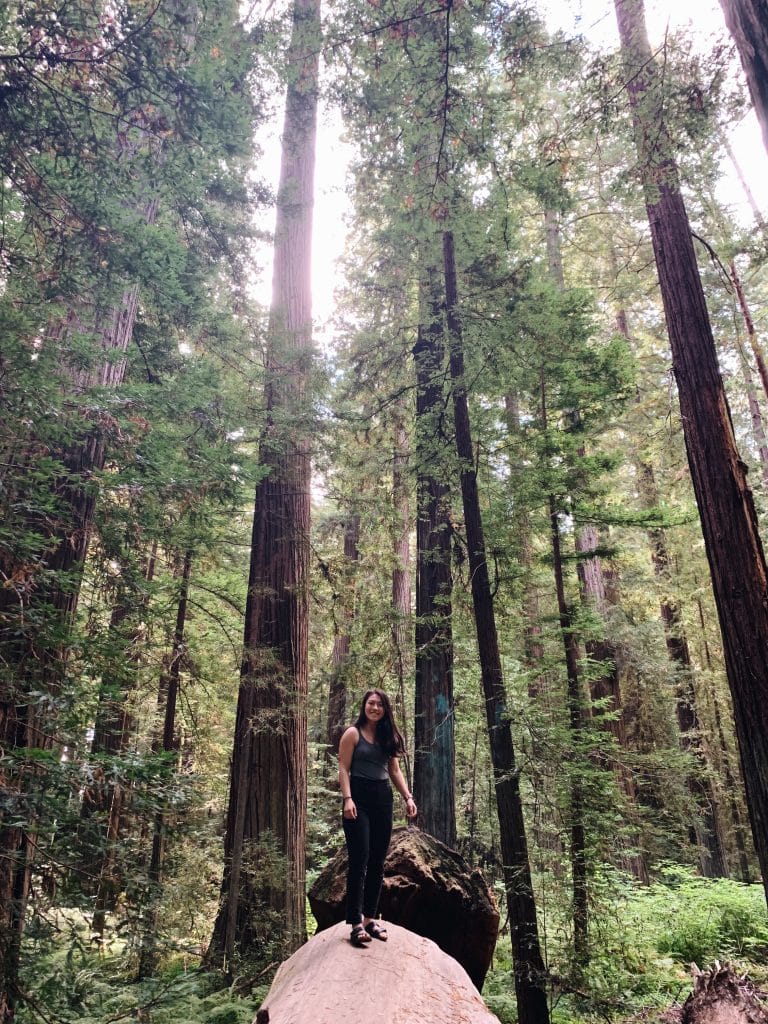 This is a road you don't want to miss. Yes, it's a slight detour from Highway One, but it's parallel to it and it takes you through some amazing scenery. You can't drive from Portland to San Fransisco and miss this. The trees are MASSIVE (get out and have a look at the size of the trunks!). At the beginning of the drive, there's a small turnout where you can grab a pamphlet of the recommended stops on the road, which highlight important towns and beautiful trails! Some of the short trails off the road were my favorite stops of the road trip! If you're going to take a detour from the coast, THIS SHOULD BE IT!
Leggett, California
Leggett is where Highway 101 turns inland, and Highway 1 continues along the coast. I highly recommend going along the coast! It's spectacular and the scenery is exactly what you'd expect during a California road trip. From this point on, there aren't as many big landmarks, but there are tonnes of pullouts to stop and admire views from! I highly recommend a visit to the grocery store and to have a picnic with a view.
Fort Bragg, California
I LOVE FORT BRAGG. The surrounding area is filled with so many beautiful beaches, so there are lots of places around Fort Bragg where you can pull over at a scenic overlook.
Don't visit Fort Bragg without stopping here!!!

Princess Seafood Market & Deli is a MUST STOP. We had the clam chowder and the crab sandwich and there was so so so much seafood in them. It was fresh and delicious and if you don't stop here, you are missing out! If there's one place you MUST STOP AND EAT, this is it.
Point Arena, California
There's a lighthouse here that towers over the sea cliffs. It's beautiful around here and I would drive around this area for the coastal views.
Bodega Bay, California
More beautiful views and places to stop!
San Francisco, California
…And you're here! San Francisco has stolen my heart and I would definitely leave aside a few days to check out all this city has to offer.
I now live in SF and wrote a blog post highlighting everything I love most about the city – you can read that here.
Drive from Portland to San Fransisco: My Tips!
Pack a set of utensils! I love having picnics filled with grocery store treats (a great break from fast food, too!), and having a set of reusable utensils is a lifesaver. Keep them in a plastic bag for a mess-free situation.
Keep a trash bag / bin liner in the car.
Waze is an awesome app – it gives you information on traffic, police cars, and speed cameras!
Sit or Squat is a very useful app for finding public toilets.
Load up on all the snacks & have a fab playlist queued up and ready to go.
Have more time? Here are some more West Coast road trips! If you're keen to continue South past San Fransisco, here's some more information on the Pacific Coast Highway.
---
Like this post? Pin it!