Poon Hill is a short hike from Pokhara, but one that is entirely worth doing. This is one of the best sunrises I've seen of the Annapurnas and it is such a fond memory. Here's how to do the trek!
Poon Hill is the perfect trek if you're looking for something short yet rewarding. The views from Poon Hill are spectacular, and it's one of my favourite places to watch the sunrise in the Himalayas. The sky often turns pink to purple to blue, and watching the sun light up the Annapurnas is something you can't leave Nepal without seeing. Here's how to do the Poon Hill trek in 3 days.
When to do the Poon Hill Trek
October through early December is the autumn season for trekking, when views are clear. It can be quite crowded in November and I'd recommend going in early December, when it's colder, but the crowds have died down a little.
The spring season is from in April and May, though in late May, the views will start to get foggy and there's more chance of rain.
I like to enjoy nature with less of a crowd, so my top picks are early December and early April. It'll be colder during these times, so pack a good down jacket!
Poon Hill Trek Cost
The cost of your trek to Poon Hill varies widely on a number of factors. Are you going guided or alone? How much do you eat? How much tea do you drink? Are you getting rooms with showers and attached bathrooms?
If you're doing the standard teahouse route, staying in rooms without attached bathrooms, I'd budget $30 a day.
If you're going a little nicer, I'd budget a little more, more like $40. Of course, you may spend less or you may spend more, but those are good ballpark figures to anticipate.
Bring extra cash just in case. I've run into a few people who have run out of money and couldn't buy food (luckily trekkers are nice and pitched in for a meal for them). You'll also need to bring money for the transport to Nayapul – again, this is either only a few bucks or a pretty hefty amount!
Doing the trek independently will save you quite a bit of money. A guided 3 day Poon Hill Trek will cost anywhere from $250 – 300. The plus to having a guide is that you get to learn way more about local culture and the surrounding mountains, and you don't have to worry about the logistics. If you are taking a guide, remember that it's customary to give 10% of the trip cost per day in tips, so account extra budget for that! Porters also should get tipped slightly less than the guide.
Poon Hill Trek 3 Days – Before You Go
Packing for the trek
Before you go, you'll need to make sure you have all the gear you need. Even if you're staying in teahouses, you'll need a sleeping bag. If you're already in Nepal and you don't have one, there are plenty of trekking shops in both Kathmandu and Pokhara that can rent you one for a small fee.
You'll also need a down jacket, as it can get really cold at Poon Hill before the sunrise. Again, if you didn't bring one, you can rent these.
In terms of base layers, I'd say bring just two bottoms (I like leggings or trekking pants) and two tops (I like long-sleeved wicking material). It's also important to bring a hat and 2 pairs of warm socks. Gloves are also good if you get cold hands! A headlamp is also a necessity because you'll be walking in the dark up for the Poon Hill sunrise.
Hiking shoes are a must, though you could probably get away with sneakers if you're really careful. They'd be less comfortable, but the trail isn't too technical.
A raincoat is a necessity. Luckily, the Annapurna range is in the rain shadow, meaning it gets something like 20% less rain than other places, but it still gets rain from time to time. Trekking when wet is very unpleasant, and you'll get cold, so pack a raincoat just in case. If you have them, rain trousers are also a luxury in the rain.
Chocolate bars are also very important to bring for morale.
I have a full guide to packing for a teahouse trek here.
Hiking Permits
Finally, you'll need your Annapurna Conservation Area permit and TIMS card. I have a whole post dedicated to getting these (from either Kathmandu or Pokhara) here.
If you're short on time, I highly recommend getting an agency to get these for you prior to your trek, but if you have a day in Pokhara or Kathmandu before starting the hike, you can do this pretty easily on your own.
Day 1: Pokhara to Nayapul to Tikhedhunga
From Pokhara, you'll need to get either a bus or a jeep to Nayapul, the start of the Poon Hill trek. There are pros and cons to either option. I've weighed them out below.
To Napaypul by Jeep
A jeep is the more expensive option, but if you're splitting the jeep with your party or other fellow travellers, it might be worth it to pay more for this option. It takes less time to get there, and it's a pretty comfortable way to get to the trailhead. You can also stop the driver to take photos if you see something that catches your eye.
Make sure to schedule a pickup too!
To Napaypul by Bus
The bus is typically a local bus and it takes longer than a jeep would. It's also less comfortable and seating isn't guaranteed. That being said, I've been on many bus rides, both local and tourist, in Nepal, and I always find local bus rides to be fun and a peek into the side of Nepal tourists don't always see.
To Sum Up:
Jeep
• More expensive, but shorter & more comfortable
• Good if you're going with two or more people
• Expect to pay 3000-4000 rupees for the jeep (but bargain if possible!)
Bus
• More affordable, but it takes longer
• Great if you're on a budget or want to see what a local bus is like
• Only a few dollars, though know that you'll pay more than locals for your fare.
It takes about 2 hours to get to Nayapul from Pokhara in a jeep, and a little longer in a local bus.
Once you get to Nayapul, you'll start trekking towards Tikhedhunga. The route follows the river the entire way. It's pretty flat for the first bit, and once you get to Birethanti, the trail starts to ascend.
In Tikhedhunga, grab a teahouse for the night and relax! You'll need to rest up for tomorrow!
Day 2: Tikhedhunga to Ghorepani
This day is a LOT of uphill, but Ghorepani and Poon Hill are worth it! Your day starts by going downhill, but that only lasts for this short bit. Once you reach the river, it's back uphill, and it doesn't stop until you reach Ghorepani. If you ask what's ahead, expect to hear "Nepali flat." Nepali flat is when you go uphill, then downhill, then uphill, then downhill. To clarify, it is NOT flat.
Stop for a good lunch about halfway through the day. You shouldn't have altitude problems, but if you're afraid of being affected by the thinner air, get some garlic soup – Nepali swear by this to help with altitude sickness.
When I'm trekking, I don't worry too much about having too 'heavy a lunch,' even on uphill days. Usually, with uphill, you're taking it slower than normal and you need the extra calories!
Ghorepani is a pretty large town for the foothills of the Annapurnas. There are usually people selling things in the afternoon, and these pieces of jewellery and other assorted items are fun souvenirs to bring home. Just remember that you need to carry it down the mountains with you, too!
Day 3: Ghorepani to Poon Hill and back to Nayapul
Your day will start early – many people wake up at 4:30 to get going by 5. I personally like getting up early with everyone else – everyone in the teahouse, though exhausted from waking up before 5am, is excited to get going, quickly eating their breakfasts and putting on their boots and headlamps.
Most teahouses will do an early breakfast service for those going up to catch Poon Hill at sunrise. I like to go with oats or eggs, and then after I'm back, I'll have pancakes or toast, too!
You can leave your big bags at the teahouse for the morning. You don't really need a day bag or anything for Poon Hill. Just bring a headlamp and your water! Make sure you're wearing gloves if you get cold hands, and bring your down jacket!
The hike up to Poon Hill isn't that long; it takes roughly an hour. It is, however, steep. You'll be walking up stone stairs the entire time, and though it's one hell of a way to wake up, you're rewarded with an incredible sunrise. After doing many treks in the Himalayas, the sunrise on Poon Hill is still one of the most memorable.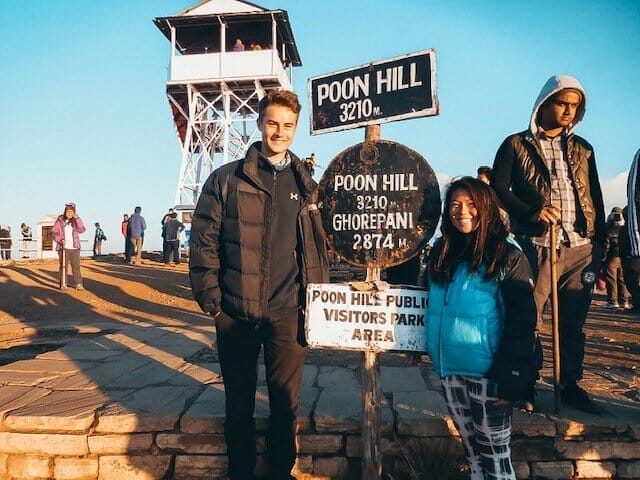 Take some time to linger as the sun rises and makes the sky change colours. Get your photo near the Poon Hill sign and really make the most out of such a beautiful morning.
The way back down to Nayapul is the same way you came back up. If you want to take four days, you can go a longer route to change the scenery, and if you have a week, you can go to Annapurna Base Camp from Ghorepani. I highly recommend heading to Annapurna Base Camp if you have time!
From Nayapul, you'll either have arranged to be picked up, or you'll catch a local bus back to Pokhara!
In Pokhara, take some time to relax! I lived there for quite a while and it has so many hidden gems. Here are some of my favourite restaurants, and here are my favourite things to do!
Looking for other treks in Nepal?
If you want another short trek, Australian Base Camp has a fantastic sunrise.
Everest Base Camp is iconic, but the Three Passes Trek, while challenging, is my favourite trek to date.
---
Like this post? Pin it!