Tenerife absolutely blew me away. Climbing Spain's highest mountain was a great way to stay active and break up journeys in the car. I think we explored every corner of this island and it was the perfect way to spend a week. Whether you like hiking, sunbathing, or road trips, there's something in Tenerife for everyone.
Tenerife One Week Itinerary and Guide
Tenerife is an absolutely incredible place. It was a destination I wanted to explore, but I didn't think I'd love it as much as I did. It's an amazingly beautiful island and the kind of place you can return to plenty of times, discovering something new each visit. This is my one week guide to Tenerife – it's customisable so you can alter it to best fit your style of travel. Let's get on with it!
This post includes affiliate links. This means that if you purchase something with that link, I'll receive a small commission at no extra cost to you! Thank YOU for helping this website run. I appreciate it!
The Best Time To Visit Tenerife

The weather in Tenerife is pretty nice all year round! The high season is in August, when its warmest, but it's lovely in the earlier summer months. I've visited in January and while it wasn't hot enough to run around in a bikini (although others did!) loads of people were in the water! January is a great time to go hiking in Tenerife. It's warm enough to be outside but cool enough that you don't overheat. You can check the live weather here.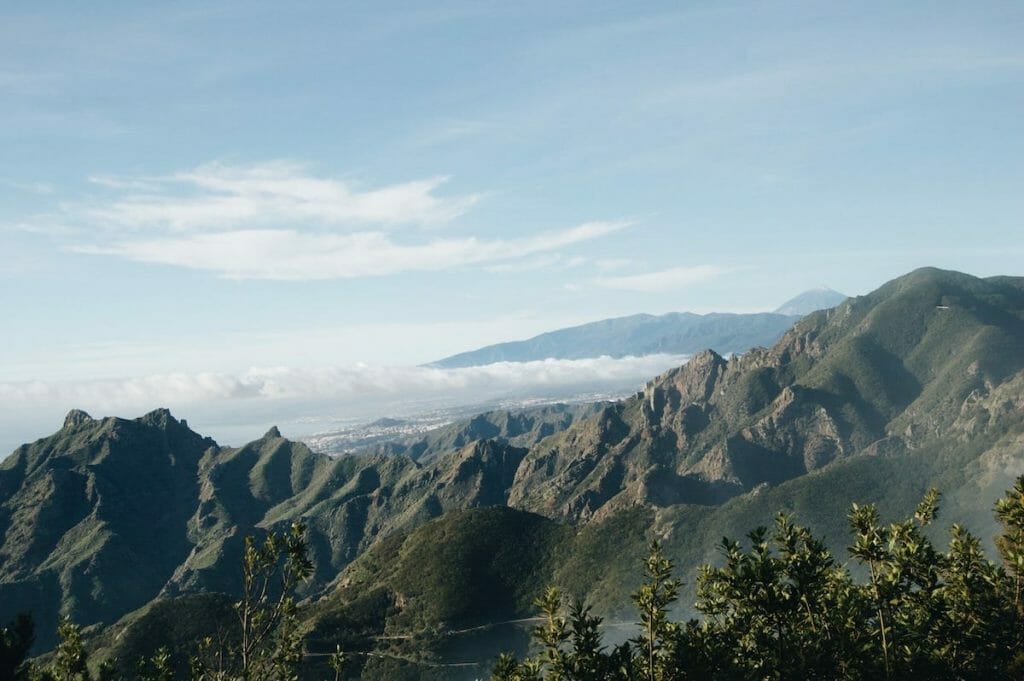 Things to Do in Tenerife
While Tenerife may be known as the UK's party destination, there's so much more to offer than just beach strips and bars! Tenerife is becoming more and more recognised for its incredible outdoor opportunities- biking, hiking, and lounging on the beach are some of the most popular activities. There's also a waterpark called Siam Park if you want to be active in the water (but not in the ocean). There's honestly so much to do- I highly recommend renting a car and doing a tour of the island.
There are so many places to drive to in Tenerife – Costa Adeje, the Masca Valley, the base of Mount Teide, and Santa Cruz, the biggest city in Tenerife. The public transportation in Tenerife is lacking, so if you'd like to see everything, a car is your best bet. While it's certainly possible to get around by public transport, I highly recommend renting a car so you can fit everything into your trip.
We absolutely loved the small towns in Tenerife. One of my favourite places to go was Garachico, the ultimate place to relax after hiking Teide. I only discovered Garachico through a work opportunity, but I absolutely loved it and it was one of the highlights. I later learned that its main draw is stunning natural pools. Read more about it in the itinerary portion of this page.
While everyone floods to the popular tourist beaches, there are so many small beaches that are overlooked! Sometimes you'll be able to find a spot all to yourself- you just have to explore a little!
General Tenerife Tips
Pack a sweater and jeans (or something warm) – it's can get chilly up in the hillsides and at the top of Teide (if you cable car or hike up)
Rent a car! Car rental cost us something like 20 euros a day and the car let us explore so many parts of the island. Public transportation isn't the greatest so this was invaluable!
Don't just stay in Santa Cruz or Playa de las Americas! There's SO much to see! Explore the small parts of the island.
Bring either sneakers or solid hiking boots – Tenerife may be known for its beaches, but it's trails are amazing.
Our One Week in Tenerife Itinerary (and Where to Stay in Tenerife)

A lot of you guys asked us how we packed so much in with only a week's time! It was a lot of moving around, but BOY was it worth it. Here's what we did (and what I highly recommend)! Here's how to spend 1 week in Tenerife:
Day 1: Anaga
Today's the day—you've arrived in beautiful Tenerife. Pick up your rental car and drive up to Anaga. We stayed at this hostel, which is the perfect home base for beautiful hiking around the area. Once you check in, go for a walk and explore the mountain areas. Our favourite was just up a little path above the hostel- the view was gorgeous! There are loads of trails around this area and I highly recommend exploring them. You can even walk down to the beaches if that's something you fancy, but be warned, it's a long hike back up!
Things to Do in Anaga:
Hiking! Explore all of the trails around (bring snacks and water!)
Rural de Anaga Park is where some trails lead to, but note that you may need to get a permit to go in.
Day 2: San Cristobal de La Laguna to Teide National park
Check out after breakfast and head down the mountain. We drove to Benijo to see the sea, but it's quite a drive away. After that, if you choose to drive down, drive to La Laguna, an adorable, colourful little town with some great food and beautiful palm trees. You could stop for a coffee and sit out near the cathedral, or you could grab some lunch (which is what we did). We ate at La Bourmet and got a slider platter- they were all delicious.
This is also a great place to buy food for the upcoming days. Alternatively, if you aren't into moving hotels as often as we did, I think this would be a great home base to explore the island from.
Drive along the mountain road until you get to Parador De las Cañadas del Teide Hotel. It's right in Teide National Park at the foot of the mountain itself. This is a great place to stop for walking trails. It's in a stunning location.
Things to Do in La Laguna
The Museum of History and Anthropology of Tenerife
Sit out under the palm trees and have a coffee with Iglesia de la Concepcion in view
Wander through the old town and window shop
Get the slider platter at La Bourmet (yum)
Day 3: Climb Mount Teide for Tomorrow's Sunrise
Climb Teide! This was the highlight of our trip. It isn't technically difficult and it's a stunning hike. You can find out how to do so in this detailed post. You'll be spending the night at the refugio. Bring the food you bought the day prior to make sure you have dinner.
Day 4: Sunrise on Mount Teide & Relaxing in Garachico
Reach the peak of the volcano for sunrise, and then start a long walk down (or a cable car ride). Once you've made it back, start the drive to Garachico. Garachico is the most relaxing place to celebrate reaching the summit of Teide. We loved our stay at this boutique hotel and absolutely loved sitting in the sauna. 
There's a small little tapas bar in town called Los Pinos. We devoured everything! Walk along the seaside with a gelato in hand, then turn in for the night. 
Garachico is also known for it's natural pools. In the summertime, I highly recommend jumping in— the Piscinas Naturales El Caleton are BEAUTIFUL.
Things to Do in Garachico
Have tapas at Los Pinos
Visit the Castillo de San Miguel (castle)
Iglesia de Santa Ana (beutiful old church)
Plaza de la Libertad
Relax, relax, relax! This town is small and very charming.
Rent bicycles and cycle through the town with a view of the ocean
Piscinas Naturales El Caleton
Day 5: Drive Through the Masca Valley to Los Cristianos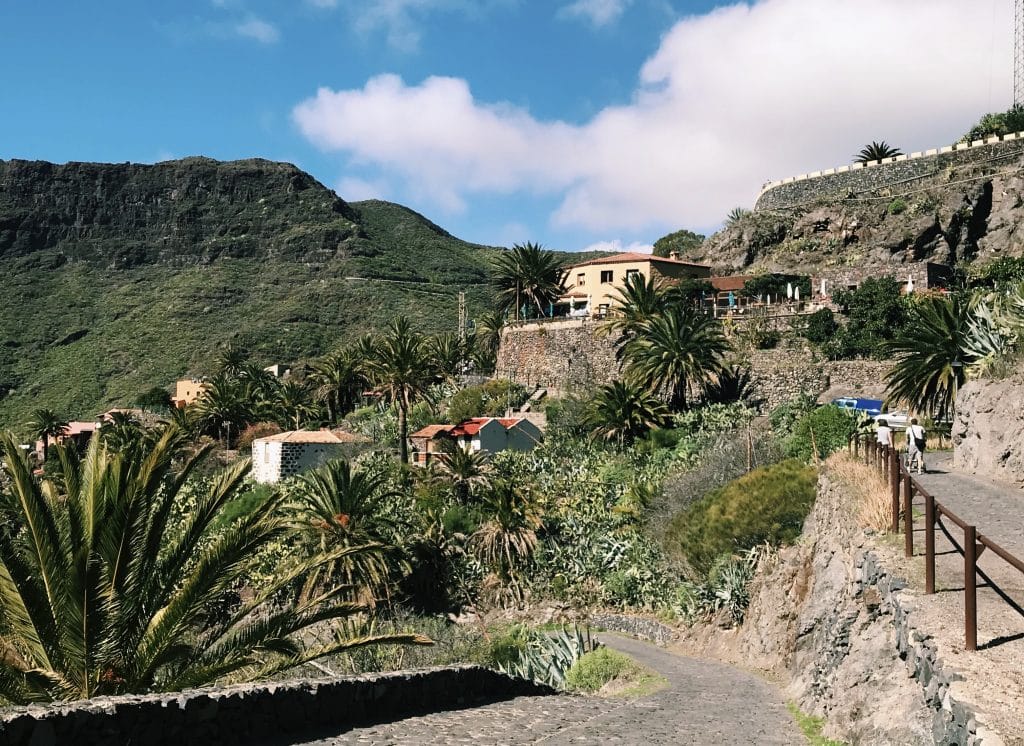 Have an incredible breakfast at the hotel, and then start driving over to the South of the island. Definitely drive through the Masca Valley, hit Masca, and walk around that area- it's stunning. I loved the steep terraces and the view of the ocean. It looked like a postcard.
That night, we stayed in a sleepy little village called Vilaflor. It's absolutely adorable, but you don't need to spend a whole day there. I'd instead maybe have a second day in Garachico to relax or swim in the natural pools, or I'd head to Los Cristianos for a night.
We stopped in Los Cristianos for lunch. It's very touristy and not really our vibe, but I bet it would be an excellent place for a beach day, drinks, or meeting other travellers!
Things to Do in Los Cristianos
Playas de las Américas – this is the beach scene (and where a LOT of all inclusive resorts are)
Playa de las Vistas – beach with lots of food and sunbeds
Siam Park – waterpark with lots of waterslides
Eat! This is where we found some cheap three course meals (cheap, but we preferred the quality at both the restaurants in La Laguna and Garachico
Day 6: Visit Less-Touristy Medano and Get Some Beach Time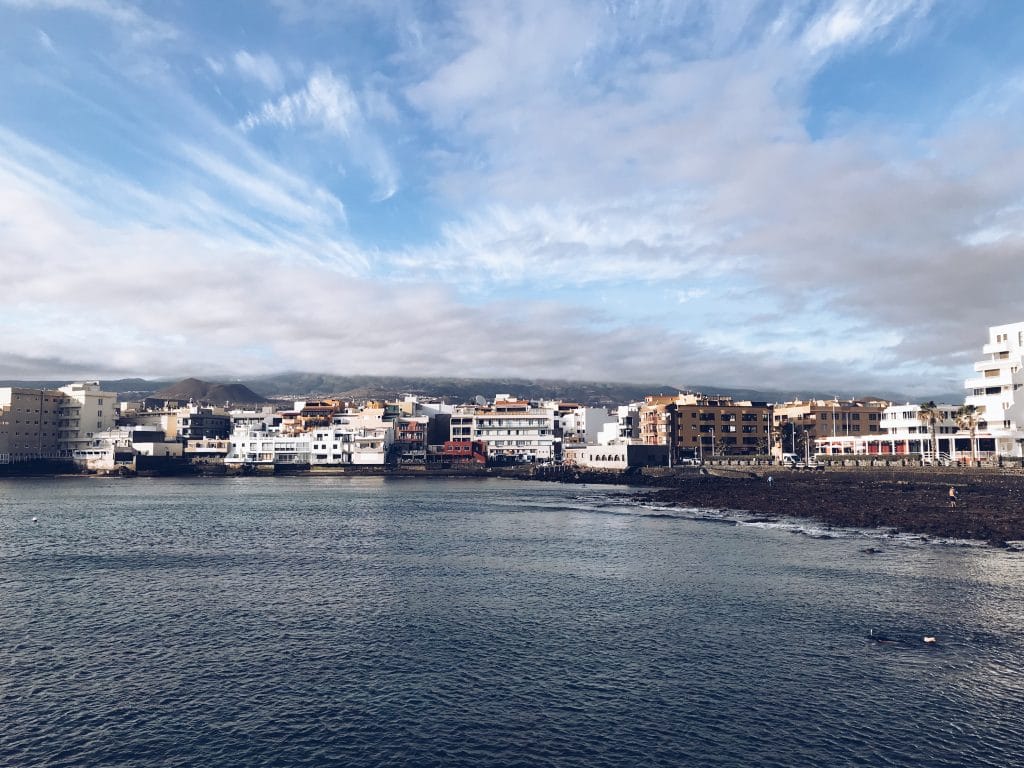 To escape the crowds and go slightly off the beaten track, drive on over to Medano. There's a beautiful seaside area where you can hang out, grab food, gelato, or drinks. We stayed at the Aloe Vera Shared House, which was about half an hour away and very relaxing! It's right next to the beach and it's absolutely lovely. 
Things to Do in Medano:
Cueve Del Hermano Pedro (religious cave)
Have lunch along the port
Surfing
Diving
Day 7: Say Goodbye
Soak up that last bit of Tenerife island magic and head on over to the airport. Islands in Europe, like Tenerife, are pretty special.
Looking for a Tenerife Itinerary 5 Days?
Can't spend a week in Tenerife? Don't worry! There's a lot you can do in a shorter amount of time. I'd modify the above Tenerife 7 day itinerary to what suits your preferences.
If the beach isn't your top priority, I'd skip out on Medano. While it's a cute town, it's definitely meant for relaxing. Don't miss Teide! That was honestly such a highlight. You could also miss Anaga if you're planning on including Teide in your five days.
If you really aren't an outdoorsy person, skip Teide and do everything else! You'll have lots of time to explore Tenerife's best beaches and coastal towns.
Here's what I'd rank as must visits and places to see if you have the time
Must Visits
Teide (if you like hiking)
La Laguna
Masca Valley
Anaga (if you like hiking and have time for both Teide and Anage)
If You Have Time…
San Cristobal
Garachico (lovely but small)
Medano
Anaga (if you are not too keen on hiking or if you only have time for either Teide or Anaga)
What are my top picks? I love to hike, so Teide was a must for me! I also really enjoyed Garachico and driving around all of the incredible places Tenerife has on offer. We spent about a week in Tenerife, and that was a great amount of time for a first trip.
---
Like this post? Pin it!