Alicante, Spain is a city full of culture, history, and beauty. It's also a GREAT budget flight destination and a wonderful way to see the rest of Costa Blanca and the East Coast of Spain. Here's how to spend one day in Alicante.
Blue waters, a giant castle overlooking the city, and colourful streets – hello, Alicante. Alicante, Spain is a great destination year-round, with hot summers and mild winters, and plenty of things to do. It's a great airport to fly into if you're visiting the East coast of Spain, with easy transport to Costa Blanca and coastal towns. It's also a budget airline hub, with cheap flights to Barcelona, Rome, Tenerife, and so many other amazing destinations. Only have one day in Alicante? Don't worry – you can still fit in the best sights! Here's what to do during your stay and an Alicante itinerary for one day.
First things first! Flying into Alicante? Here's how to get from Alicante Airport to the city.
How to spend one day in Alicante – Things to do
Alicante is loaded with things to do – whether you like relaxing at the beach, getting your steps in and walking, or shopping until you drop – there's something for everyone here. Here are my top picks for things to do in Alicante.
Castell de Santa Barbara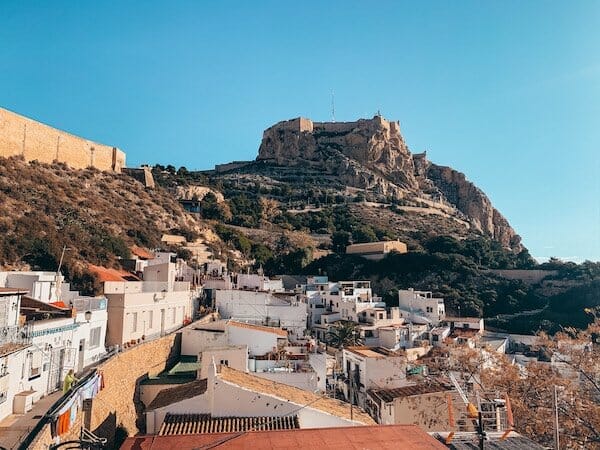 It's hard to miss this gorgeous castle overlooking Alicante city. There are two ways to get up to the top – by car or by foot. You can call a taxi to get you to the top of the castle, but if you can, I recommend walking!
Walking up is fun, but tiring – we chose to walk up the pedestrian-only way, which took us on a path that looks like the Great Wall of China. It had lots of stairs, but also plenty of amazing views! The walkway is located on Calle Diputado Auset and it'll get you straight to the castle!
When you enter the top of the castle, have a wander and take in the breathtaking views of the surrounding mountains and the city below you. There's a lot of information about Alicante history (mainly in Spanish!) to read through. If you're tired after the walk, or if you just want to enjoy the view, have a coffee at the cafe. The cafe is really nice, and if you can snag an outdoor table, you have sweeping views of the city.
Hours: 10 am – 10 pm
Alicante Mercado Central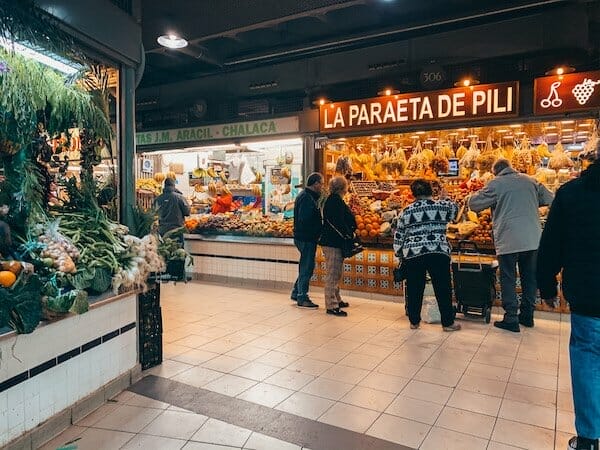 Come here in the morning, when food is freshest, the market is liveliest, and everyone is running about doing their daily shopping.
There's something about visiting markets that I find so inviting. I love sneaking a peek into daily life – watching seasonal fruits and veggies being unloaded into market stalls, the chatter of Spanish surrounding you, residents shopping for their dinner ingredients, placing their produce in their granny carts. I love it. There are also some bakeries located inside this market, perfect if you're planning on having a picnic lunch or a quick breakfast.
Hours: 7 am – 2:30 pm, closed Sundays
Address: Av. Alfonso El Sabio, 10
MACA: The Contemporary Art Museum of Alicante
This museum holds around 800 pieces of 20th century and contemporary art. There are three permanent collections, all designed so beautifully. Think big open spaces dedicated to displaying amazing pieces. This is an especially great rainy day activity.
The museum is located near the castle and old town, so hit these points of interest together!
Hours: 10 am – 8 pm Tuesday – Saturday, 10 am – 2 pm Sunday, closed Mondays
Address: Plaza Sta. María, 3
Admission: Free!
Casco Antiguo
The Casco Antiguo is the old town of Alicante, located in the hillside just under the castle. If you like pretty architecture and sweet little streets, have a stroll around here (perhaps with a baked good from the mercado central?).
Unlike other old towns, this is less of a tourist trap and more of a residential area. I wandered around here at around 10 am, when residents were still waking up and the area was quiet. Because it's still so residential, make sure you're being respectful – keep the noise down during the morning and late evenings, and take pictures only when appropriate!
MUBAG: Gravina Museum of Fine Arts
This historical monument is four floors of Alicante's fine art collection. Located inside the 18th-century Gravina palace, this museum offers 8 exhibits. The best part about this museum is the multimedia experience, where you can gain a little insight into the lives of the old residents of the 18th-century.
Hours:
Summer Hours (July 1 – August 31)
Tuesday – Saturday 11 am – 9 pm
Sunday 11 am – 3 pm
Closed Mondays
Winter Hours (September 1 – June 30)
Tuesday – Saturday 10 am – 8 pm
Sunday 10 am – 2 pm
Closed Mondays
Address: C / Gravina 13-15
Admission: Free!
Explanada de España: The Promenade
Alicante is a wonderful walking city. If you're exploring the city on foot, don't miss the Explanada de España! Lined with palm trees and cafes, the promenade sits right next to the water. You can either choose to walk inland, where the cafes are, or right on the water, where there are plenty of boats floating around the docks. There are loads of benches to sit and relax in both areas!
The promenade is lively both in the summer and wintertime, with locals and tourists riding bikes, walking, jogging, or enjoying a cup of coffee.
MARQ: Archaeological Museum of Alicante
This is an amazing, interactive museum that is a MUST if you love archaeology. The museum walks you through different archaeological methods and techniques and it's the first archaeological museum to highlight this. It's located in an old hospital.
At this museum, you can also buy entrance tickets to three different archaeological sites:
1) Lucentum, an ancient Roman town that is now Alicante
2) Illeta dels Banyets, Alicante's earliest archaeological site
3) Tower of Almudaina, a beautiful ancient town
If you're only in Alicante for one day, I would only visit Lucentum, or you'll be spending most of your day driving or taking transport to the archaeological sites. If you're only spending 24 hours in Alicante, there's plenty else to see!
Hours: 10 am – 7 pm Tuesday – Saturday, 10 am – 8:30 pm Saturday, 10 am – 2 pm Sunday – Closed Mondays
Address: Placa Dr. Gómez Ulla
Admission: €3 to the museum, €2 for each archaeological site.
Combined ticket (MARZ + Lucentum + Illeta dels Banyets): €4 (one-month validity)
Alicante Itinerary – 1 Day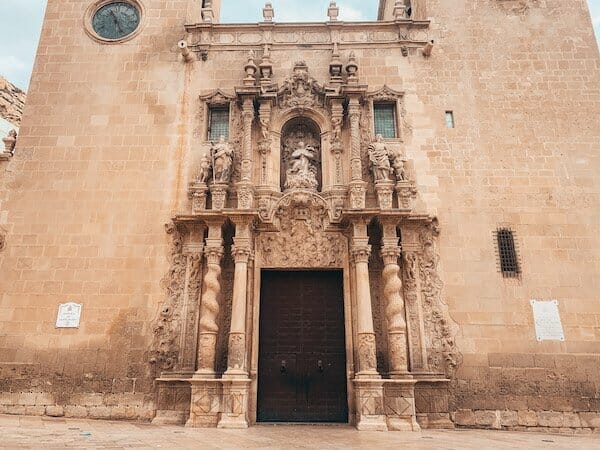 Have a day in Alicante? Here's my 1 day Alicante itinerary to maximise your time in this charming city.
9 am: Breakfast
There's nothing like waking up and heading straight to the market, where you'll find all the freshest fruits, veggies, and baked goods. Head on over to Alicante Mercado Central, where you'll get a feast for the eyes and the stomach. Pick up a little of whatever looks yummy – there's something for everyone!
10 am: Santa Barbara Castle
With a full stomach, start walking up to Santa Barbara Castle. You'll want to head on up before midday, when it can get too hot for such an uphill walk. Meander through the castle area, get a good look at the sweeping views around you, and stop for a coffee on the terrace.
12 pm: Meander through Casco Antiguo
Once you've had a look at the Castell de Santa Barabara, head back downhill and end up along the hillside, where the streets are narrow, the buildings are charming, and where you're in the thick of the old town. If you're into contemporary art, pop into the MACA – it's free!
1:30 pm: Lunch time!
After all that walking, I'm sure you're hungry! Have lunch in the center of Alicante. There are soooo many restaurants located here and there's something for everyone, from poke bowls (try Mahalo Poke) to traditional Spanish food (go for La Taberna de Luceros or Alma del Sur), or even something fast (you've got McDonald's, KFC, Burger King, & Taco Bell).
3 pm: Enjoy the Explanada de España
It's easy to feel a little lethargic after lunch – I know I always feel like I need an afternoon siesta with a full belly. To take it easy whilst also seeing one of Alicante's biggest sites, have a short walk (or sit!) on the Explanada de España. It's nice being by the pier or ocean, watching the world go by.
4 pm: Check out one of Alicante's incredible museums!
Alicante has some amazing museums. Quite a few of them are free and worth checking out! In terms of art, there's the MACA for contemporary art and the MUBAG for fine arts. There's also the archaeological museum and an archaeological site to visit, which is wonderful! Alicante has so much culture and history, and the museums really show that side of the city off.
6 pm: Drinks!
While this might be your usual dinner time, in Spain, eat late! Most restaurants don't open until around 7, and it's common to have dinner at around 9 pm. To tide your hunger over, head into any cafe or bar for a beer or glass of wine. You can also usually order some small snacks along with your drinks. Spend a while resting up – it's been a busy day!
7-9 pm: Dinner!
Anywhere from 7-9 pm, it's acceptable to sit down and eat dinner! I love getting tapas, and Alicante's coastal location ensures FRESH seafood. Squid is super popular, as well as small fish, like anchovies or Bacalao (Atlantic cod), so definitely try some of those!
---
And there you have it! How to spend one day in Alicante AND an Alicante itinerary!
Like this post? Pin it!