Hiking up Pilatus is an incredibly rewarding experience with beautiful viewpoints, an excellent finish, and a whole lot of uphill. There are plenty of ways to reach the top of Pilatus, but I loved the experience of hiking to the top. Because of the many ways to reach the peak, the Mount Pilatus hike isn't too busy, so you get to enjoy more secluded nature before reaching an incredibly commercialised ending. There isn't too much information on hiking up Pilatus, so I hope this post can be helpful for you! Here's my guide to the Mount Pilatus hike from Alpnachstad to Pilatus Kulm.
The Mount Pilatus hike in a nutshell
Mount Pilatus Hike Key Information
Trailhead: Alpnachstad
Hike End: Pilatus Kulm
Length: 8km / 5 miles
Time: 3.5 hours at a fast pace
Ascent: 1670 m / 5480 ft
Difficulty: Intermediate – it's technically not too difficult, but it's exhausting as there are uphill switchbacks the entire way!
Like this post? Pin it for later!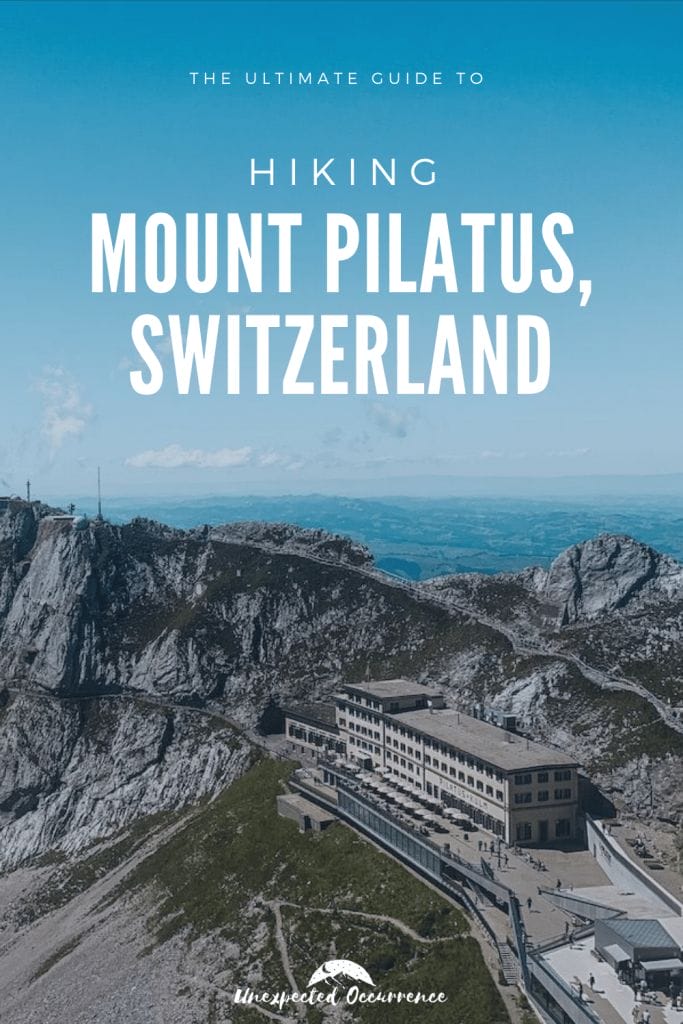 How to get to the Mount Pilatus hike trailhead
This hike starts in Alpnachstad, just outside of Luzern. It's easily accessible by both public transport and car.
How to get to Alpnachstad by train
Take the train from Luzern to Alpnachstad. There are many direct trains that go to Luzern, as it's one of Switzerland's busier train stations. From Basel, it takes 1hr45 to reach Alpnachstad. From Zurich, it takes an hour and a half, and from Luzern, it takes just 20 minutes.
How to get to Alpnachstad by car
You can access Alpnachstad from the A8 motorway. It takes 1hr15 from Basel, 1 hour from Zurich, and just 20 minutes from Luzern.
Parking is available and costs 5 CHF per 24 hours.
The Pilatusbahn & Pilatus Cable Car – Option for non-hikers
I visited Pilatus with my mother, who wasn't keen to hike all the way up to the top (it's hard on the knees!). If you're with people who want to see Pilatus without the effort of the hike, there are two options to get up to Pilatus Kulm.
First, there's the cogwheel train. It's one of the steepest cogwheel trains in the world at a whopping 48% incline! Rumour has it that the views from the front of the car are the best, but the views from the back are great, too. You catch the Pilatusbahn from Alpnachstad and it takes 30-40 minutes to reach Pilatus Kulm.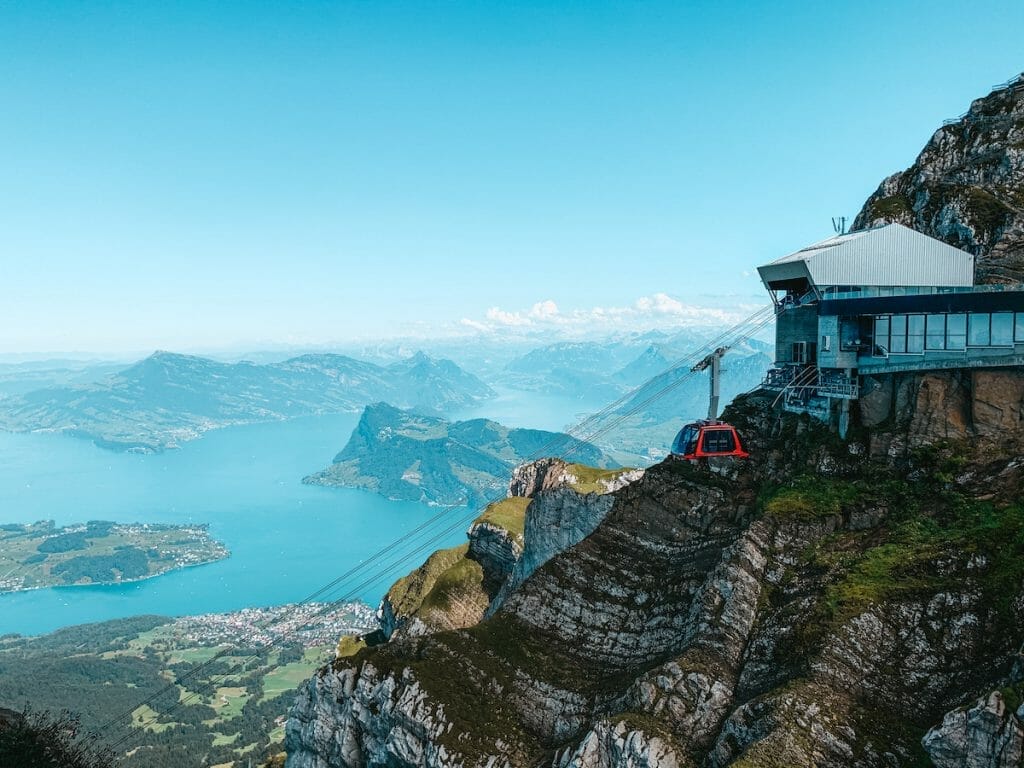 Your other option is to take the cable car from Kriens. This is a really fun way of getting to the top of Pilatus with a view of Lucerne. It's a bit harder to get to, as you have to take a bus from Lucerne to Kriens, then it's a 10 minute walk to the cable car. To find the bus to/from Lucerne/the cable car, follow the signs for the Pilatus bahn (red) or Luzern (blue). I've attached photos of the signs below so you know what to look out for! It could be quite easy to miss. I enjoyed taking the cable car, but I think it's easier all-around to take the cogwheel train.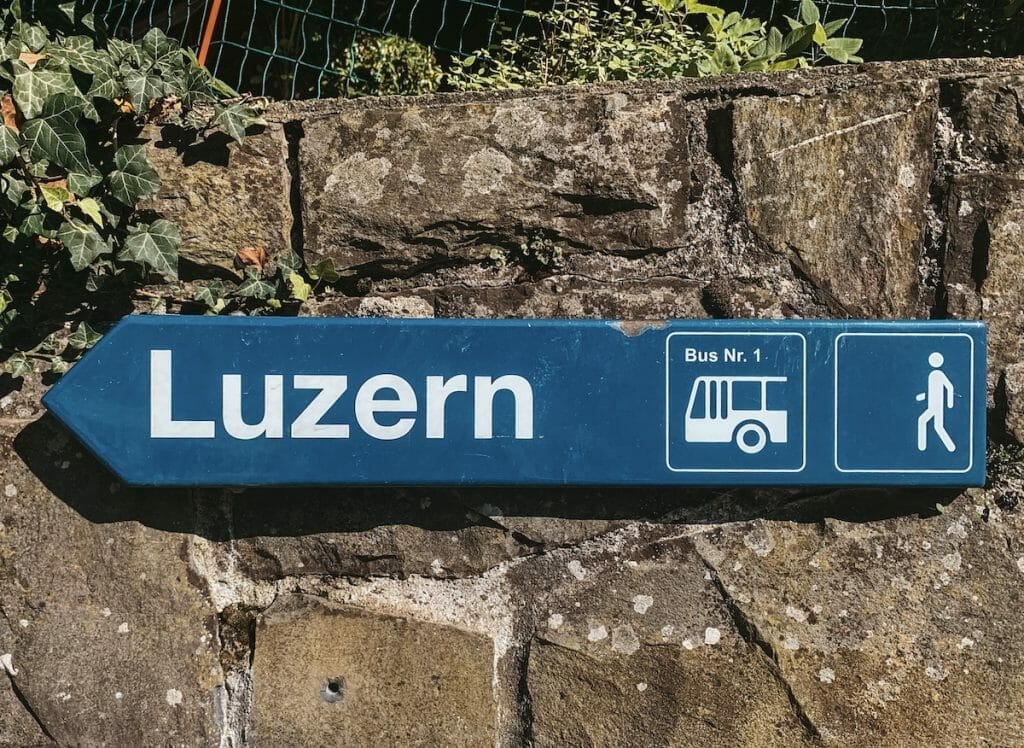 Both ways cost 36 CHF each way, but if you hold a half-fare or GA travelcard, you pay 18 CHF each way.
My experience on the Mount Pilatus hike from Alpnachstad to Pilatus Kulm
I had heard many stories of people starting the hike to Mount Pilatus and then turning back because it was very steep. I like throwing myself into challenges to see what I can do (see here and here), so I said, "sign me up!" and started planning my trip to Alpnachstad, the beginning of this hike.
A week later, after arriving in Alpnachstad, my mother and I split up. She bought her train ticket up to Pilatus Kulm and I found the hiking trail. From the Pilatusbahn station, you'll follow the yellow hiking signs towards Pilatus and Amsigen. The sign says it takes 4.5 hours to reaech Pilatus, but I found it only took 3.5 hours (at a fast pace). The trail starts out left of the Pilatusbahn and then you start heading uphill.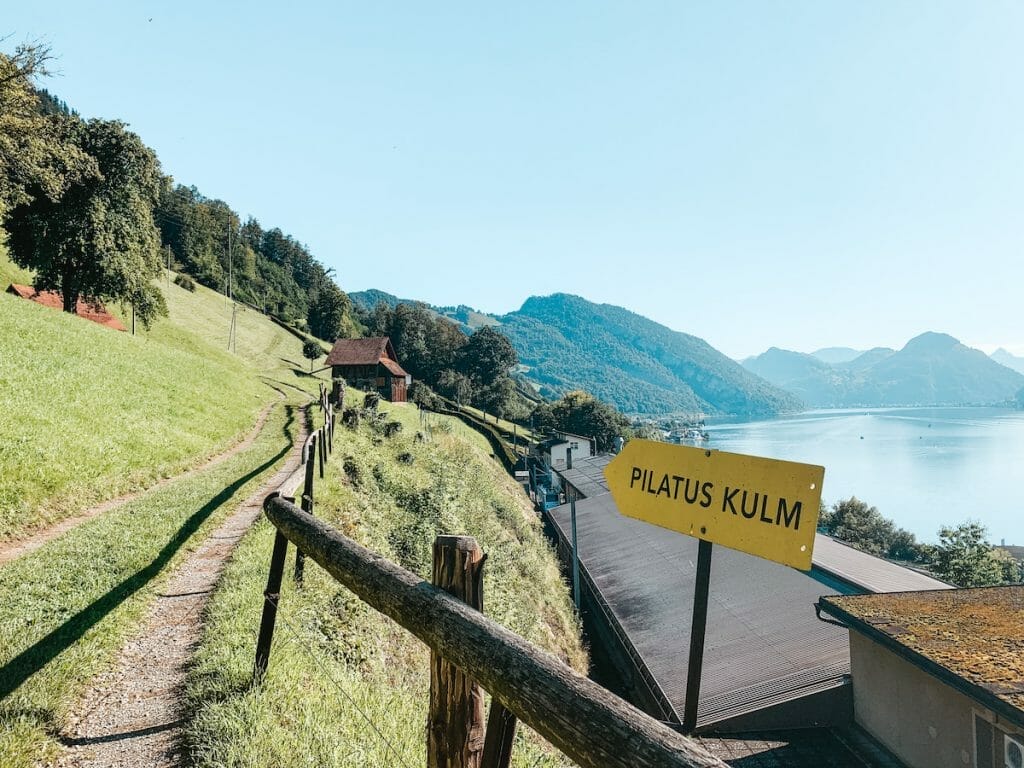 This trail follows the cogwheel train tracks at the very beginning. It doesn't take much time before an amazing view of the lake is behind you. It's quite hot to start, as there's no shade, but after going under the train tracks and briefly up a paved road, you'll turn to the left and into the forest. The forest provides a little bit of shade and LOTS of switchbacks (get used to switchbacks). It didn't seem too steep to start out, so I was able to walk pretty quickly. It took me roughly an hour to get out of the forest.
Once you get out of the forest, you follow the train tracks (some people may wave from the train, blissfully unaware of the 48% incline that you will be VERY aware of). After about an hour and 45 minutes of hiking, you'll reach a field of cows (warning: lots of flies) and then Amsigen.
Amsigen is a stop on the cogwheel train, but there isn't actually anything to DO here. There's a trough to fill your water bottles here, so definitely fill up on water! This is your only spot to refill water bottles on the hike from Alpnachstad – Pilatus Kulm.
From here, there are two ways you can get to Pilatus. Via Mattalp or via the Matthorn. The Matthorn trail is longer by about 30 minutes and is a beautiful detour. I followed the Mattalp route towards Pilatus, which has 20 meters of flat ground. This is literally the only time you will have 0 incline on this whole hike, so enjoy it! Not too long after leaving Amsigen, you'll start to get those beautiful rocky views of Pilatus and the surrounding mountains. The views only get more breathtaking from here!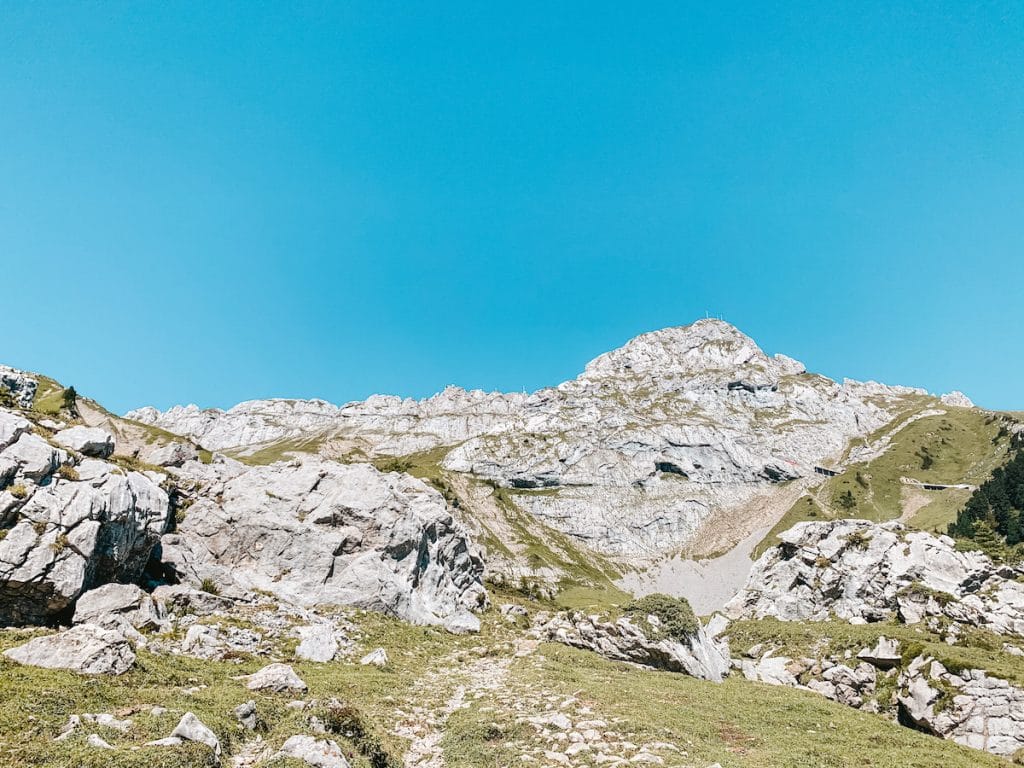 Switchback after switchback, you'll make your way to another open field. By then, the cogwheel train will be quite far to the right, and you'll continue heading left up more switchbacks (which shouldn't be surprising by now haha). You may spot more cows around here, and you'll be getting your first glimpses of the Pilatus area!
There will be one last straight section before the final swtichbacks up to the Pilatus station. This isn't actually too steep but I found it brutal – the terrain changes to large gravel and you're soooo close to the top while simultaneously feeling so far away!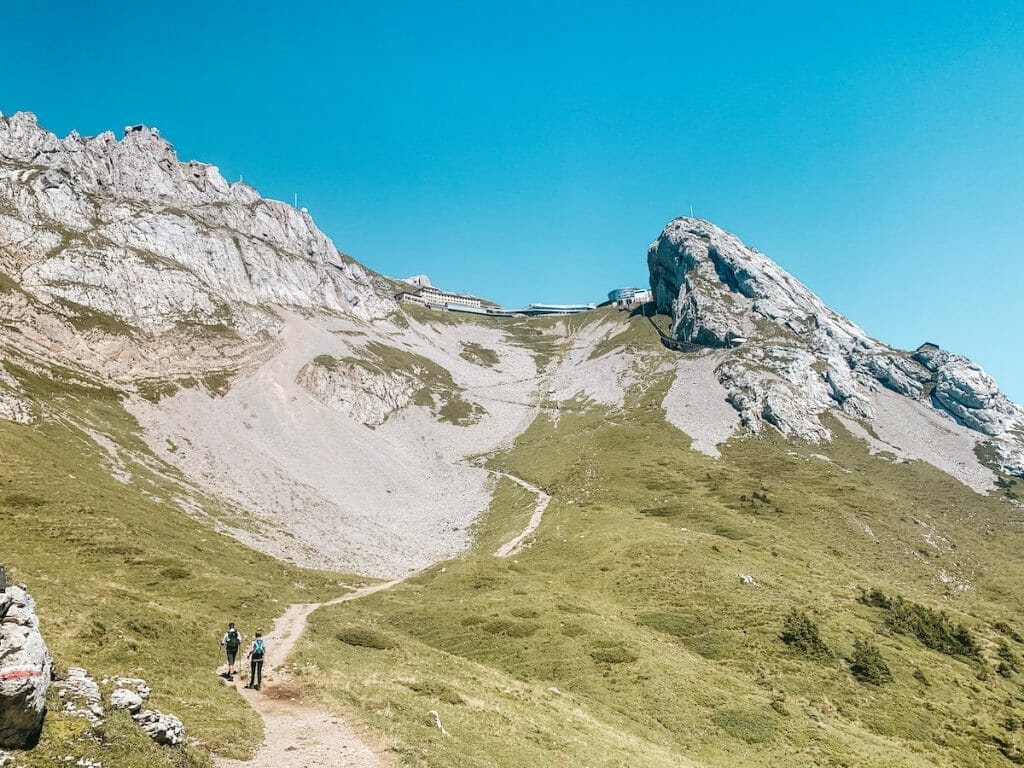 Once you reach the top, you walk up a final set of stairs and you're at the top of Pilatus!
I met my mom and then we hiked up to Esel. It takes only around 10 minutes to reach the top of Esel, where you can get a spectacular view of Lucerne on one side, and the Alps on the other.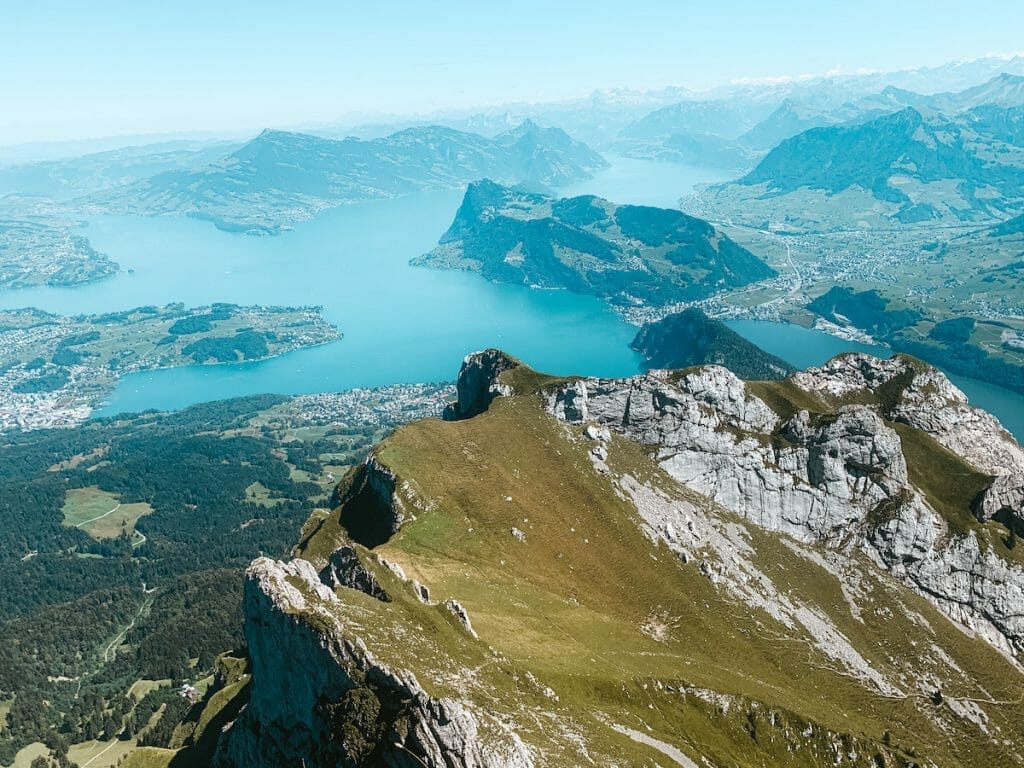 From Esel, we walked back past the Hotel Bellevue (would be incredible to stay the night here and experience sunrise) to the Tomlishorn. It takes 40 minutes to reach the Tomlishorn and the walk is flat with just 2 short uphill sections. This walk brings amazing views of the valley below and the Alps across from you.
When hiking around Pilatus, keep your eyes open! Pilatus is a great place to see wild ibexes. We saw three – one was right above our heads and we wouldn't have noticed it if someone hadn't pointed it out.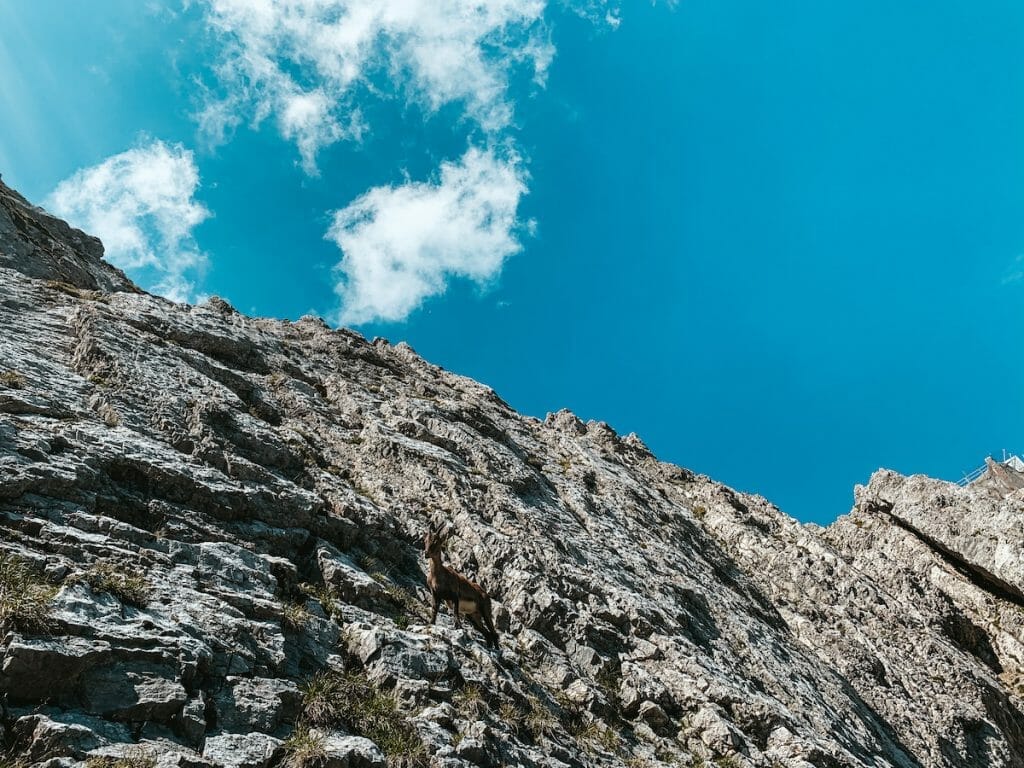 The last train down from Pilatus is at 17:45, and the last cable car is at 17:30 in the summertime, and at 16:30 for the rest of the year. I do NOT recommend missing the train, as the only ways to get down are quite steep and long, and the trails would be very unpleasant to hike in the dark.
Other helpful Switzerland posts
Below you'll find some other guides I've written to help you navigate through your time in Switzerland!
HOW TO TRAVEL SWITZERLAND ON A BUDGET
Outdoor Adventure Guides
WASSERAUEN TO SEEALPSEE HIKE IN EBENALP
SCHÄFLER RIDGELINE – AMAZING VIEWS
CYCLING IN SWISS NATIONAL PARK
KANDERSTEG MOUNTAIN COASTER & OESCHINENSEE HIKING
City Guides
THE ULTIMATE GUIDE TO ONE DAY IN BERN
10 DAY TRIPS IN SWITZERLAND THAT WILL BLOW YOU AWAY
BEST TIME TO VISIT ZERMATT & GORNERGRAT