The Lauterbrunnen Valley was the inspiration behind Rivendell from the Lord of the Rings! This beginner hike takes you through the valley, where you can spot 72 waterfalls!
The Lauterbrunnen Valley hike is a beginner-friendly walk that takes you through Switzerland's most iconic valley, home to 72 waterfalls, some as tall as 400 meters! This hike starts in Lauterbrunnen and takes you to Stechelberg, where you can either take a bus back into town or walk back along the trail. This walk has everything you could want – Swiss alpine homes, mountainous views, waterfalls, and very little incline! Keep reading to find out everything you need to know about the the Lauterbrunnen waterfall hike, which was the inspiration for Rivendell in the Lord of the Rings!
Disclaimer: This post includes affiliate links. These don't come at any extra cost to you; I just make a small commission! Thank you for using my links and for supporting this website.
Key Info: Lauterbrunnen Valley Hike
Trailhead: Lauterbrunnen
Hike End: Stechelberg Postbus stop
Length: 4 km
Time: 1.5 hours (walking slowly!)
Ascent: 100 meters
Difficulty: Beginner
Getting There & Away
Lauterbrunnen is a fairly easy destination to get to! It's easily accessible by train, but it's also possible to drive into town.
Getting to Lauterbrunnen by public transport
You can get to Lauterbrunnen by train via Interlaken-Ost. There are direct trains to Interlaken-Ost from Lucerne or Bern. From Interlaken-Ost, take the Berner Oberland-Bahn to Lauterbrunnen.
Getting to Lauterbrunnen by car
If you're coming from the North, you'll initially follow signs for Interlaken or Bern before then following signs to Grindelwald and Lauterbrunnen. If you can, drive the road by Lake Thun, one of my favourite lakes in Switzerland with incredible turquoise water.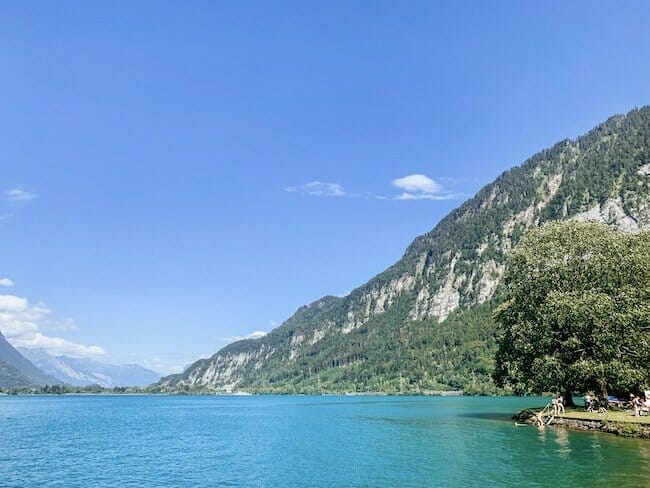 Parking is available near the train station and the church. Parking in the summertime might be busy, but there's a decent amount of parking space!
Map of the Lauterbrunnen Valley Hike
How to do the Lauterbrunnen Valley Hike
From Lauterbrunnen town, follow the signs for the waterfalls, away from the train station and towards the mountains! If you would like to grab food for the hike, there are plenty of restaurants in town, as well as a Coop supermarket with pre-made sandwiches and salads.
There are free public toilets in the parking lot by the church.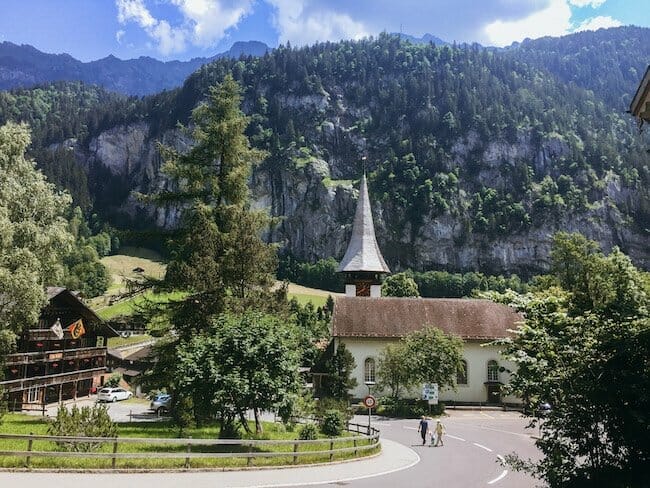 Staubbachfall Wasserfall
You'll reach the first big waterfall of the day within a few minutes. Staubbachfall Wasserfall is next to a visitor's area, with a coffee stall outside. There's a large bench where you can get a photo of the waterfalls behind you, and a slight detour trail that goes uphill and behind the waterfall.
The detour trail takes roughly 30 minutes to go up and down and is only open in the summertime. It starts with steep, sloping switchbacks, all visible from the bottom of the trail. After that, you go through a tunnel, which takes you to a staircase. This staircase leads to a rocky trail that continues for about 5 minutes, where you can see the final splashes of the waterfall. Because most of the waterfall turns to mist at this point, don't expect to see much water – but there IS a breathtaking view of the valley before you.
Once back down, continue along the main trail!
The main trail is open, with spectacular panoramic views of the valley, mountains, and waterfalls around you. It is NOT a strenuous hike, and it's stroller and wheelchair accessible most of the way! You might be able to see base jumpers and paragliders in the sky amongst the mountains.
Don't miss a small vending machine shop selling local cheeses and syrups! It will be on your right-hand side roughly 15 minutes after you've left Staubbachfall.
Trümmelbachfalle
Fifteen to twenty minutes after you've passed the vending machine, there will be a small marked trail on your left. You can take a detour here to Trümmelbachfalle, a series of ten rushing waterfalls that you take a lift up to. They're located inside a cave and the sound of the crashing water surrounds you.
These falls are responsible for draining the glaciers of the Eiger, Mönch, and Jungfrau – that's why these falls are so impressive!
It costs 11 CHF to visit the Trümmelbachfalle.
If you decide to visit these falls, head back onto the main trail for the rest of the Lauterbrunnen Valley hike.
After walking a while longer, you'll reach a bridge that leads to a main road. Don't cross the bridge, but maybe stop for a photo or two. The bridge offers amazing views of the river beside you and the valley.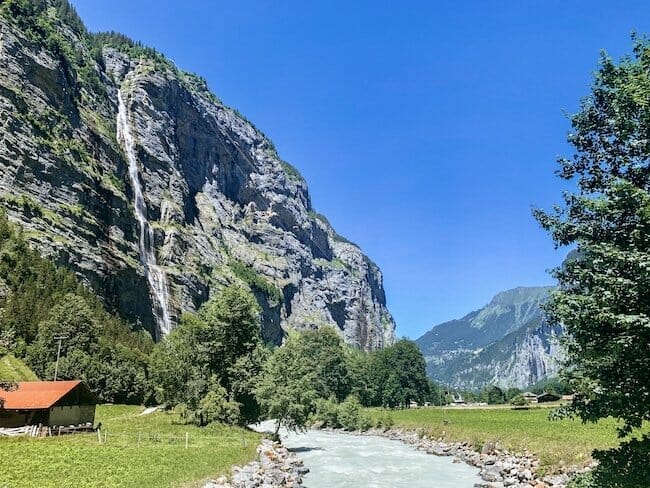 From there, the hike continues on a smaller trail. This is where wheelchairs and strollers should not continue unless they can withstand a well-formed trail.
You'll continue just a little longer before reaching the Stechelberg Funicular, which takes you up to Gimmelwald. From Gimmelwald, you can take another funicular to Mürren, which is only accessible by train, hiking, or funicular.
From Stechelberg, you can catch the Swiss Postbus back to Lauterbrunnen, or you can walk back on the trail for an 8 kilometer day!
Where to Stay in Lauterbrunnen
Budget: The Valley Hostel
This hostel is located right in the heart of Lauterbrunnen and offers so many activities! There's a shared kitchen, so you can easily save some money by cooking your own meals, and it's very clean! I highly recommend this hostel for the views, too!
Mid-Ranged: Hotel Staubbach
A great mid-ranged option in Lauterbrunnen is the Hotel Staubbach. You can choose to have a shared bathroom or a private bathroom, so there's a lot of flexibility in terms of what you want from your room and cost. The views of the valley are amazing from this hotel, and it's close to everything you could need!
Luxury: Penthouse Apartment
This stunning penthouse offers a mix of luxury and classic Swiss alpine interiors. This is located off the main street of Lauterbrunnen, so noise won't be a problem at night. This cozy apartment is the perfect place to come back to after days of exploring.
---
Like this post? Pin it!