This is one beautiful hike. Lago di Sorapis is only accessible by a hike, so it's less crowded than some of the other lakes in the Dolomites. Click here to find out how to do this amazing hike.
The Lago di Sorapis hike in the Italian Dolomites is an absolutely beautiful one. We heard that the Dolomites' other very popular lake, Lago di Braies, was incredibly popular amongst tourists, and we wanted to find something a little more secluded. And that's when we decided on the Lago di Sorapis hike – we found it had fewer tourists because there's a hike up to it, and when we went in the morning, we avoided the bulk of other hikers. Sound good? Here's how to do the Lago di Sorapis hike!
Key Information
Length: 10.6 km (there and back) / 6.6 miles
Elevation Gain: 536 m / 1759 ft
Time: roughly 3 hours, but leave time to enjoy the view!
Difficulty: Intermediate. There are a few narrow sections that have large drops. I wouldn't take small children on this hike. I know it's popular to do hikes in the dark to arrive at sunrise, but I really would NOT recommend doing so for this hike, as it could easily be quite dangerous.
Spelling: Lago di Sorapis / Lago di Sorapiss /Lake Sorapis. All are this lake!
How to Get There
Start & End Point: Passo Tre Croci
BY CAR: From Cortina, it takes roughly 20 minutes to drive to Passo Tre Croci. In terms of directions, we used Google Maps and just typed in 'Passo Tre Croci,' which got us there!
Parking: Limited roadside parking is available. I recommend getting there early. If you can't get there early, I'd wait until the early afternoon when most morning hikers have left.
BY PUBLIC TRANSPORT: Bus 30/31 during the summer season (mid June through mid September). The bus leaves from Cortina and the stop is called Passo Tre Croci. The bus also goes to the famous Tre Cime!
How to do the Lago di Sorapis Hike
My boyfriend and I decided to do this hike in the morning when there were fewest people around. I am so glad we did this, as we shared the lake with only a couple others. Also, since there's limited parking available, I recommend getting there early to ensure you can park nearby! If you're taking the bus, this is no problem, but we decided to visit the Dolomites in the off-season, so the bus wasn't running.
We left at 8 am, which was the perfect time in October, as the sun is up and warm, but that amazing morning light is there. It was also nice not having to wake up before the sun. The orange glow of early Autumnal trees is intensified in the morning light and it is strikingly beautiful.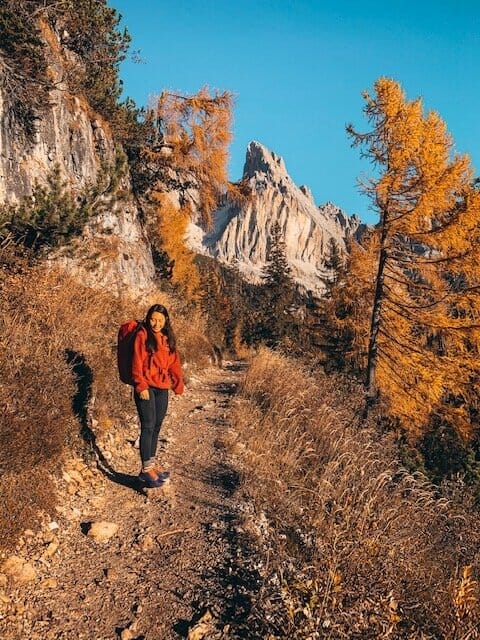 The trailhead is right off the road, marked with a map. There are usually horses out in the morning, making for an incredibly picturesque start. It can be a little chilly in the shaded parts of the hike, so bring a fleece or down jacket!
The trail starts with a flat, easy walk before then dipping downhill. After maybe half an hour of easy hiking, the trail starts to ascend pretty steeply. You go uphill on the trail for the bulk of this section, before the trail narrows. There are metal cables along the side of the trail when it gets really narrow, and then there are some metal stairs to walk up. There are also some wet patches of rock to be mindful of, as they can get really slippery. I wouldn't do this hike after it rains or it could be incredibly precarious. This is definitely a hike to do in good weather.
After that, it's more uphill, but the trail with level off a bit as you make your final ascent to the lake! The views from near the top are of the valley beneath you, and I loved them almost as much as I liked the views from the lake.
In late October, the lake can start to dry up. I would say about half the lake was dry for us, so the photos I took are strategically just of the half that had water. That being said, even half full, the lake is a beautiful colour – because the lake had a layer of ice, the water was a milky blue – and still 100% worth visiting. Just readjust your expectations! Some years the lake has more water, others, it's almost completely dry by this time of year. During the summer peak season, the lake should be pretty full of water and the most picturesque. Unfortunately, during peak season, this lake gets quite crowded, so it's a trade-off.
You can either turn back from the lake or do a loop around the lake. The path around the lake takes about an hour and is really nice if Lake Sorapis is full of water.
The way back is along the same route you came up along. As the sun starts to heat the ground, more water splashes onto the rocks and trail, so it will be more slippery. I would exercise more caution on the way down! While the trail isn't so narrow that you're on a cliff's edge, it would be easy to take a fall that could be quite serious.
From the trailhead, we decided to make our way to the famous Tre Cime. The 30/31 bus also goes there, so it's easy to pair the Lago di Sorapis hike with the Tre Cime loop. That's what we did, though we'll admit, by the end of the day, we were knackered!
What to Bring
You should definitely bring a day pack with you for this hike. It's three hours long, which means that you'll probably need some water. Definitely bring water with you (about a litre!), and if it's cold, a nice thermos of tea/coffee/hot chocolate to enjoy at the lake is really lovely. A snack to enjoy at the lake is also a good idea, but make sure you pack out all of your rubbish. Leave no trace!
If it's cold out, I would consider bringing a hat and gloves, as those cables can get pretty cold!
I would also bring sunscreen, no matter the season, as the sun can get pretty intense.
What to Wear
Wear layers! Because you're going up to 1,900 meters, it can get chilly. I would wear a hiking top and fleece, and if you're planning on hanging out at the lake for a while, a down jacket! As for bottoms, I wore leggings, though trekking pants aren't a bad idea. And for shoes, hiking boots with good grip are essential. You could get by with trail running shoes as well. Sunglasses are also essential!
Where to Stay
For easy access to the Lago di Sorapis hike, Cortina D'Ampezzo is your best bet. It's only about 3.5 miles from the trailhead, and it's a quick 20-minute drive away. Cortina is a charming town that comes alive during the winter ski season. It's also one of the bigger towns in the Dolomites, which means that if you're visiting during the off-season, as we did, it'll have the most shops and hotels open.
---
And that's everything you need to know about the Lago di Sorapis hike! I highly recommend this day/half-day hike. It was incredibly stunning (especially with that early morning autumnal glow!) and a wonderful way to see some of Northern Italy's amazing Dolomites.
Like this post? Pin it!