This famous lake has become the poster child of the Dolomites. It's a perfect hike for beginners or for families and is a stunning way to see the Dolomiti.
Lago di Braies, also called Pragser Wildsee in German, is one of the most well-known places in the Dolomites. After becoming pretty famous as an Instagram location, hundreds of tourists visit this amazing lake every day! The Lago di Braies hike is short, so we saved this spot for our last day in the Dolomites. I highly recommend doing that so you can spend your full days checking out other amazing hikes!
We spent our full days doing the Tre Cime di Lavaredo hike, the Cinque Torri hike, the Lago di Sorapis hike, and my favourite, the Croda da Lago hike.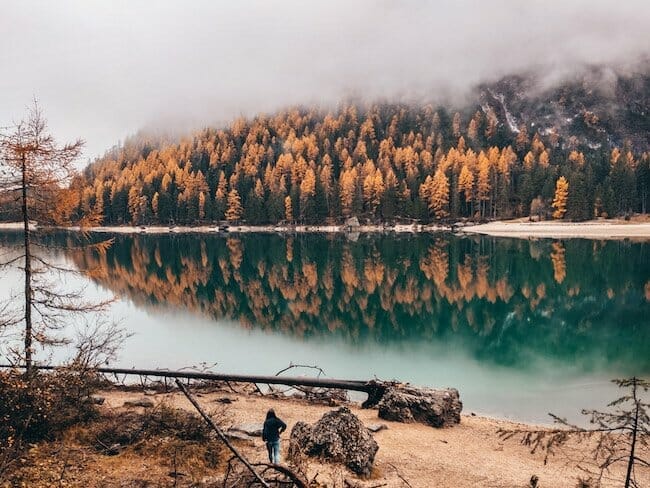 Key Information
Length: 4 km/2.5 miles
Elevation Gain: 10 meters
Time: 1 hour
Difficulty: Beginner/Family-friendly!
How to get to Lago di Braies
BY PUBLIC TRANSPORT: In the summertime, you can take bus 442 to reach Lago di Braies and the Lago di Braies hike.
BY CAR: Road SS49 will take you to the lake. From Venice, it'll take 3 hours to get there. From Milan, 4.5 hours, and from Innsbruck, Austria, around 2 hours. If you're already in the Dolomiti, it'll take you 50 minutes, and from Bolzano, it'll take an hour and a half.
PARKING: There's a large parking lot where you can park for 8 euros per day. In the offseason, finding parking is no problem, but in the summertime, peak season, I'd recommend getting there early to ensure you have a place to park. If you can't arrive early, I'd recommend waiting until the early afternoon to visit, when the morning crowds leave.
The Lago di Braies Hike
This hike is a loop that takes you around the lake. You can go either counter-clockwise or clockwise – we went clockwise and had fantastic views.
You'll start near the Lago di Braies Hotel. Immediately, you'll see the iconic view of the turquoise lake and mountains, as well as the boathouse, where you can rent rowboats to take you around the lake. These cost 25 euros an hour. In the early mornings, you'll probably see photographers and instagram-photo chasers taking pictures at the boathouse. This is when I'd make a beeline for the start of the hike!
This short hike takes just an hour to do (without stops) and there's very little uphill. It's a great family-friendly hike, and there are picnic tables towards the end of the hike (if you're going clockwise around the trail), which would be the PERFECT place for a snack or lunch with a view.
You'll have amazing views of the lake throughout the hike. There isn't much else to say in terms of navigation – the trail is really well-trodden, and there's a wooden walkway guiding you through some parts! If you want closer views of the lake, there are some small paths that you can explore.
When to Visit Lago di Braies
We visited the Dolomiti in the middle of October. We weren't sure if we should go or not, since all of the tourist infrastructure would be closed, but after visiting, we were convinced this was the BEST time to go! There are so few crowds and we had trails mainly to ourselves. This lake was slightly more saturated with people, but it's THE lake that's made it all over Instagram as the poster child of the Dolomiti.
The catch to visiting in October? The weather is hit or miss during this time, and when we visited Lago di Braies, it was cloudy and sprinkling. The iconic view of the mountains was nowhere to be seen for a good portion of our time at the lake – instead, we got a lot of fog!
Honestly, this hike was low on our priority list, so we did the other hikes on the days with good weather. I think this lake would have been more spectacular with good weather, but even with fog, it was stunning. And a positive! Rainy, cloudy weather meant fewer tourists!
In peak season, the weather will be better, but you won't get a moment with the lake to yourself.
What to Bring on the Lago di Braies Hike
This hike requires very little, but you will need money. Money for the bus or parking, money for coffee or hot chocolate (optional but HIGHLY recommended), and money for lunch if you're feeling like you need a pick-me-up.
I would actually recommend bringing lunch with you instead of eating at the hotel. You can get some amazing views from the picnic benches on the lakeside. There might not be space there if you're visiting during peak season, so maybe consider bringing a towel or blanket to sit on.
Always bring or wear sunscreen, and if there's a chance of rain, bring your rain coat!
What to Wear
This hike doesn't require amazing hiking boots. You'll be fine with a good pair of trainers! In terms of clothing, I wouldn't buy any hiking gear specifically for this hike. I saw women wearing dresses for photoshoots! Leggings, a fleece, and extra layers if its cold should be adequate for this hike, though definitely check the weather before leaving for the hike! Mountain weather changes all the time.
Where to Stay
If the Lago di Braies hike is your priority, or if you want to wake up and roll over to the view, I'd recommend staying at the Lago di Braies Hotel! It's right next to the lake and you'd definitely get a great view. I would only stay here for a night, though, as there isn't much else around the lake.
If you're looking to do other hikes, I really loved staying in Cortina D'Ampazzo. It was a pretty big town and such a central location to the hikes we were keen to do.