Jungfraujoch (pronounced yoong-frow-yock) is one of Switzerland's most well-known and expensive tourist attractions! Located in the Alps, it lays between the Jungfrau and Mönch mountains. You can take a train up to the Jungfraujoch, where there's a whole station of activities and insane viewpoints of mountains, glaciers, and the valleys beneath you. Sounds fab! The catch? Getting up to the jungfraujoch costs around 100 CHF WITH a discount. So I'm here to help you answer the question, "is the jungfraujoch worth it?"
Let's dive right in.
Like this post? Save it for later!
How much does the Jungfraujoch cost?
The cost of your jungfraujoch cost ticket really depends on a few factors. Do you have a discount? Where are you travelling from? To help break it down, here's a chart I made with the latest prices (Oct 2020). You may be able to save some money by booking ahead of time, as well, though I would be careful as mountain weather changes quickly!
Travelling From
Adult
Child (6-15)
Half Fare Card
Swiss Travel Pass
Eurrail/Interrail
Pass
Grindelwald
190
20
95
142.60
142.60
Interlaken Ost
210.80
20
105.40
n/a
158.20
Lauterbrunnen
189.60
20
94.80
n/a
158.20
Murren
212
20
106
n/a
159
Wengen
176
20
88
132
159
Round Trip Prices to go to Jungrfraujoch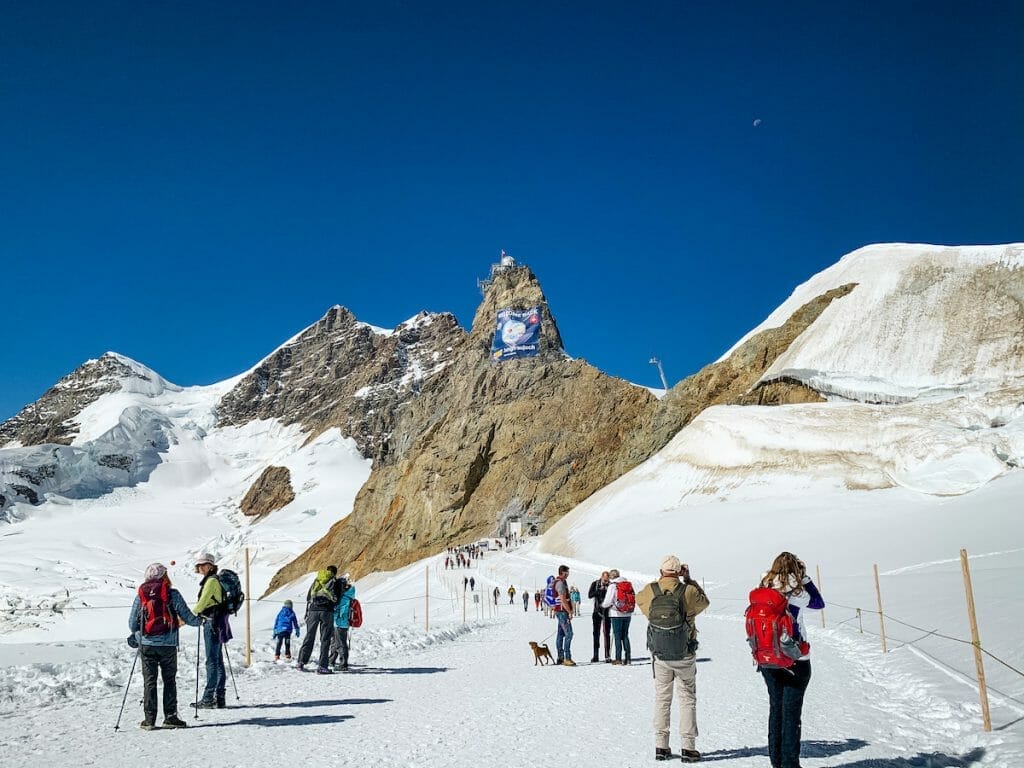 What to do at the Jungfraujoch
The Jungfraujoch is somewhere you could EASILY spend the whole day. There's a lot to see up here!
Jungfrau Panorama
The Jungfrau panorama is a viewing platform where you can see the incredible mountains around you, as well as the Aletsch Glacier beneath you. As the name suggests, there's a sweeping panorama view that's breathtaking.
Sphinx Observation Deck
The Sphinx observation deck was one of my highlights. The deck is positioned as high as you can go on the jungfraujoch, so you get the best views from here! When it's sunny and warm, it's so easy to spend an hour up here, admiring the view (and how high up you are!). When it's a bit chillier, there are a few seats inside to bask in that winter sunshine.
Snow Fun Park
Open only from June to mid-October, the snow fun park is a way to escape the summer heat! You can zipline across part of the glacier, sled, tube, ski, or snowboard up here.
Walk to the Mönchsjochhütte
This was one of the highlights of our visit to the Jungfraujoch. You get outside and are met with the most amazing views of the vast snowy plateau in front of you! Walking up the the hut is a great way to get to some incredible viewpoints, and you can stop for a treat or drink at the hut.
Alpine Sensation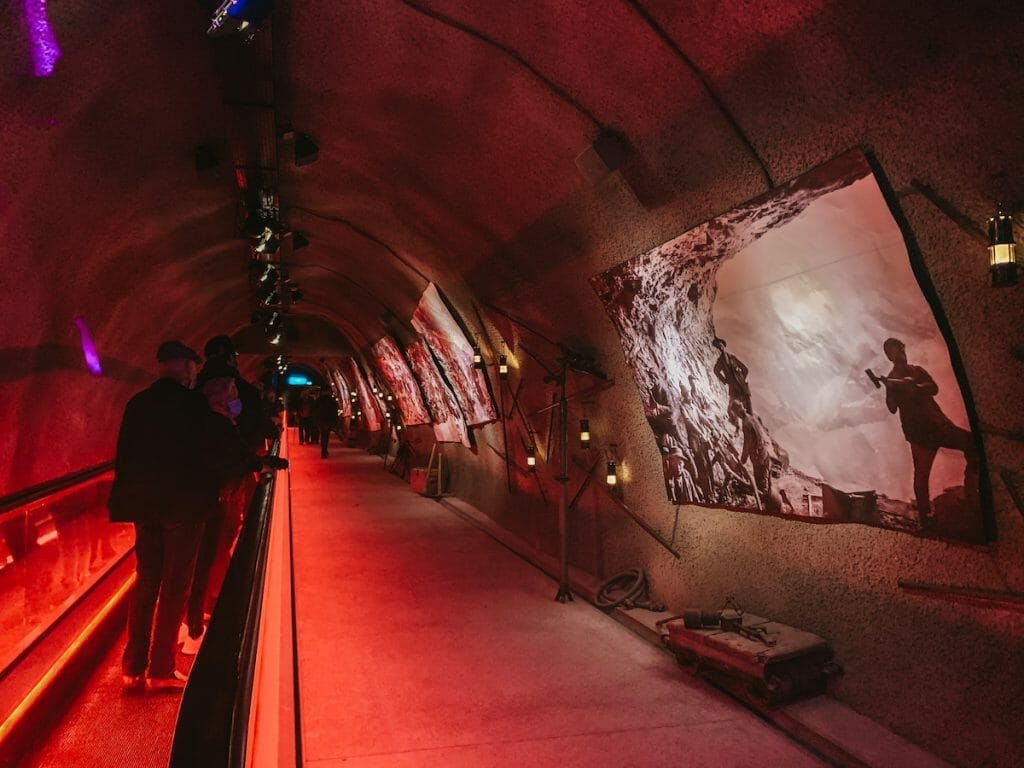 The Alpine Sensation is something you shouldn't miss when heading up to the jungfraujoch. It's a touristic walk that takes you the history of the jungfrau. There's an incredible section that memorialises the many lives lost building or working on the jungfraujoch – I think that's something that everyone who visits this attraction must see.
Eispalast
This unique attraction is a corridor completely made of ice! It has beautiful ice sculptures along the way, but I thought the ice palace itself was the best part!
Souvenir Shop & Tissot Shop
Located near the Sphinx observatory, these shops sell ALL the fun Jungfraujoch souvenirs and clothing. And hey, saying you bought a Swiss watch at the top of Europe is something pretty neat.
Lindt Swiss Chocolate Heaven
The Lindt store here is a small museum shop dedicated to Lindt, one of the most well-known Swiss chocolate brands!
Restaurants
There are a few restaurant options here! There's a very nice (i.e. expensive) restaurant to visit with sweeping views of the surrounding area, and there's a self-service cafe, too! The cafe can get quite busy, but there are some great views if you can find a good seat, and the prices are much more reasonable.
So is jungfraujoch worth it?
I think that when it comes to spending money, individual preferences are super important! For that reason, I'm going to list out the pros and cons before giving you my final opinion!
The Pros
Visiting the Jungfraujoch is something that I'll remember forever – the views are picture-perfect and they're exactly what you think of when you think of Switzerland. I was also pretty impressed with the amount of things there were to occupy our time – I wasn't expecting to spend ALL day up at the jungfraujoch, but we did and we were never bored! It was fascinating being out on the glacier, walking to the hut, and seeing the crevasses and mountains so close. I thoroughly enjoyed my day and I'm so glad I was able to experience this once.
The Cons
I mean, the price is nothing to sneeze at. This is one expensive attraction – there's no way to sugarcoat it! I was also surprised at some of the attractions – there are LOTS of things to do, but few are actually outside. With Pilatus, there were walks to go on and it really was an easy way to enjoy sweeping views with minimal effort. With the Jungfraujoch, it felt a lot more commercial, and half the things to do were either viewpoints or shops! So while there are lots of things to occupy your time with, a lot of them felt like things to tick off the list just because they were there. I will say that I was never bored, but I wasn't actively DOING much. But hey! I love hiking and walking ! If you like just turning up and getting lovely views, this might be right down your alley!
My Final Verdict: Is Jungfraujoch worth it?
I think that if you have the cash to spend and this is your one big trip to Switzerland, going up to the jungfraujoch is worth it. It's such a special experience and it's definitely a bucket-list item!
If you're on a budget or not impressed with sitting at a giant viewpoint for hours, I'd say skip this one. There are plenty of hikes in Switzerland that give you amazing views (I'll pop some links down below!), and there are plenty of day trips that will keep you busy and in awe of Switzerland's beauty!
Other helpful Switzerland posts
Below you'll find some other guides I've written to help you navigate through your time in Switzerland!
HOW TO TRAVEL SWITZERLAND ON A BUDGET
Outdoor Adventure Guides
WASSERAUEN TO SEEALPSEE HIKE IN EBENALP
SCHÄFLER RIDGELINE – AMAZING VIEWS
CYCLING IN SWISS NATIONAL PARK
KANDERSTEG MOUNTAIN COASTER & OESCHINENSEE HIKING
HIKING MOUNT PILATUS IN LUCERNE
WORLD'S LONGEST PEDESTRIAN SUSPENSION BRIDGE – RANDA
HIKING MOUNTAINSIDE BISSES – HIDDEN GEM!
City Guides
THE ULTIMATE GUIDE TO ONE DAY IN BERN
10 DAY TRIPS IN SWITZERLAND THAT WILL BLOW YOU AWAY
BEST TIME TO VISIT ZERMATT & GORNERGRAT