Heading to Alicante? Here's what you need to know about getting from the airport to the city!
Alicante is an extremely easy city to navigate. Whether you're visiting for the food or the beach, the museums or the castles, Alicante has something for everyone. But before you can dive into everything Alicante has to offer, you need to get from the airport into the city! Here's how to get from Alicante airport to the city center, whether you've just flown in from Barcelona, Tenerife, or beyond.
First things first: There are different ways to get from the airport into the city. You can take a bus, taxi, or private transfer. I love the bus – it's super convenient and it's the cheapest option, too! I'm a big fan of saving money on transportation and buying an extra treat or two.
Looking for what to do in Alicante city center? Here's a good post to get started.
Alicante Airport to City Center by Bus
Taking the bus from Alicante Elche Airport to the city centre is the cheapest option to get to the city, AND it runs 24/7! I know the feeling of arriving in a new place and just having no idea where to start. Even if you know you'll eventually figure it out at your destination airport, it's nice to have an idea of what everything will look like. That's what I'm here to give you!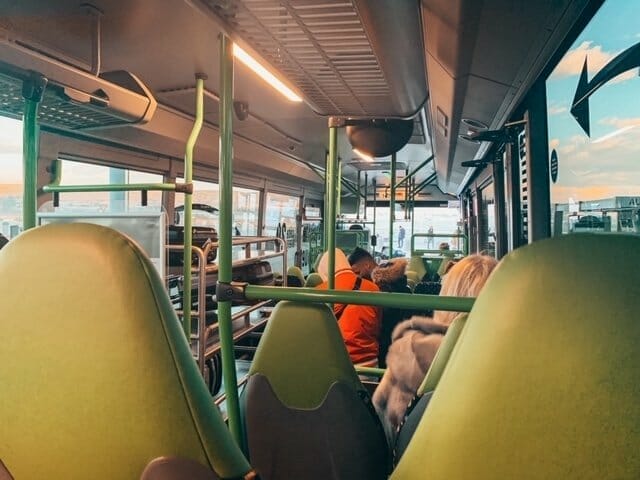 The Basics:
Bus number/ bus line: C-6
Cost: €3.85 one-way
Times: Every 20 minutes during the day, every hour in the evening
The bus stops at quite a few bus stops in the city centre, as well as the bus station and the train station. From either of these stations, you can take a bus or train to Valencia, Costa Blanca, and plenty of other stunning places.
Where to catch the Alicante city bus
After you've landed, you'll exit at the lowest level of the airport, in the arrivals area. To catch the bus, head up to Level 2, where the departures are. There are signs for the bus throughout the airport, so you shouldn't miss it! Once on level two, exit the airport to where cars can pick up and drop people off. The bus stops should be pretty obvious if you've followed signs, but if you can't find the bus stops, they're on the rightmost side of the airport as you walk out.
The bus that takes you to the city centre is the C-6 bus. The bus comes every 20 minutes, and at the stop, there's a digital monitor that lets you know how long you have to wait until the next bus. Between midnight and 5 am, the bus runs once every hour.
Where to Buy Tickets: How much does the Alicante Airport bus cost?
You buy your tickets from the bus driver, as you're boarding the bus.
Tickets cost €3.85 one-way, and you can pay with a contactless card OR by cash. The contactless payment pad is near the driver's head. You'd think that it would be easy to find the contactless machine but I was looking around like an idiot until the driver kindly pointed it out. I'm here to save you from repeating that.
How long does it take to get from Alicante Airport to the city by bus?
The Alicante Airport to City bus runs in a loop – so it runs by the seafront, and then it loops back around and it goes through the city on the way back to the airport. It stops off at the bus station and the train station, in case you need to go to either of those for onward travel.
It takes roughly 20-30 minutes to get from the airport into Alicante city.
There are quite a few stops – they aren't displayed anywhere so keep a map up on your phone, and ring the 'stop' button when you need to hop off!
Alicante Airport to City Centre by Taxi
Taxi fares usually cost around €20 for a standard 4-seater taxi. You can expect to pay the €4.25 airport fee and then €1 per kilometre. There will be surges for peak times (usually on weekends and during rush hour).
This takes 15-25 minutes.
You can catch taxis on level 0, outside of arrivals.
I recommend taking a taxi if you have loads of luggage and less than 4 people! Taxis will get you exactly where you need to go with minimal effort.
As a general rule of thumb, make sure the meter starts when you start driving. If the meter isn't running, taxi drivers can rip you off!
Alicante Airport to City Center by Private Transportation
The going rate for private transfers from Alicante Airport to the city center is anywhere from 30-100 euros. You can book these online ahead of time from a variety of vendors. It'll be significantly cheaper if you have less than four people.
The benefit to having private transfers into the city is that you get to go straight to your destination in Alicante, and that you have someone waiting for you as soon as you arrive! You don't have to deal with any of the logistics!
The downside is definitely the cost, and if you're on a budget, I would definitely pass on private hire transfers.
Alicante Luggage Storage
If you have a flight that gets in super early or one that leaves super late, it's worth looking into luggage storage! You can take your essentials with you and not have to worry about wandering the city with all of your bags. When I've got all of my luggage with me, it's hard to explore the city and to take advantage of your extra time in Alicante. Luggage storage is the perfect solution to make the most out of your day!
I used Alicante Luggage Storage, located near the central market. It's pretty affordable and it's all self-service. I also felt that the storage facility was super safe, as you need both a code to open the door and a QR code for your locker. I paid 9 euros for 4 hours of storage.
You have to book online in order to get your code to enter the locker area. During peak season, during the summertime, book ahead of time, as there are only a few lockers! In the winter, this shouldn't be a problem. I was able to reserve a locker from outside the locker area.
The small locker was pretty giant – good for two cabin sized bags. The larger lockers will fit loads more!
Address: Calle José Gutiérrex Petén, 27
Hours: 24/7