The Castle Lake to Heart Lake hike is short but sweet—it's only a few miles long but the views are unmatched! Read on to learn everything you need to know about the Heart Lake Hike near Mount Shasta.
Heart Lake Hike in a nutshell
Heart Lake Hike key information
Trailhead: Castle Lake
Hike End: Castle Lake
Hike Type: Out & back
Length: 3 mi / 4.8 km
Time: 1.5-2 hours
Ascent: 814 ft / 248 m
Difficulty: Easy – nothing too technically challenging, just take your time going uphill if you don't hike a lot!
How to get to the Castle Lake Trailhead
This trailhead is only 20 minutes from the I5, making it super accessible! On the I5, take exit 736 toward McCloud. Then follow Castle Lake Road to the end of the road.
Download an offline map or queue up your directions before getting off of the interstate, as there's no signal near Castle Lake.
Trail Guide: My experience hiking from Castle Lake to Heart Lake
After camping in Castle Crags State Park, I drove 40 minutes to Castle Lake. I arrived at around 8am, easily found parking on the side of the road (although there's also a dedicated parking area!), and headed towards Castle Lake. Castle Lake is just off the road and is a super popular place for boating in the summertime. For those reasons, I highly recommend getting to Castle Lake early, before everyone arrives. When the lake is undisturbed, you get to see the incredible reflections of the mountains above. So good.
The trail to Heart Lake goes around the left side of the lake—there's only one trail at this point, so navigating is super easy! You start by following the lake along a forest trail, then the trail creeps up in elevation. The views of the lake from above are somehow even better! You'll reach a clearing, which is where you can get some of the best views.
Continue uphill along the trail until you reach a fork in the trail. You can either go left, towards Little Castle Lake, or right, towards Heart Lake. Follow the path to the right!
The trail is a little unclear here, as there seem to be quite a few trails to follow. You can really choose any of them; they all meet up. You'll climb up and towards a large saddle, and just before, you'll reach Heart Lake!
I'm gonna be honest here: I didn't see the heart in Heart Lake. I tried getting up to other vantage points and still couldn't see it. That being said, it's absolutely a hike worth doing because the views of Mount Shasta are UNPARALLELED.
Upon coming home, I realized that the picture-perfect hearts in the lake are actually of Castle Lake below. There's a certain angle of Castle Lake, which you see FROM Heart Lake, that makes lake below look like a heart.
Heart Lake is quite small, which makes it warmer than Castle Lake below. Some people swim here but I wasn't brave enough to get into the cold water. Instead, I found a viewpoint, had a snack, and took in the views!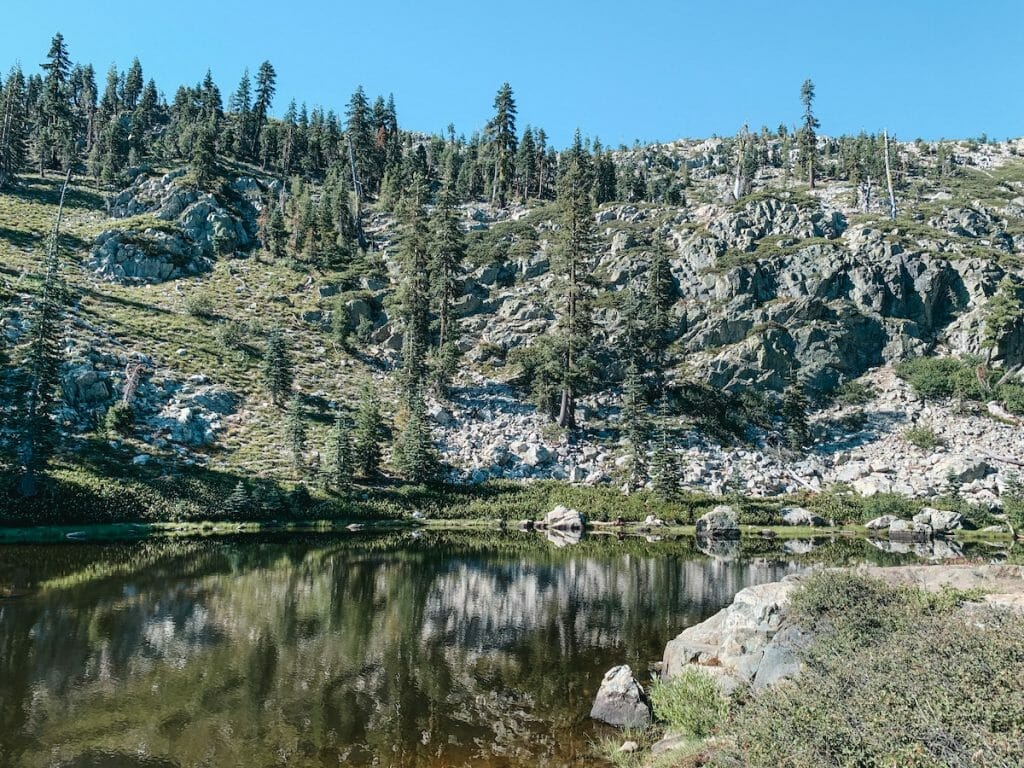 This is an out-and-back hike, so go back the way you came. All in all, from car-to-lake-to-car, it took me about an hour and a half, with a nice break up at Heart Lake. You get service up at Heart Lake, so queue up your directions home from here. I did not do this and had to pull over near the interstate to get directions to get home.
What an incredible way to start the morning!
Trail Vlog
See the hike through my eyes.