There are few places that have the accessibility and magnitude of Yosemite Valley. The Glacier Point to Panorama Point day hike combines incredible views, a decent amount of milage, and a great resting spot into one fantastic day out.
Disclaimer: This post includes affiliate links. If you purchase something using an affiliate link, I will receive a small commission at no extra cost to you. If you purchase through my link, thank you for helping me bring outdoor tips to you!
Glacier Point to Panorama Point Hike Key Information
Trailhead: Glacier Point—there's a big parking lot but it can fill up quickly, so I suggest heading there in the morning.
Hike End: Panorama Point
Hike Type: Point to Point / Out & Back
Length: 3.5 miles point to point (from Glacier Point to Panorama Point) / 7 miles out & back
Time: 2.5 hours (but give yourself more time to rest at the river!)
Ascent: 2000 ft
Difficulty: Intermediate—lots of uphill but nothing too technically challenging!
Glacier Point to Panorama Point Hike Trail Guide: Our experience!
We started our hike by pulling into the Glacier Point parking lot at around 9am. At this point, there was space, but it filled up relatively quickly. Glacier Point has restrooms, water, and a store with snacks. Our group spent a fair bit of time at Glacier Point, taking in the views of Yosemite Valley below, before heading out onto the trail.
You really get a birds-eye view of Yosemite's most iconic sights, including Half Dome. We climbed Half Dome just a month before this hike and couldn't believe the scale of it from this vantage point.

This trail goes pretty much straight down! There are incredible views the entire way down as you switchback towards the Valley. There's nothing too technically challenging. Make sure to pack loads of sunscreen, as there isn't much shade along the trail and you'll be exposed to the sun for the majority of your hike.
Once you get to the bridge, after most of your ascent, you'll be able to take a break by the river. We saw a few people going quite far into the shallow river, which I HIGHLY do not recommend. Although the river is quite shallow, it moves quickly and you would not want to get swept away. I do, however, recommend taking your lunch break by the river, as the river brings a little bit of cool air and shade to your hike!
Once you've rested, head over the bridge. This is where the trail starts to switchback uphill. There is a tiny bit of shade, but it's mostly exposed to the sun.
After about 20 minutes of walking uphill, you'll see a log on the ground, left of the trail. This is where you'll turn to get to Panorama Point. It's quite easy to miss, so I recommend downloading this map. There's a little bit of bushwhacking—the trail is not maintained, but there is a trail.
There's a little bit of bushwhacking required to get to Panorama Point. The trail is not maintained, but there is a trail.
Be extra careful near the edge of Panorama Point—there's a steep dropoff with a few hundred feet of air beneath you.
The photo to the left is the view looking from close to the edge. As you can see from my shadow, I kept a few feet from the edge. That dropoff is no joke!
Once you've taken in the views, head back the way you came! If you take the ascent back up to Glacier Point slowly, it isn't as bad as you'd expect 🙂
Helpful Tips
Wear clothes that keep you cool! Kuhl kindly sent me their Kultivatr shorts and they were perfect for this hike. They're made of a thin but durable fabric, which kept me cool and free from scratches when we were bushwhacking. They're also stretchy, which I love (being restricted while hiking is an absolute no from me 🚫). Highly recommend! They're true-to-size and have a drawstring to cinch in the waistband, so if you're in between sizes, size up.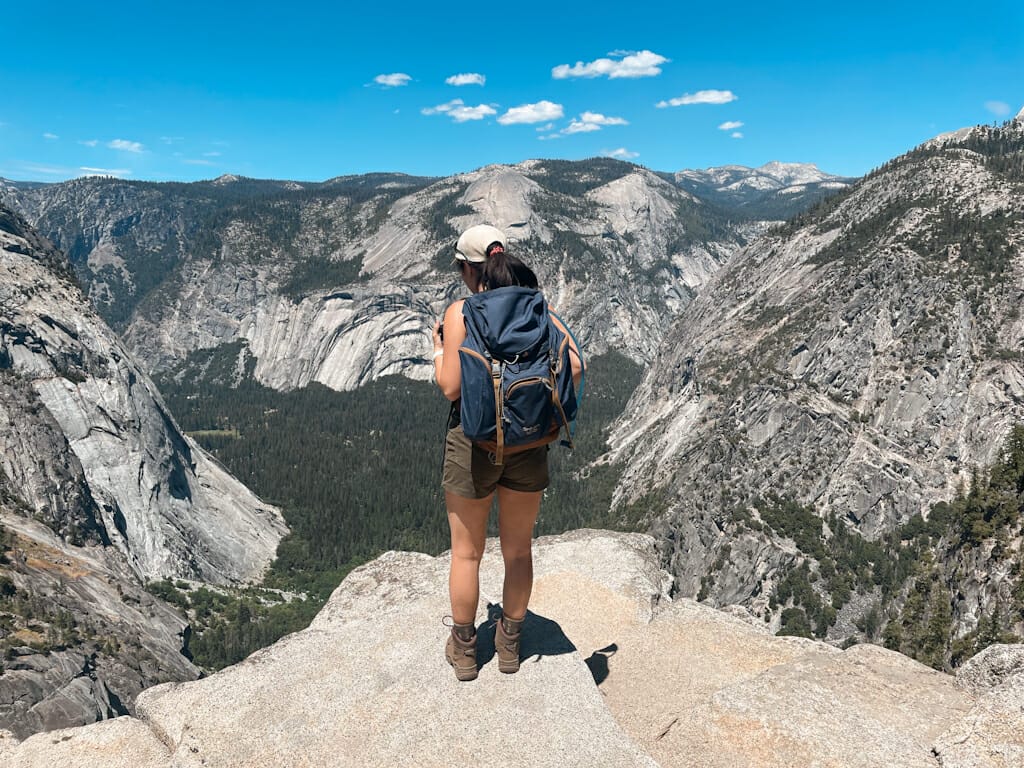 The river is a great place to fill up your water on hot days. Make sure to bring a water filter. I use the LifeStraw and attach it to my water bladder (here's my go-to and I LOVE it).
Bring snacks!
Back a wide-brimmed hat to create some shade for your face—this trail has very little coverage from sun.