The Bisse du Torrent Neuf walk is an incredible day trip to do in Switzerland. Bisses, only found in the Valais region of Swtizerland, are irrigation channels used to bring water from high mountains down to the fields and vineyards. They're often built along mountainsides, which has made bisses a tourist attraction in recent days. The Bisse du Torrent Neuf, also called the Bisse de Savièse, in Valais is one of Switzerland's most well-known mountainside bisses and is certainly worth visiting!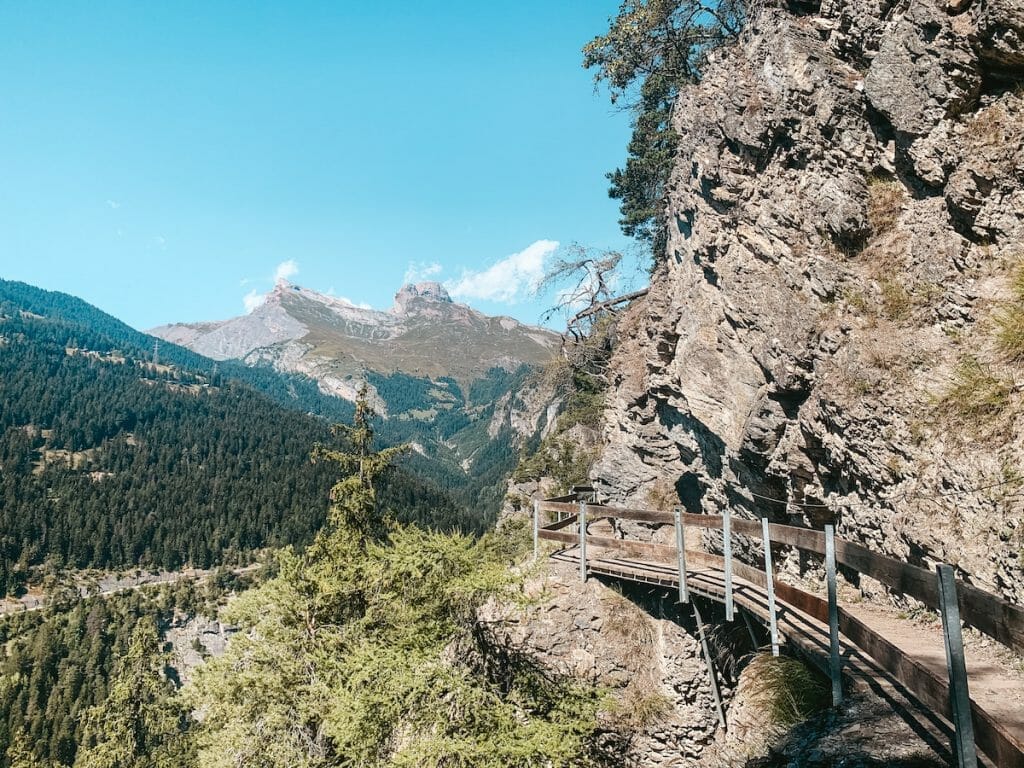 The Bisse du Torrent Neuf Walk in a nutshell
Bisse de Savièse Walk key information
Start: Savièse, Prafirmin Torrent Neuf bus stop
End: Savièse, Prafirmin Torrent Neuf bus stop
Length: around 8km / 5 miles
Time: 4-5 hours there and back
Ascent: 200 m / 650 ft
Difficulty: Easy. The walking is very easy and the path is mainly on wooden bridges. There are 3 suspension bridges (similar to the Charles Kuonen bridge hike) that may be scary if you're afraid of heights.
The bisse is closed in rainy weather. There is one water spout to refill water from, but it was closed when we went.
Like this post? Pin it for later!
How to get to the Bisse du Torrent Neuf
The Bisse de Torrent Neuf/Bisse de Savièse is easy to get to by both car and public transport. We took public transport, using a saver day pass, which I highly recommend if you're going to spend a day using lots of public transport.
How to get to the Bisse de Savièse by public transport
You'll take the train into Sion, a charming town surrounded by mountains. From Sion, catch the 341 bus to Saviése – St. Germain, garage. This bus takes about 15 minutes. From the St. Germain, garage stop, you'll transfer to the 343 bus towards Mayens-de-la-Zour. It takes 11 minutes to get to your stop – Savièse, Prafirmin Torrent Neuf. Follow signs down a residential road to your left and you'll arrive at the trailhead!
How to get to the Bisse de Savièse by car
From Sion, you'll take small roads up to the start of the hike.
There is parking in Binii, located further downhill from the start of this walk. It takes roughly 30 minutes to walk up to the start of the walk from this parking lot.
My time walking along the Bisse du Torrent Neuf
After wandering around Sion and grabbing a quick snack, we headed up to the Prafirmin Torrent Neuf bus stop. It took us roughly 30 minutes to reach the bus station from Sion. The bus stop drops you off and you head slightly uphill and then to the left down a residential road, Chemin Sainte-Marguerite.
You'll see signs for the bisse, and at the end of the road, you'll hit a trail and a small bridge. Walking along the bisse here is so beautiful. Although most come for the mountainous part of the Bisse de Savièse, I really enjoyed the time in the forest along the bisse.
There's a point around 10 minutes in where the trail splits – there's a larger trail that starts heading downhill, and a small trail along the bisse. Continue on that smaller, higher trail!
After walking a further 10 minutes, you'll come to a church and a restaurant. This is the official start of the walk! They sell ice cream, drinks, and some food. This restaurant only accepts cash, so keep that in mind if you want something to eat or drink!
Just after passing the restaurant, the trail changed to a wooden bridge-like path. The bisse no longer runs down canals in the dirt, but instead, there are man-made channels to control the flow of water.
I was surprised when we came to a suspension bridge. It's pretty long and it sways with every step if there are others on it! Let others on the bridge cross before you hop onto it, as the bridge is pretty narrow! You'll have amazing views of the mountains around you and the valley beneath you from the bridge, and the views only continue to impress as you head further along the trail.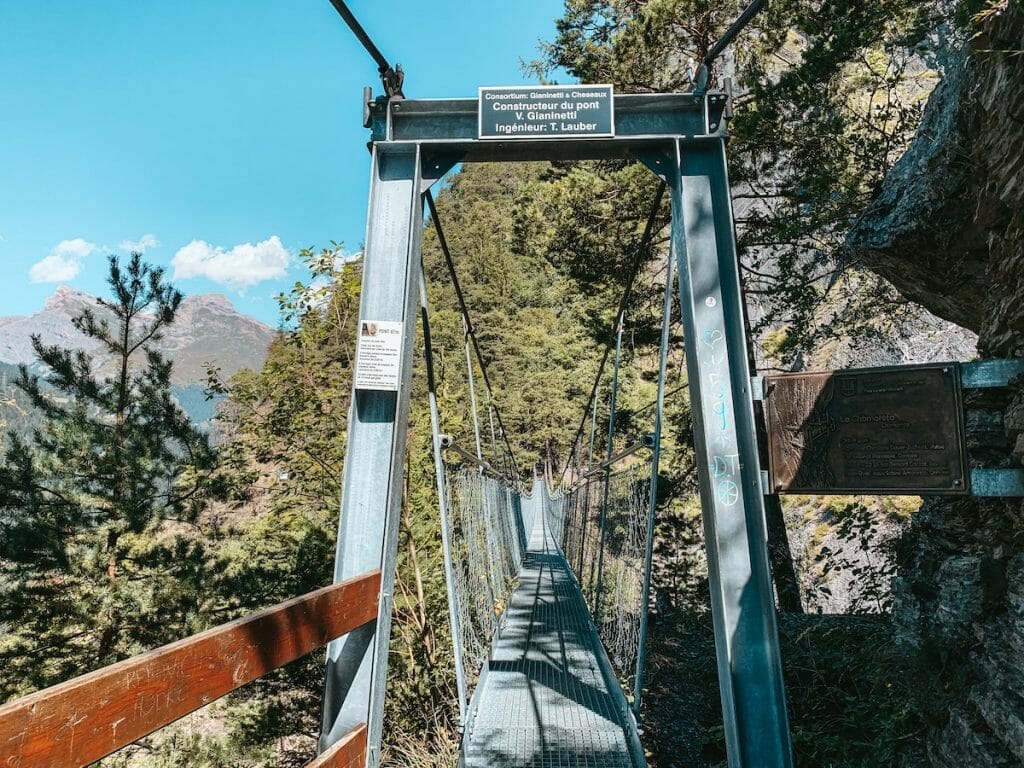 The trail starts to really go alongside the cliff's edge, but there's fencing so you're safe the entire time. If you have small children, there are definitely some sections where I'd recommend carrying them.
Not too far later, you'll get to a second suspension bridge! This one has netting above you as there can be falling rocks.
We went through a small tunnel, which opened up to my favourite part of the walk – we were walking on a bridge over the mountain's ledge. It's crazy to think that these channels were built just to irrigate water down to the valleys – WHAT a challenge. You aren't walking along the original bisse, but they've left the original ones up so you can see them (and they're just as impressive!).
Continue walking, and you'll find a small church in the rock! This has a bell you can ring.
After you walk the full length of the bisse, you'll end up at another restaurant. From here, turn around and head back the way you came!
This isn't one of the most popular attractions in Switzerland, but it's soooo worth visiting! These bisses are filled with history and take you through so many incredible areas. The bisse de torrent neuf is one of the most popular bisses to visit, but there are hundreds more to explore! You can find a full list of bisses here.
Other helpful Switzerland posts
Below you'll find some other guides I've written to help you navigate through your time in Switzerland!
HOW TO TRAVEL SWITZERLAND ON A BUDGET
Outdoor Adventure Guides
WASSERAUEN TO SEEALPSEE HIKE IN EBENALP
SCHÄFLER RIDGELINE – AMAZING VIEWS
CYCLING IN SWISS NATIONAL PARK
KANDERSTEG MOUNTAIN COASTER & OESCHINENSEE HIKING
HIKING MOUNT PILATUS IN LUCERNE
WORLD'S LONGEST PEDESTRIAN SUSPENSION BRIDGE – RANDA
City Guides
THE ULTIMATE GUIDE TO ONE DAY IN BERN
10 DAY TRIPS IN SWITZERLAND THAT WILL BLOW YOU AWAY
BEST TIME TO VISIT ZERMATT & GORNERGRAT