Not sure where to go in Switzerland? Here are my favourite places for a day trip. You can access all of these by train and I guarantee you'll have a GREAT time!
Switzerland is one of my favourite countries. I love it so much, I even live there part-time! Day trips in Switzerland are some of my favourite things to do – staying in some of the smaller, more touristy cities can be expensive, so I recommend staying in one place and taking the train to different places. Here are 12 of my favourite day trips in Switzerland that will blow you away!
Using the Switzerland Saver Day Pass
I highly recommend getting a Switzerland saver day pass if you're planning on doing a train day trip that visits multiple places. Trains can be super expensive in Switzerland and it's often cheaper to buy a day pass if you're going far away. If you book far in advance, you might be able to get away with buying tickets normally, but if you're finding prices for your dates super expensive, look into a saver day pass! Plus, it gives you free access to Rigi (see the Lucerne day trip).
Click here for the Saver Day Pass information.
Ticino
Ticino is a part of Switzerland that speaks Italian. This region is absolutely gorgeous and it often has the best weather in Switzerland. So if it's raining all around you, a day trip through Ticino might be the right idea! I'd start off in Bellinzona, where you can see some amazing castles, before heading off to Locarno, where you can grab lunch/drinks by the water, and finally heading on over to Lugano! There's so much to do in Ticino, so it might take you more than a day to get to all the sites – prioritise which sound the most interesting to you!
Oeschinensee
This is without a doubt one of my favourite day trips in Switzerland. It's got Switzerland's famous Alps and cows, but also a lake and a MOUNTAIN COASTER. That's right. You can control your own little roller coaster (it's more like a very slow slide but it's still awesome) with this view. It's only like 5 francs to do and it's the BEST way to either start or end your hike. You can read about the mountain coaster and my trip to Oeschinensee here.
Interlaken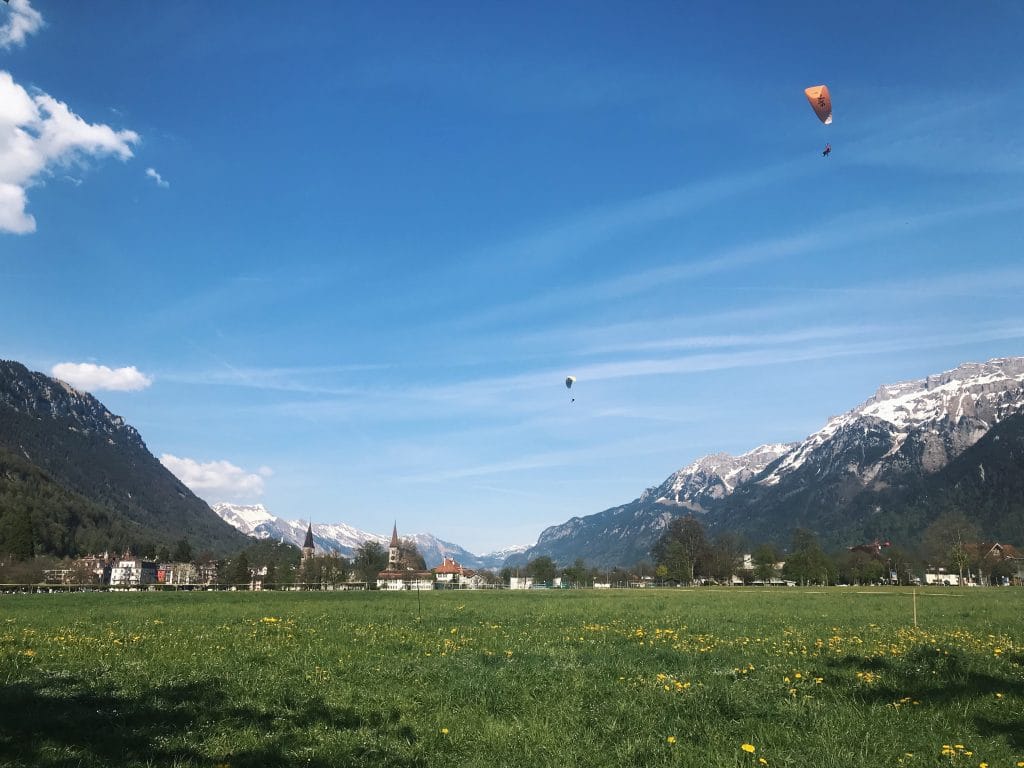 Interlaken is what I'd call the adventure sports capital of Switzerland. It's got tonnes of activities to do, from hiking to paragliding! It's situated at the base of the Bernese Alps and you can always catch a view of the Jungfrau. You can also walk along the lakes, enjoy time in the town, or go skiing! If you're looking for more paragliding, check out Lauterbrunnen!
Lucerne & Rigi
Lucerne is an absolute gem and it seems like there's so much to explore. Just the last time I was there, I found an amazing old clock tower that had the best view of Lucerne. You can easily get to Rigi from Lucerne, so it's the perfect place to tack on to this day trip. Take the ferry on Lake Lucerne to the cable car, and then head on up into the Alps!
Grindelwald
Gindelwald is an iconic Switzerland sight. There are PLENTY of hikes and viewpoints, and it's the perfect place to go if you want a relaxed day full of incredible views (and that classic Swiss architecture!).
Zermatt & the Matterhorn
If you like mountains, you can't come to Switzerland and miss Zermatt and the Matterhorn! The Matterhorn TOWERS over Zermatt and is quite the sight to see. Zermatt itself is adorable and is the best place to unwind after a day of skiing, hiking, or going up to Gornergrat. Here's the best time to go to Zermatt and the Gornergrat.
Gruyeres
I don't know why this place isn't on most Switzerland highlights lists! I absolutely LOVE Gruyeres. First of all, they're famous for their CHEESE and CHOCOLATE. That's what Switzerland's known for!!! Secondly – they have the Alien Bar. That's freaking awesome. Finally, it's the cutest town EVER. Do you really need any more convincing?
Montreux
What do the Little Mermaid, Queen, and Jazz all have in common?! Montreux! Located on Lake Geneva, Montreux is an incredibly beautiful and exciting place to go. There's a Freddie Mercury statue looking over the lake, the famous Montreux Jazz Festival, the Queen Experience, and the castle that inspired Prince Eric's in The Little Mermaid!
St Gallen
St Gallen is a hidden gem in Switzerland! This place is the sweetest town. It has incredible breweries to eat at, the most stunning library in the entire world, and a church with so much history that it would be a CRIME not to visit. There are plenty of walks around here if you'd like to get some good views, and if it's not enough on it's own, you can take a quick train to Lake Constance to make your day trip one super packed day!
Here are my favourite things to do in St Gallen during winter, but these work equally well for the summertime!
Lake Constance (Bodensee)
Lake Constance is a HUGE lake on the borders of Austria, Germany, and Switzerland. It's a beautiful place to visit with loads of waterside restaurants, cafes, and parks. If you like to cycle, I recommend hiring a bicycle and cycling along the promenade.
---
Like this post? Pin it!