This was by far my favourite hike in the Dolomites. There are incredible views the entire length of the route, easy uphills, and a refugio where you can grab a yummy lunch! Click here to find out everything you need to know about doing this hike.
If you're looking for a day hike with amazing views, a fair bit of elevation gain, and a chance to rest with a warm lunch, the Croda Da Lago hike is for you! During my time in the Dolomites, I went on a few breathtaking hikes, but this hike was my definite favourite. It was the hike with the best views, a great mix of terrain, and soooo much beauty! Keep reading this blog post if you're looking for all the information you need to do the Croda Da Lago hike.
Key Information
Length: 11.3 km / 7 miles
Elevation Gain: 867 metres / 2800 feet
Time: 6 hours (but we took more time to stop for lunch and sightseeing stops)
Difficulty: Intermediate
How to Get There
BY CAR: Drive up to Ponte Ru Curto. This is along road 638 from Pocol. There's little parking available, but during the off-season this shouldn't be a huge problem. During peak season, I recommend getting there early in the morning to get a spot! You'll start your hike on the 437 trail.
BY PUBLIC TRANSPORT: During the peak season, from mid-June to mid-September, you can take the 30/4 Dolomiti bus from Cortina or Pescul to the trailhead. You'll get off at the stop Pian del Pantan (Ru Curto). Definitely check the schedule before you decide to do this hike – in a few past years, the bus service did not start until July first.
BY FOOT: You can start your hike from Cortina. If you follow the river down towards Zuel, then towards Lake Pianoze, you'll find the 437 trail. This will add a significant amount of time, but it's totally doable by foot from Cortina.
The Best Time to do the Croda da Lago Hike
Whilst this trek is beautiful year-round, there was something special about doing it in late October. There were fewer people and the leaves were hues of golden yellow, orange, red, and deep green. This was especially beautiful when looking at the reflection of the lake.
If you do decide to do this trek later in the season, be mindful that the rifugio at the lake is only open until the first week of November. This is significantly later than other rifugios, but check if it's open before planning on having lunch there if you're visiting later during the season.
Peak season would be a fine time to do the Croda da Lago hike, but be mindful that there will be quite a few more hikers to share the trail with. I don't really see that causing too much of a problem – the trails are pretty wide with plenty of space to pass, and the views are so vast that it would feel like you're all alone!
How to do the Croda da Lago Hike
From Ponte Ru Curto, follow the trail downhill and across the little bridge. From there, it's a gentle uphill walk through the forest. It'll get a little steeper as you go along, but it's not too strenuous! You'll get to a signpost where trail 437 and 434 converge, and you'll be able to follow trail 437 either to the left or the right. I highly recommend following the loop clockwise, which means you'll take the trail going to the left. The reason I recommend doing the Croda da Lago hike clockwise is that it's a more beautiful (and more gentle) ascent. If you go counterclockwise, you'll have a VERY steep incline at the start, and your back will be to some of the best views!
You'll continue uphill for thirty to forty minutes. That sounds like it would be quite exhausting but it truly isn't too bad. I recommend taking it slowly and enjoying the sights. There are amazing views the whole way up which help distract you from the constant uphill! When you get to the Val Negra viewpoint, you're at 2048 meters, and the uphill subsides for a little bit. There's a spectacular view of the valley below, where you get a view of Cortina.
You'll walk on a flat section through the forest, and to your left, there will be mountain views. It's easy to speed through this part because the hiking is easy, but I recommend trying to slow down and to enjoy your surroundings. The entire trail is filled with amazing viewpoints, but I really liked stopping around here for water and just soaking up the sunshine and looking at the valley below us.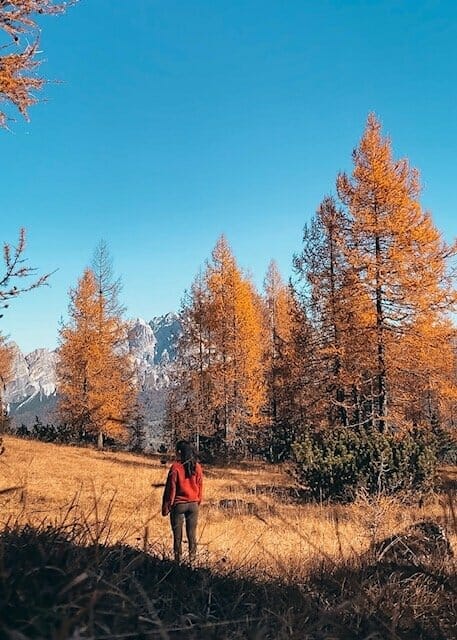 A SUPER gentle uphill section later, you'll arrive at the lake! I highly recommend leaving the main path and walking around the lake to the rifugio (to the right of the main trail). You'll escape the majority of tourists this way and the lake is absolutely lovely to walk around. Phil and I rested here for a while. We did our daily meditation on the water before then heading to the rifugio.
Rifugio Croda Da Lago is open quite a bit later than other mountain huts, so we took advantage of it and had a light lunch here. They have plenty of South Tyrolean specialities and they're very reasonably priced. They also have beer, coffee, and tea available if you're not ready for a full meal. I recommend taking a long rest here over some food and drink – mountain refugios are so charming and you've still got quite a bit of hiking to tackle!
Once you've finished, keep going on the trail! From the rifugio, head up the trail to the right of the rifugio that goes uphill. There should be a sign pointing you in the right direction; you want to head up to Forcella Ambrizola. It's a pretty moderate incline for about an hour, but again, there are some beautiful views so you don't feel too exhausted. The walk here had some of my favourite views of the entire hike – especially in October with the amazing colours of the changing leaves.
Once you reach the top of the uphill, you've arrived at Forcella Ambrizola. Again, this is an incredible viewpoint (cannot stress that I loved this hike's views enough).
From there, you'll go slightly down the hill before then ascending up. Fair warning – I know it looks VERY steep from the bottom, but it isn't as bad as it looks, and, as expected, the views from the top of this section are spectacular. I know you're probably sick of me saying 'great views!' about every section of this hike, but the Croda da Lago hike is my favourite hike in the Dolomiti for a reason!
If you have weak knees or are afraid of going down steep sections of scree, I would turn around from the top and head back the way you came. The way down this way, where you finish the loop, is pretty brutal, but we enjoyed it!
You'll descend nearly 1000 meters right away. It's incredibly rocky and the trail is easy to lose! It isn't scary or dangerous (no cliffs to fall off of), but you'll need to be aware of where you step and you'll have to keep your eyes open for the trail markers. There were a few times we had to stop and look around, and then reroute back to where we could see the trail markers highlighting the right path.
It took us a while to get down, as we're slower going downhill than uphill, but once the steep section (all in eyesight from the top!) is over, it's a short hike back to the intersection where you previously chose to go clockwise around the trail, and then you have an easy downhill bit back to the trailhead.
Where to Stay
I would stay in Cortina for this hike. Cortina is the biggest town in the area and the trailhead is about a 25-minute drive from the heart of town. You'll have the most amenities in Cortina – there are grocery stores, bars, restaurants, and spa hotels everywhere.
If you're looking for the closest place to stay, Pocol would be an option, as it's about 10 minutes away from the trailhead by car. The great thing about Pocol is the location, but there isn't much to do besides hiking, which is why I really enjoyed staying in Cortina.
What to Bring
In terms of day hike necessities, you'll need to bring water. I would bring at least a litre for this hike. If you're going off-season and the rifugio is closed, I would bring a snack, as this hike can be quite exhausting.
If the rifugio is open, I recommend bringing either cash or a credit card! It's really nice to relax around the lake.
I always bring a raincoat, as mountain weather can be pretty unpredictable. If it does rain when you're doing this hike, definitely turn around at the top and do NOT descend the steep way.
---
The Croda da Lago hike is truly my favourite day hike in the Dolomites. It's a pretty moderate hike that consistently rewards your effort with incredible views. If you only can do one hike in the Dolomites, make it this one.
You might also want to check out the Lago di Sorapis and Tre Cime di Lavaredo hikes!
Like this post? Pin it!