The Cinque Torri is a beautiful rock formation in the Italian Dolomites. We spent a foggy morning hiking up to this viewpoint and looping around it. This short hike was full of amazing trails and views, and it was the perfect way to spend a morning before going back to the hotel and drinking hot chocolate as it rained. Want to do this hike? Here's what you need to know!
The Cinque Torri, or Five Towers, is a beautiful rock formation that seems to pop out of the ground at an elevation of around 2200 meters. Cinque Torri is also a popular beginners' ski area in the wintertime. During the summertime, hundreds of hikers flood to the area to wander around the many trails that circle around the rock formation, either making their way up by foot or by ski lift. We chose to walk up to the Cinque Torri and to loop around the area. It was a short hike, but it was lovely and absolutely worth doing. Here's everything you need to know about the Cinque Torri hike in the Italian Dolomites.
Key Information
Length: 7.2 km / 4.5 miles
Elevation Gain: 372 meters / 1220 feet
Time: 2.5 hours
Difficulty: Intermediate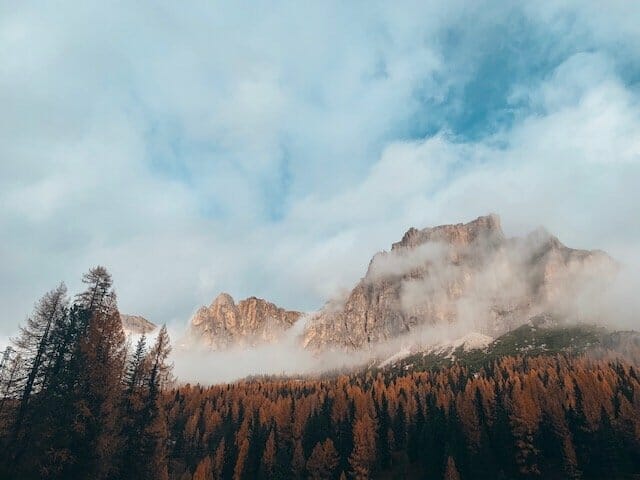 How to get there
BY CAR: The starting point is at Baita Bai de Dones. This is an easy 20-minute drive from Cortina along the SR48 road. There's quite a bit of parking available here, but in the offseason, there are often work vehicles that take up most spaces.
BY PUBLIC TRANSPORT: In the summertime, you can take the 30/31 bus from Cortina to the Cinque Torri stop. It's a stop upon request, so you'll need to have a map out to make sure you get off at the right stop! In the wintertime, there is a ski bus from Cortina.
How to do the Cinque Torri Hike
The Cinque Torri hike starts out from the parking lot of Baita Bai de Dones (a restaurant), at the base of the chairlift up to the Cinque Torri. We originally thought the path following the chairlift up was the path we needed to take, but it IS NOT. Don't get a few hundred meters up before realising it's the wrong way! Instead, go to the left of the restaurant, where there are a few signs for trails and follow the 425 trail. It might be marked as 424 but you'll eventually meet the 425.
The walk starts out by going through the forest, with very little ascent. It's really beautiful and peaceful walking through the trees. After a short while, you'll start to go uphill, though it's nothing too long or steep. It'll get your heart rate up, though!
After about 30 minutes, you'll reach a road. Follow the road up as it winds uphill, and then you'll get to the Rifugio 5 Torri. From here, you'll get your first glimpse of the backside of the Cinque Torri. Unfortunately, I can't speak to the views of the other side, as we had a few days of bad weather and were in some THICK fog. What we did see, opposite of the initial Cinque Torri view, was beautiful.
You'll follow the trail to the ski lift/Rifugio Scoiattoli. When the rifugio is open, during peak season, this would be a GREAT place to grab a coffee or tea. The views from here are pretty incredible and it's a very modern and comfortable rifugio. I imagine it's best in the wintertime, when there's loads of snow, skiers resting and having lunch, and alllll the reasons to order a hot chocolate. With whipped cream. I would grab lunch here during the summertime and enjoy the views, too!
If you're here during the summertime peak season, you could explore a few surrounding trails before heading down the ski lift. Alternatively, you could hike down, as we did!
You start by going uphill for a few minutes, then it's all downhill. It starts off pretty gentle, and you walk through rocky terrain as you get a view of the valley beneath you. Then, the trail switchbacks steeply down the hill.
This trail is NOT one for the rain. We did this hike just after it rained and it was quite slippery and muddy. The descent is too steep to really enjoy hiking down in the rain. It wasn't horrible after the rain, but it was bad enough that we had to really concentrate on where we put our feet. There was a minor fall, too!
The end of this hike is back at the restaurant Baita Bai de Dones. This hike is a short one and it takes only two and a half hours at a very leisurely pace. We were in pretty bad weather, so we didn't really linger at the sights and viewpoints. There are plenty of trails to explore from Cinque Torri, so if you wanted to spend a whole day exploring the area, you'd have plenty to see.
In case of bad weather…
When we went to the Dolomites, we had 4 days of thick, low clouds that made it impossible to see just a few meters in front of you. We decided on the best of the days (still very cloudy weather) to do this hike. We couldn't see a lot past the Cinque Torri, but the clouds settle in the valleys between rolling hills, and that creates a really picturesque scene. Cinque Torri also stood out amongst the clouds. Phil and I both agree that it's worth hiking Cinque Torri if it's cloudy – it is still a beautiful hike through the forest and the immediate views (even with the clouds) were stunning.
That being said, and I've said this previously but I'll reiterate, I do NOT think this is a good hike to do in the rain. It's possible, but it would be pretty miserable, a little muddy, and very slippery. Not that fun.
What to bring
Because this is such a short hike, I wouldn't bring much. Because we went in such cloudy, misty weather, a raincoat was an absolute must. It can get quite windy at the top of the hike, near Rifugio Scioattoli, so I'd recommend bringing a fleece or another layer to tie around your waist. I'd also bring water – we brought a litre to share (so not much), though if you're doing the short hike during the peak season, you could forgo bringing water and stop at the rifugios on the way and make this short hike a hot chocolate tour. Just make sure they're open! You'll also need to bring cash and a credit card up with you if you're planning on doing that!
---
Like this post? Pin it!