The Charles Kuonen suspension bridge hike takes you along the world's longest pedestrian suspension bridge! This hike includes whimsical forests, incredible glacier views, and of course, the amazing bridge! Not for those afraid of heights, this is one of Randa's most adventurous day hikes. Here's everything you need to know about this hike.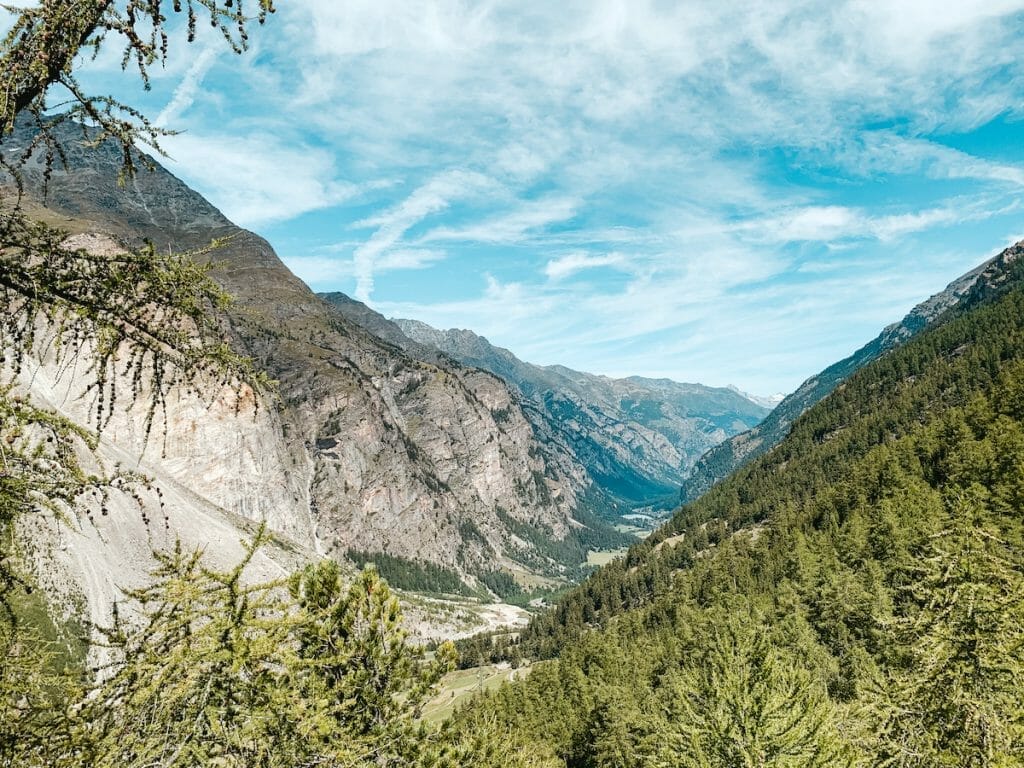 This hike in a nutshell
Key Information for the Charles Kuonen suspension bridge hike
Trailhead: Randa Dorf
Hike End: Randa Dorf
Length: 8km / 5 miles
Time: 1.5/2 hours
Ascent: 1000 m / 3280 ft
Difficulty: Beginner to Intermediate. There's a fair bit of ascent, however it isn't technically difficult and it is considered a family-friendly hike.
Key information about the suspension bridge
Length: 494 m /1620 ft
Height: 85 m / 280 ft
This hike is NOT for those afraid of heights. The bridge sways with every step and sometimes in the wind.
Like this post? Pin it for later!
How to get to the Charles Kuonen Suspension Bridge Hike Trailhead
Randa Dorf (Randa town) is where this incredible hike begins. It's easily accessible by both train and car!
How to get to Randa by Train
It takes three hours to reach Randa from Basel and Zurich, two hours from Bern, and 3.5 hours from Geneva. You'll likely change trains in Visp.
From the train station, follow the yellow signs and go up the hill towards Europahütte or the Charles Kuonen Suspension Bridge.
If you're travelling far, I recommend buying the Saver Day Pass, which allows you unlimited train travel across Switzerland. Maybe head to Zermatt after completing this hike!
How to get to Randa by Car
To drive to Randa, you'll likely take the A1 motorway. In Kandersteg, you'll drive your car onto a train, which will take you through the mountains. It's a fun experience and it costs around 25 francs to hop on the car train.
Parking in Randa shouldn't be too difficult. The main parking is by the train station, where you pay with the ticket machine. You can only pay in Swiss francs or euros, and ONLY in cash. No credit card payments here.
At the church in town, there's also a parking ticket machine.
Finally, you can park at the Gsteini" car park, and you must purchase tickets from the tourist office.
My time on the Charles Kuonen Suspension Bridge hike
After arriving in Randa, we put on our hiking boots, filled up our water bottles, and started heading uphill! You start by walking up through town – this is probably the steepest incline you'll have on the hike, but it's short! There are a few water fountains where you can grab water.
After getting to the top of the town, at the fork, head to the right (the signs will point you in the right direction!). There's a small trail that initially starts off flat before you start heading uphill. You could also head left at the fork, but it's quite steep and much less pleasant! I recommend heading to the right. There are some switchbacks to hike up, but it's a gentle uphill.
I thought this part of the hike was extremely pleasant for an uphill section. In Switzerland, I feel like a lot of the hills are LONG and STEEP, but this wasn't! The forests are really pretty and every once in a while, there's a great viewpoint of the glaciers across from you amongst the mountains.
The terrain is pretty good to hike on – there are roots and stones, but for the most part, the trail is fantastic and easy to hike up.
After you slowly make your way up to the top of the hill, the trail will flatten out – this means you're almost there!
Once you've walked through the flat section, you'll see the suspension bridge! This bridge is the longest pedestrian suspension bridge in the world and it offers incredible views of the mountains.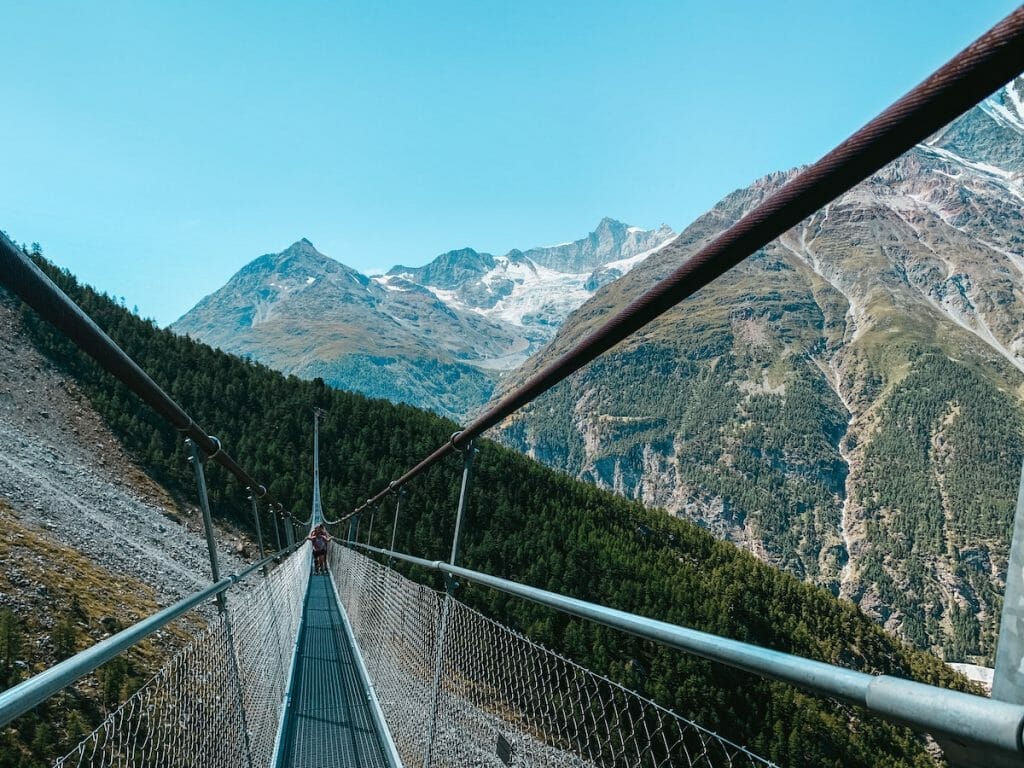 It takes a few minutes to walk around, but if you get lucky and the bridge isn't busy, linger and soak up the sights!
After crossing to the other side of the bridge, there's an area with a picnic table and a lot of space to sit and have a quick snack. Once you've rested and are looking to get back down to Randa, you have a choice to make!
You can either head down the same way you came, crossing the bridge once more, or you could continue downhill on the side of the bridge that you're currently on. The way you came is much more gentle on the knees. Making a full loop takes you out of the forest and gives some nice views, but it's harder on your knees.
Other helpful Switzerland posts
Below you'll find some other guides I've written to help you navigate through your time in Switzerland!
HOW TO TRAVEL SWITZERLAND ON A BUDGET
Outdoor Adventure Guides
WASSERAUEN TO SEEALPSEE HIKE IN EBENALP
SCHÄFLER RIDGELINE – AMAZING VIEWS
CYCLING IN SWISS NATIONAL PARK
KANDERSTEG MOUNTAIN COASTER & OESCHINENSEE HIKING
HIKING MOUNT PILATUS IN LUCERNE
City Guides
THE ULTIMATE GUIDE TO ONE DAY IN BERN
10 DAY TRIPS IN SWITZERLAND THAT WILL BLOW YOU AWAY
BEST TIME TO VISIT ZERMATT & GORNERGRAT