The Dolomites are full of amazing day hikes with views that will take your breath away. From beginner to advanced hikes, this mountain range has it all! Here are the five best day hikes in the Dolomiti.
The Dolomites (or Dolomiti, in Italian) are a mountain lover's paradise. Jagged mountains, stunning valleys, and amazing hiking trails make this mountain range an incredible hiking destination. We visited in Autumn, during the shoulder season, when the trees were a fiery red colour, the air was crisp, and there were few tourists. While some of the Dolomite's most famous trails are multi-day hikes, those close down after a short summer season, and we took the opportunity to check out some of the most beautiful day hikes. Here's a roundup of 5 of the best day hikes in the Dolomites. They may be short, but they certainly won't disappoint!
This is the ultimate day hike. With amazing scenery throughout the hike, a mirror lake, a mountain hut (alllll the food!), and changing terrain, this is definitely my favourite hike the region. It truly has it all. This is, without a doubt, one of the best day hikes in the Dolomites (maybe even THE best), and you can't miss this one!
This hike is 11.3 km with 867 meters of elevation gain (or 7 miles and 2800 feet). Relatively short, but sooooo sweet.
It's an intermediate hike that takes about 6 hours to do. I'd allocate the whole day to do this hike instead of trying to squish a few hikes into one day. We spent half an hour hanging around the lake, and there were so many amazing viewpoints that you'll want some extra time to enjoy the trail.
Click here for more information about the Croda da Lago Hike.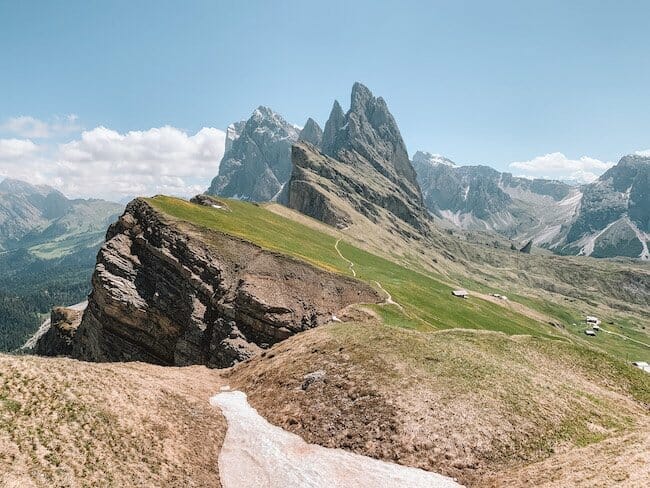 This Seceda hike is iconic – the Seceda ridgeline is one of the most famous views of the Dolomites, and for good reason! This circular hike takes you from the Col Raiser Cable Car up to the Seceda cable car, to the ridgeline and back down to Col Raiser again. The sweeping panoramic views of the mountains beside you start the second you step off the cable car and follow you throughout the hike. This is by far one of the best day hikes in the Dolomites and I highly recommend adding this to your list!
This hike is 12 kilometers and takes roughly 4 hours to complete! There's 466 meters of ascent, but I promise it doesn't feel bad, as the views distract you the entire way! It's a beginner/intermediate hike that's insanely rewarding. You can find more information in my Seceda Hike post.
This hike is extremely easy to get to by public transport. We took the bus from Bolzano to Val Gardena, and it was incredibly easy and affordable. You don't need a car to do this hike!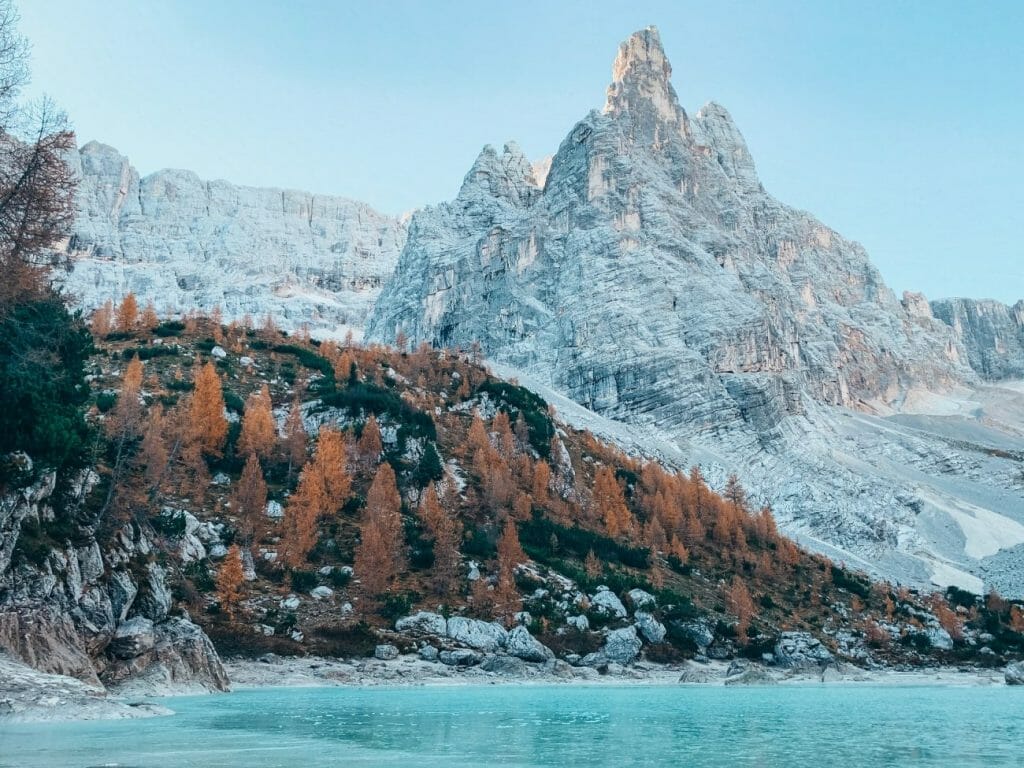 If you like dreamy, milky-blue, alpine lakes, this hike is for you. Lago di Sorapis is a stunning lake with mountainous views. The hike up is soooo fun, with elements of adventure (narrow pathways that require you to hold onto cables) and a good amount of elevation gain. This was the first hike we did in the Dolomiti, and it was such a wonderful way to start our week of doing the best hikes in the Dolomites.
It's 10.6 km and 536 meters of elevation gain (or 6.6 miles and 1700ish feet). It's an intermediate hike with great early-morning light. It takes around 3 hours to hike to Lago di Sorapis and back, but I'd schedule in another hour or so to enjoy the view!
This is also one of the best hikes to do if you don't have a car in the Dolomiti. You can easily get to the trailhead from Cortina. Visit my Lago di Sorapis post for more information about parking, the route, and public transport options!
This is one of the most iconic hikes in the Dolomites. The popularity of Tre Cime da Lavaredo doesn't stop this from being one of the best day hikes in the Dolomites, though! We really enjoyed hiking around the Tre Cime – the beginning of the route is incredibly well-paved, and is more like following a road than a trail. People can push prams around the beginning of this trail, so consider the first part of this hike if you have children! The views are stunning from just the parking lot, and they only get better when doing this loop. About a third of the way through, the trails get a little bit more difficult and the road turns into more of a hike.
We chose to couple this hike and Lago di Sorapis in one day. Looking back, I wouldn't recommend this unless you don't have enough time to do all the hikes you want to during your stay. Both Lago di Sorapis and this hike deserve a little more time to linger.
This hike is just short of 10 kilometers if you do the entire loop, and with only 476 meters of elevation gain, it can be done in roughly 4 hours, though I recommend spending more time on the trail! There's also a beautiful little rifugio on the trail where you can grab some food during the summertime.
If you're interested in spending the night around here, there are two rifugios in the area. It's also accessibly by public transport!
Here's my full post on the Tre Cime di Lavaredo hike.
Cinque Torri is definitely an underrated hike. We did this hike in bad weather, and it was still stunning and magical. The hike is intermediate and spans 7.2 kilometers and 372 meters. Hiking it takes around 2.5 hours, though we rushed through because it looked like rain was coming! You'll definitely want to allocate a little more time for this hike if you have good weather.
The hike starts amongst the forest floor before you climb up. There's a little bit of walking on the road, but there are few cars that go by (we had none in the off-season!), and it's very short. The views from the top, near the ski lift, unveil the valley below and the stunning Cinque Torri (five towers). This is an incredibly beautiful hike and it's accessibly by public transport! You could pair this hike up with Lago di Sorapis for a full day of hiking.
Here's more information on the Cinque Torri hike!
You can't round up some of the best day hikes in the Dolomites without mentioning Lago di Braies! This lake, also called Pragser Wildsee in German, sits right next to the Austrian border and has blown up on Instagram for its turquoise water, charming rowboats, and mountainous backdrop. It's an easy, family-friendly hike that's only 4 kilometres! With an elevation gain of 10 meters, it's a relaxing loop that focuses on the view, rather than on getting your heart rate up!
Since we visited Lago di Braies in the off-season, we weren't so lucky with weather, and we didn't get that stunning mountain view because of clouds! That being said, this hike is definitely worth doing – it's iconic and so so pretty! Get there early to avoid the most crowds, or alternatively, wait until mid-afternoon when most crowds have left!
Lago di Braies is accessibly by public transport and is the farthest from Cortina. It takes about an hour to drive there, so plan accordingly!
Here's more information about the Lago di Braies loop.
---
And that's my roundup! These are some of the best day hikes in the Dolomiti and you can't miss them! The Dolomites are truly a special place with so many amazing hikes and viewpoints that are so easily accessible.
Like this post? Pin it!