This hike in Pinnacles National Park takes you through the best parts of three iconic hikes, merging them all into the best day hike in Pinnacles! You get to climb up small steps carved into the rocks, through both beautiful and eerie talus caves, and to viewpoints of the vast valley beneath you. Ready to get hiking? Here's what you need to know.
The best Pinnacles National Park day hike in a nutshell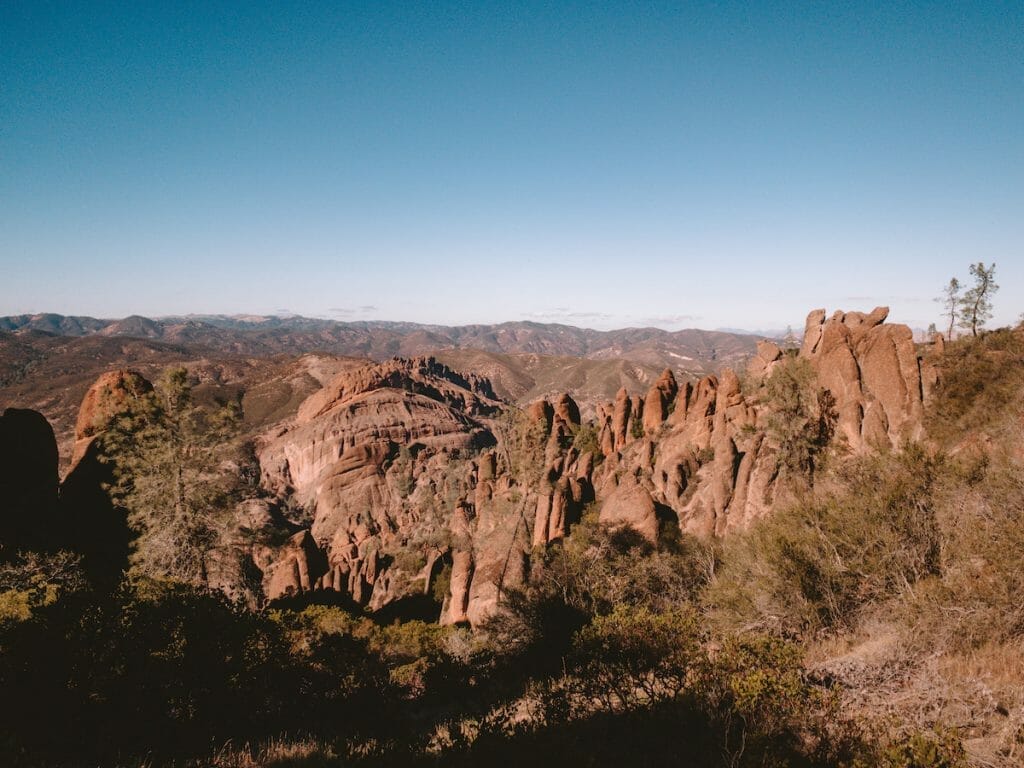 Key information about this hike
Trailhead: Bear Gulch Parking Lot (or Pinnacles National Park Campground)
End of the hike: Bear Gulch Parking Lot (or Pinnacles National Park Campground)
Length: 6 miles (8.3 miles if you start from the campground and end at Bear Gulch Parking Lot, and 10.6 miles if you start AND end at the campground)
Time: 4 hours (4hr 45min if you start at the campground, and 5hr 30min if you start and end at the campground)
Ascent: 580 m / 1900 ft
Difficulty: Intermediate. The uphill sections are all quite doable. The only tricky sections are the cave (if you're claustrophobic), which you can bypass, and the steep and narrow section of the High Peaks Trail. During the steep and narrow section, you'll be walking on small steps cut into the rock – you can find photos below in the 'My Experience' section.
Check out my Pinnacles National Park Guide here!
My experience on this Pinnacles National Park trail
We stayed at Pinnacles Campground the night before we hiked, so we woke up and headed straight from the campsite onto the Bench Trail. It added an extra 45 minutes to our hike, but the Bench Trail to the Bear Gulch Parking Lot starts off more like a walk. It's very flat and so so beautiful, and then there's a final push up 300 ft to the Bear Gulch Parking Lot.
Once you get to the Bear Gulch Parking Lot, you'll follow signs for Bear Gulch and the Moses Spring Trail. You'll be on the Moses Spring Trail, but heading toward the Bear Gulch Cave. This section of the hike is beautiful and green – a stark contrast from your surroundings later on in the hike!
Once you get to Bear Gulch Cave, take out your headlamp – you'll need it! Bear Gulch Cave is a talus cave, which is formed by boulders that have fallen down, creating spaces – both big and small – to explore.
Bear Gulch Cave has an upper and lower section. The upper section often closes for bats to breed and raise their young. When we visited, in late November, the upper section was closed, but we still had an incredible time.
You can check if the caves are open by visiting the Pinnacles National Park website.
No matter how you make your way through the cave (or if you decide to bypass it), you'll want to follow the signs for the reservoir, which always has incredible reflections of the rocks above it. This is a great place to stop for a snack and some water.
From the reservoir, follow the signs for the Rim Trail, which will take you uphill to sweeping views of the valley below you. This section was one of my favorites – it wasn't overly uphill, but you were rewarded with the a great view.
After 0.4 miles / 0.6 km, you'll turn left onto the High Peaks Trail. This is where you'll start going up quite a few switchbacks, but there's nothing too challenging and you can take the uphill sections at a pace that makes it as hard/easy as you'd like it to be.
We passed by big slopey rock towers that made me feel as small as an ant. These were the classic, iconic Pinnacles views, and they were breathtaking. I had totally underestimated this national park.
After the final switchbacks, you'll have made it to Scout Peak, which sits at 2605 ft / 795 m! From here, make sure you follow signs for the High Peaks trail and not Juniper Canyon Trail. You'll dip down in elevation just a tad before then reaching the Steep and Narrow Section.
The Steep and Narrow Section is a really fun part of the trail that is, indeed, steep and narrow. You'll be walking up steps that are small and cut into the rock itself, but there are always chains where you might need them for extra balance.
As we came down the Steep and Narrow section, we were able to spot a condor! Pinnacles National Park is actively trying to help with condor recovery and protection, so this was very cool to see. These birds are HUGE – their wingspan can reach 10 feet!
Continue along the High Peaks Trail, where you'll get more breathtaking views of the Pinnacles rock formations and dips of the valleys beside you. STUNNING.
You'll eventually reach a fork in the road, where you can either continue straight or turn right to the Condor Gulch Trail. Turn right onto the Condor Gulch Trail! The Condor Gulch Trail, isn't anywhere near as spectacular as the trails you've just finished, but there are pretty decent views your entire way down, and it's a very gentle descent, which is always a welcome treat! You'll slowly descend over 1.7 miles / 2.7 km and end back at the Bear Gulch Parking Lot.
We were pretty tired by this point, so we decided to take the free shuttle back to the campsite, where we lazed around in the sun, napped, and read until dusk. We started a fire, got our dinner and s'mores ingredients out, and had a perfect evening.
This hike blew me away and left me hungry for more Pinnacles exploring! This national park is absolutely amazing, and this hike is a great tour of the best sights in Pinnacles.