Australian Base Camp is definitely one of Nepal's best-kept secrets. This hike can be completed in one day and brings you through the Annapurna foothills to an incredible viewpoint of the Himalayas. It's an incredibly accessible hike, as it doesn't require a TIMS card or ACAP permit. While it's easily a half-day to day hike, I actually recommend spending the night at Australian Base Camp to experience the sunrise over the mountains. Here's everything you need to know about the Australian Base Camp trek!
How to get to the trailhead
From Pokhara, head out to the Baglung Bus Park. This isn't the tourist bus station, which you might have arrived at if you took a bus from Kathmandu to Pokhara. I'd grab a taxi to Baglung Bus Park, as it's farther out from Lakeside and takes around an hour to walk to.
From the Baglung Bus Park, hop into a bus going towards Phedi. The bus park is often busy and lively, with buses taking off and people shouting the destinations from the busses. Personally, I find the easiest way to find the right bus is just walking and asking around. I've always found people incredibly helpful and friendly. The bus costs a few hundred rupees.
Within 20 minutes of being on the bus, you'll start to see faint outline of the mountains. As cheesy as it sounds, when I saw the mountains, I nearly cried. They're incredibly stunning and I've always felt so at home in Nepal's mountains.
You'll arrive in Phedi, a small roadside town, in about an hour. I found the trailhead and was not surprised to see stairs. Lots of stairs.
You may like: The Ultimate Guide to Backpacking Nepal
The Australian Base Camp Trek
There are QUITE a few stairs to start your trek out on and honestly, when doing this, I felt SO out of shape. The hike starts out pretty steeply and I had to stop every couple hundred to catch my breath. I wondered how on Earth I was able to complete all of the trekking I have previously done, but I slowly made it up, and the views are always worth it.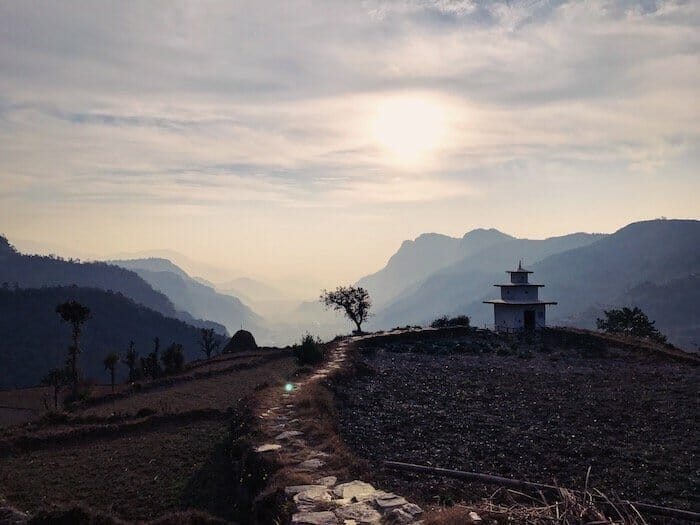 Towards the end of the initial staircase, you'll come across an agricultural area. As I walked by countless farm houses, I was met with so many people greeting me with warm namaste's. Because this trek isn't that popular compared to the other Annapurna hikes in the area, you get a peek into real life in the Annapurna foothills.
Continue to walk up more stairs and hills, and just outside of a town called Dhampus, you'll get your first view of the mountains. I stopped for breakfast with a view, then continued on my way. I recommend stopping for a tea wherever you find a good view, as this hike is really short!
This hike is a really lovely way to start a day. I left Pokhara at 6:30 am, and by 11:30, I had already settled into my teahouse in Australian Base camp. I contemplated leaving the same day, but decided to spend the night so I could see the sunrise the next morning.
The mountains were clear until around noon, but as the afternoon fog rolled in, visibility got worse. I spent the rest of the day writing, doing yoga, and enjoying the view and being in the Himalayas.
Like trekking in Nepal? You may want to check out my posts on
Sunrise at Australian Base Camp
The next morning, I woke up to a beautiful sunrise lighting up the mountains. I HIGHLY recommend spending the night. The sunrise is magical- one of the best ones I've seen! There was an incredible mix of reds, oranges, and pinks melting into the cool blue hues of the Himalayas.
Once you've had your fill and have packed up, start walking towards Kande. It takes roughly 30 minutes to get there from Australian Base Camp. In Kande, you'll catch your bus back to Pokhara. The buses don't really have a set schedule, so ask around and you'll find out when the next bus leaves for town.
It took about 2 and a half hours to get from Australian Camp to Pokhara, including the time I spent waiting for the bus.
The entire trek can definitely be done in a day; it's a quick one! But as I've said before, I would spend the night for the sunrise!
It's also one of the more affordable treks in the Himalayas because its such a short one. The entire two days cost me about 2000 rupees, about USD $18. It's definitely more expensive than living in Pokhara for two days, but for a quick escape to the mountains? Not bad. Also, you can cut costs by NOT stopping for breakfast nor spending the night.
If you're in Pokhara and feeling a desire to see the mountains, Australia Base Camp is the way to go. It's the perfect weekend getaway.
Back in Pokhara from Australian Base Camp
Once you're back in Pokhara, there's so much to do! I love getting a hearty meal after a trek, and Pokhara's lakeside has some amazing places to eat. Here are the best restaurants in Pokhara – one of my favourite dishes in the world can be found here.
Looking for things to do? Here's what to do in Pokhara, Nepal.
You may also want to check out my Pokhara itineraries.
---
Like this post? Pin it!