Annapurna Base Camp is one of my favourite treks in Nepal. It's one of the easier ones, but you're still rewarded with incredible views. The Annapurna region is popular with trekkers, and there's no question why. I loved it so much I've done it twice! Here's everything you need to know the ABC Trek, including an Annapurna Base Camp Trek Itinerary!
I've already blogged about my experience doing this trek (which you can read here), although that was exactly what I posted: my experience. It's also one of my first posts and it's incredibly embarrassing. This post will be much more in depth, and hopefully more helpful!
Basic Facts
This trek is an absolutely stunning one. This trek is also sometimes referred to as the Annapurna Sanctuary Trek. You'll have incredible views of the Annapurna Range for most of the way up. This trek can also be tacked onto the end of the Annapurna Circuit.
Annapurna Base Camp Trek Distance: 64 miles
The best time to trek: April to May and October to December
Accommodation: tea houses
Food and Water: buy meals from teahouses (but bring water bottles and either a water filter or purification tablets). My go-to way to get water is either my Sawyer filter or my Lifestraw.
Guide or no guide?: You could easily do this trek independently, but a guide would be good to have if you have little mountain or altitude experience. Make sure to tip your guide 15% of the trip cost and 10% to porters!
Annapurna Base Camp Trek Difficulty: this is a moderate trek. It's not that it's very difficult (the terrain is fine but there are lots of steps!), it's the altitude that gets people.
Annapurna Base Camp Altitude
Acute Mountain Sickness: This is a high altitude trek that can be problematic for some. Unfortunately, altitude affects everyone differently. Be aware of how you feel and always go to a lower altitude if you're feeling unwell. Try not to go more than 500m higher every day (past 3000m).
Annapurna Base Camp Trek Cost: Trekking prices can be found in this post, and I've stated what some of my bills were in the blog portion of this post.
YOU MAY LIKE: My Experience Trekking to Everest Base Camp (twice!)
Annapurna Base Camp Trek: 7 days
This Annapurna Base Camp itinerary takes 7 days. There's an alternative itinerary below that takes less time.
Day 1: Jeep to Nayapul and Trek to Ghandruk
This is the traditional way to do the trek, however, if you're running short on time (or want to cut down on trekking), you can take a jeep to Kimche. The itinerary for this is below. You could cut your trek down to six days if you do this (but you'll need to be mindful of altitude).
Time: 5-6 hours, 1950m
Day 2: Ghandruk to Upper Sinuwa
Time: 5-6 hours, 2360m
Day 3: Sinuwa to Deurali
Time: 6.5 hours, 3200m
Day 4: Deurali to Annapurna Base Camp via Machhapuchhare Base Camp
Time: 4-5 hours, 4200m
Day 5: ABC to Bamboo
Time: 5-6 hours, 2350 m
Day 6: Bamboo to Jhinu Danda
Time: 4-5 hours, 1800m
Day 7: Jhinu Danda to Siwai, Jeep to Pokhara
Time: 4-6 hours
Annapurna Base Camp Trek Itinerary: 6 Days
DAY 1: Kimche to Chomrong
Our goal was to complete Annapurna Base Camp and come back to Pokhara for Holi. To ensure we had enough time to finish the trek, we started walking as far along the trail as we could get. That's Kimche! You could start at an earlier place, but I don't think the start of the trek is anything special and I'd recommend getting a jeep to Kimche.
Getting to Kimche
We decided to split a jeep amongst the three of us. A jeep to Kimche is 4800 rupees. This is definitely expensive, but it's also a REALLY comfortable way to get to the start of your trek. I recommend it! It saves a day of trekking and is very efficient! It's also way cheaper than the cost of a guide and porter. Try to split a jeep amongst a couple people to reduce the cost.
We had a cup of tea after arriving and got moving!
I found this day to be quite hard, as I was finding myself really out of shape, struggling to get up the steep stairs as quickly as my friends. I was out of my trekking groove. There was a fair bit of steep uphill, but the toughest part was definitely the mental aspect. I always find the first day of a hike the toughest anyway.
It took us about seven hours to walk to Chomrong.
In Chomrong, we stayed at the Mona Lisha (not a typo) Guesthouse, and took not one, but TWO, trips to the German Bakery for hot chocolate.
The Mona Lisha offers hot showers for 100 rupees.
The room itself was 100 rupees. It was super clean and it had the most wonderful view of Macchupuchre, Annapurna South, and Annapurna I.
My total bill (breakfast, dinner, & a room) was 690 rupees (just under USD $7).
DAY 2: Chomrong to Dovan
You start the day by descending down MANY of Chomrong's iconic stone steps. It feels great to go downhill, but just remember, you'll have to go back up them!
This day was much easier! After getting a feel for my breathing, the steep uphill after descending from Chomrong was not too terrible!
After Upper Sinuwa, the trail levelled out a bit, which made our pace much quicker. There's one steep descent and then ascent in between Upper Sinuwa and Dovan, but it isn't too tough nor long a day. We left Chomrong at 9:30 am and reached Dovan by 2:30pm, with a stop in Upper Sinuwa for lunch.
I had a hot shower in Dovan and it was the hottest shower I've had in Nepal! Dovan gets quite chilly, but the teahouse provided really warm blankets to throw on top of our sleeping bags. A room was 200 rupees and there was a noticeable increase in food prices.
My total bill (including the room and 200 rupee shower) was 1250 rupees.
DAY 3: Dovan to Deurali
This was a really easy day (relative to the past two days)! The uphill bits were quite gradual, and the sun was shining! It was beautiful and wonderful and the entire walk was full of stunning views of the Annapurnas and Macchupuchre.
India and I decided to stop at Deurali, but Ayden kept going up! We could have potentially made it to Annapurna Base Camp this day but we didn't want to rush through the trek (and we were moving much quicker than we had anticipated). Altitude issues were another thing that encouraged us to stop for the day. We left at 7:15 am and arrived by 10:40 am.
It was really cold at this elevation, and it started snowing really heavily. Microspikes are helpful from here on (if there is snow). We heard that ABC had five feet of snow and that it was -17 degrees out!
DAY 4: Deurali to Annapurna Base Camp via Machhapuchhre Base Camp
What a wonderful day! The walk from Deurali to ABC is quite gradual, but you start to feel the effects of the altitude, especially on your breathing.
There was a lot of snow on the ground, which made the trail slippery, but the ascent was so beautiful and it wasn't a hard day.
ABC is really cold, so wear your warmest layers! ALSO wear sunscreen (I got very sunburnt).
We spent the rest of the day and night meeting wonderful people, playing cards, and watching people drink a little too much raksi (I avoided it due to a not so wonderful experience with it).
Just like the last time I was at Annapurna Base Camp, the people you meet up there really make the trip. It was an absolutely wonderful time (even when we thought the storm was going to get us stuck at ABC for 5 days).
DAY 5: Annapurna Base Camp to Chomrong
Luckily, the skies were clear enough for us to leave the next morning without a huge risk of avalanches. After watching the sunrise, we headed down towards sea level. There were about two feet of freshly fallen snow (on top of more snow and ice), so walking back to Deurali was a little tiring and challenging, but it was a really fun walk, as spirits were high.
From there, it was slippery in the slush, but past the town Himalaya, the snow had melted. It was a long day of trekking (mostly descending except for two steep ascents).
It was a tiring day that made our muscles sore, but the promise of hot showers at Chomrong propelled us through the slight rain and exhaustion.
We had our last morning waking up to the mountains here.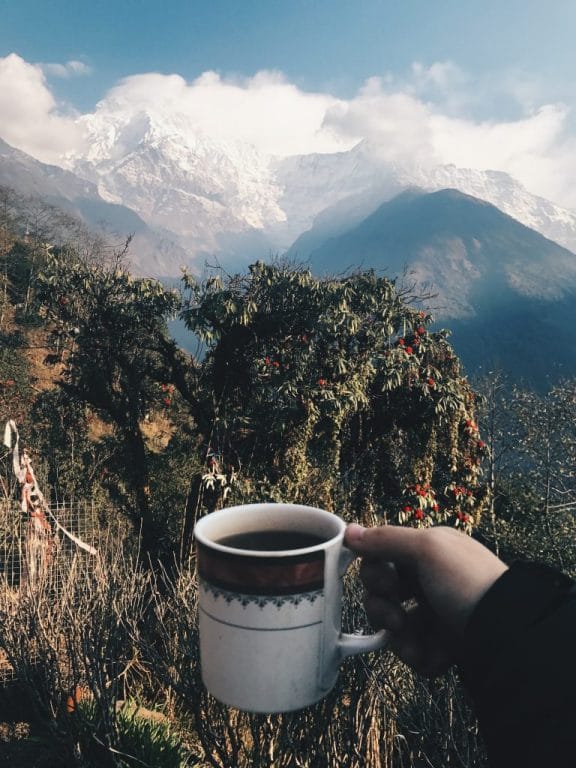 DAY 6: Chomrong to Siwai via Jinu Danda
It's one hour downhill to Jhinu Danda. If you're feeling like a soak, stop here! It takes about thirty minutes to walk down to the hot springs from Jinu Danda.
There's a photo of the hot springs in THIS blog post.
My favourite day was this day! There was a fair bit of up and down, but the memories of walking the exact same path last time I was there put me into a mood that just pushed me to keep going.
From Siwai, we caught a 350 rupee bus back to Pokhara, and that was the end of our wonderful week in the Himalayas.
---
Like this post? Pin it!