This was definitely one of the wildest and most incredible treks I've ever done. If you have the chance to go trekking in Mongolia, don't miss out on this one. Here's how we did it on our own.
At the beginning of July, I mentioned that I wanted to explore and go trekking in Mongolia. There's so much to do in Mongolia, from horseback riding to mountain biking to the Gobi desert. It's a place travellers often overlook, and I was absolutely set on visiting.
So I made it happen.
I had always dreamed of hiking through the barren depths of Mongolia, exploring as if I was the first to ever see the land before me. Something about Mongolia just screamed 'adventure' and I knew that a wilderness trek was what I wanted to do. The Altai Mountains trek is the trek I decided to do, and boy, is it a treat.
The Altai Mountains are where Mongolia, Russia, China, and Kazakhstan all come together. There's some trekking and mountaineering there, though the region isn't particularly crowded with tourists. As we did research on this trek through the Altai Mountains, we realised that there wasn't too much information out there. This guide covers everything we needed to know about Altai Mountain trekking (and what we wished we knew ahead of time).
How We Got to Western Mongolia
Phil (from my Chinese school) and I met back up in Ulaanbaatar, Mongolia, and then flew out to Western Mongolia, more specifically, the Altai Mountains! The Altai aren't super touristy because you can only get there by either A) a 60-hour bus journey on unpaved roads or B) an expensive USD $150 flight.
Because we were on a tight schedule, we chose to fork over the money and fly. We flew into Ulgii (also called Olgii), the capital of the Bayan-Ulgii Province. Don't be surprised when you arrive; the capital city is, at best, a small town. Mongolia travel is unlike anything else. This town reminded me of an old-timey American cowboy town with its barren roads and one general store. It was so unexpected and I loved it.
The Altai Mountains Route
We chose to do a 7-day trek along a lake, over a pass, and to the glacier. We followed a river the entire time, so bringing water wasn't a problem. I carry a Lifestraw so I don't have to use plastic water bottles (responsible travel is important!) Some people also do this trek but instead of walking, they're horseback riding – if you're looking for riding tours or trekking tours, make sure to do your research to find a reliable company.
Sidenote: If you want more details on my route/camping spots, email me and I can send you GPS coordinates.
Trekking in Mongolia Without a Guide?
The trek looked relatively easy to navigate, and we thought it would be fun to have the challenge of trekking in Mongolia alone with nothing but nature. I would NOT do this as a solo person, and I would not recommend this for people who aren't experienced in the outdoors.
How wise is it to trek alone in Mongolia, if it's possible at all?
It's definitely possible but it requires a lot more prep work than if you had joined a tour. I'd say you need to be able to navigate (as there are no roads or towns), and you need to have experience backpacking without a guide. That being said, I highly recommend going with at least one other person to be safe.
Because we didn't want a guide, we had to pay USD $200 for a Spot Messenger. This was required to get our park permits. If you DO want a guide, it shouldn't cost much more. I'm actually really glad there's this requirement, as it's dangerous to be in the wilderness alone, especially when there are zero marked trails around you, and because the trek is near a tonne of country borders that you don't want to accidentally illegal wander over.
We organised everything at The Traveller's Guesthouse in Ulgii, where we stayed in gers. It was really lovely there and they were so helpful with helping us organise the trek.
Getting to the Start of the Altai Mountains Trek
Transportation to the actual start of the trek is EXPENSIVE. At first, I didn't understand why, but as soon as we started driving, it made sense. You're driving into the middle of nowhere, along nonexistent roads. Your driver needs to be familiar with the area, as there's no signal; he needs to be a relatively skilled driver, as you're driving through mountains and rivers; the driver needs to spend a night at the drop off station, as it's too dangerous to drive in the dark, and the drive is about 5 hours (if you're lucky- it took us 7 hours to get there and 4 to get back). We paid around $160 for our drop off and pickup. All things considered, this is a very reasonable price.
The drive is also the bumpiest journey I've ever taken. The ceilings are padded (for good reason). We took an old Russian van there, and a jeep back. The jeep was significantly less bumpy, but I still caught air.
7 Days of Altai Mountains Trekking
Day 1: Starting between Khurgan Nurr and Khotan Nurr
We were dropped off at the Ranger Station in between Khurgan Nurr and Khoton Nurr (two lakes), by the bridge. We walked up the West side of Khoton Nurr. Walking along the Eastern side is slightly shorter, but apparently a little less scenic.
We camped along the lake. I thought it would be warm (don't make the same mistake), as the days were blistering hot, and the lady who gave us rental gear gave me a sleeping bag as warm as a sheet (AKA not warm at all). It was cold. Very cold.
It also rained.
Day 2
We continued walking up the lake. It was still raining, but it was beautiful despite the weather!
We camped at the end of the lake, in a beautiful spot semi-shielded from the wind. The only downside was the mosquitos. Bring repellent, as they were HUNGRY. Trekking in Mongolia is beautiful, but sometimes brutal.
Day 3: The Best Camping in Mongolia
It rained really hard and was frigid. I was in a bad mood. At the end of the lake, continue straight until you hit the ranger station. The road will split; take the left path along the river. The weather started to clear up, and I cheered up as soon as I got warm and saw the beautiful mountains on either side of me.
It rained again at around 2 pm. It was a full on storm and there was tonnes of hail falling. The hail felt like getting hit with hundreds of BB gun pellets, and I had bruises on my legs from it : – ) Again, trekking in Mongolia = sometimes brutal.
We ran towards a big boulder to shelter ourselves, and I was actually screaming from the pain of the hail the entire time we were uncovered. We decided to quickly set up our tent and call it a night. Our hands were absolutely frozen, and we struggled to use our fingers because they were so cold and numb.
After about 2 minutes in the tent, the storm passed like it hadn't even happened, opening up the skies to bright blue skies. We spent about half an hour laying out in the sun and drying our very wet belongings, then continued to hike.
We camped in the valley, by a pond. This was my favourite camping spot. It was gorgeous and I went for a bath in the cold water.
Day 4
This day is beautiful! There's a lot of up and down, but the views are INCREDIBLE.
Wear STRONG DEET, as the mosquitos come at you in SWARMS. The 20% DEET mosquito repellent I had couldn't stop them from attacking us.
Knowing when to turn towards the pass was a little difficult, but it's when the VERY faint trail starts to turn right and go uphill. Camp before the pass. We camped on the trail going up to it, and it was our coldest night. We woke up with ice on the outside of our tent.
Day 5: The Pass and Mongolian Nomads!
The pass! The pass is a whole lotta uphill, and a whole lotta beautiful views! It's quite steep going up, and the trail ends at the top.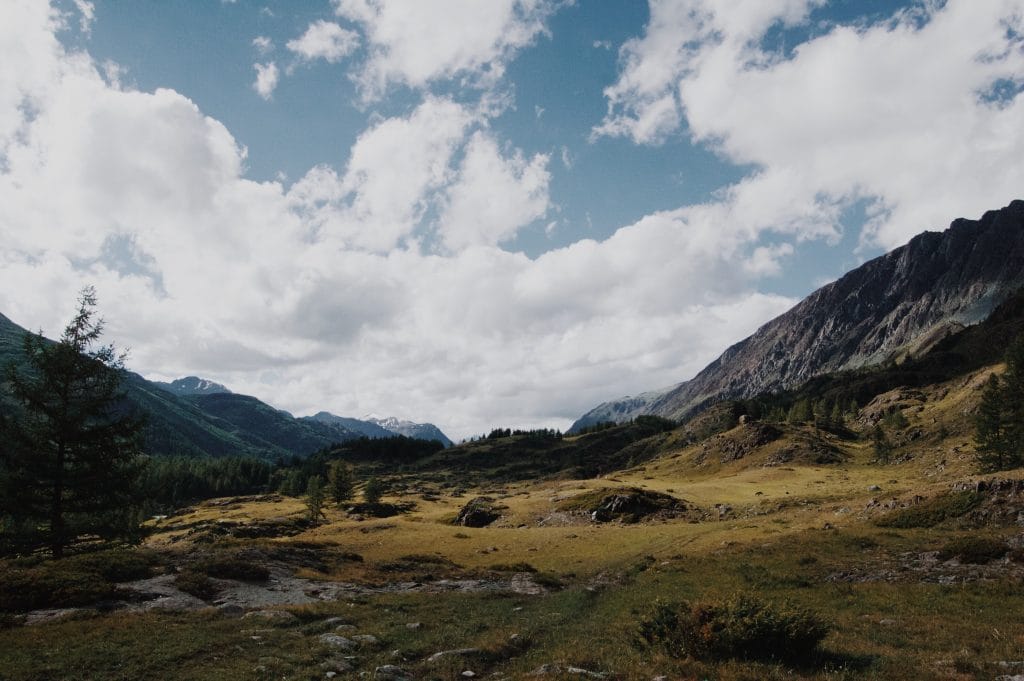 We followed the horse poo but went the wrong direction. If you aren't absolutely knackered, turn left at the top until you get to the edge of the mountain. There's the most amazing view of the land below you.
If your knees are aching (my old lady knees were KILLING ME), continue straight down.
You'll go down an incredibly steep bit (be careful, I fell a lot), and then go into a valley where there are a few gers that belong to nomads and their livestock. We camped in the middle of their grazing fields (with their permission).
The only other people we saw on our trek were local nomads, which we thought was incredible. It really enhanced our understanding of modern life in Mongolia and we found it so fascinating that they were still thriving using their ancient methods.
Day 6: Staying in a Mongolian Ger
We walked along a plain, saw some nomads moving, and then continued into another valley. We stopped near a military base for the night. There is a nearby set of gers, and we got to stay in one! It shielded us from the wind, which was a fantastic surprise, but it rained in the middle of the night, leaked through the roof, and our stuff (sleeping bags included) got wet.
That being said, it was really cool to stay in a real ger, and it was an amazing experience.
Day 7
We continued walking along the river and got out of the valley, and FROZE. The wind really picks up here. We made our way to the glacier (very beautiful and you're basically in Russia!), then crossed over to the North gate, our pickup spot.
It's WINDY here. The cold, lack of sleep the past five nights because of the cold, and pain in my knees and feet made me cry. I hate to be a crybaby but I was SO worn down. Despite the tears and frustration, I was having fun, and the most amazing views were 100000% worth it.
Day 8
We were picked up in a jeep and taken back to Ulgii, where we were greeted with laundry service, food other than lentils, rice, and bread, and HOT SHOWERS.
What to Pack for Trekking in Mongolia
It's best to buy all of your food and gear in Ulaanbaatar (UB) before you arrive here. A lot of people go trekking in Mongolia, so you should be able to find backpacking-friendly foods and gear. We found quite a bit at the Black Market.
You'll definitely need a down sleeping bag, rated for at least 3 seasons, and layers. Whilst you'll be sweating during the daytime, nights are below freezing.
Important Things to Know Whilst Trekking in Mongolia
It rains often.
You might get stuck and have to cross a waist-deep river. This might be an hour detour.
Hail hurts more than you'd think.
Mosquito repellent is a necessity.
You will tire.
You will step in a lot of poo.
It is very cold at night.
Your feet will never be dry.
And… I'll say it one more time. Trekking in Mongolia is sometimes brutal, as it's just you and the elements, but it's all 100% worth it.
---
Trekking in Mongolia is truly something special. The views are absolutely stunning, and the scenery, along with the lack of any other self-trekkers, was truly unlike anything I'd experienced before.
Like this post? Pin it!