Want to see all of the highlights of Rajasthan?! Here are my favourite places to go within 2 weeks.
Rajasthan is an absolutely magical region of India. I absolutely loved every moment spent there! We packed in as many cities as we could within two weeks and I'm so glad we hit every place we did. Each city was so different from the last and while there was a quick pace to our travels, it was so worth it!
If you aren't about moving every couple days, you can totally skip a city or two to suit your travel style.
If you're travelling in Rajasthan, chances are, you'll fly into Delhi, so this itinerary begins there.
Day 1: Delhi to Jaipur (train)
Train travel in India is super easy. If you're looking for a no-hassle journey, choose a first class ticket. You'll be served tea, coffee, and breakfast if you have an early train. The carts are air-conditioned and it's a really convenient way to travel around India. If you're looking for more of an adventure, definitely take 2nd or 3rd class. After all, this train is only 5 hours! I found these classes much more interesting. It wasn't too hot when the train was moving, so I found it a fun way to travel.
Day 2: Jaipur
Check out the Amer Fort, wander around the city center, check out the handmade block print fabric that Jaipur is famous for, and have a tea/cold drink overlooking the Hawa Mahal.
Day 3: Jaipur
Spend some time at the city palace, and DON'T leave Jaipur without seeing Tiger Fort! This was the highlight of my Jaipur experience. On your way to Tiger Fort, stop off at the Royal Gators- it's absolutely stunning and it's not very touristy! Make sure to buy your bus tickets for the following day.
Day 4: Jaipur to Pushkar (morning bus)
Pushkar is a place that's often overlooked (with the exception of the months surrounding the camel fair), but I really enjoyed my time here! I won't lie, there isn't LOADS to do, but I loved people watching at the Holy Lake (STUNNING) and wandering around the market. The goods they sell here are unique to Pushkar and I wish I had bought some stuff instead of pushing it off- I never found the jacket I was after again!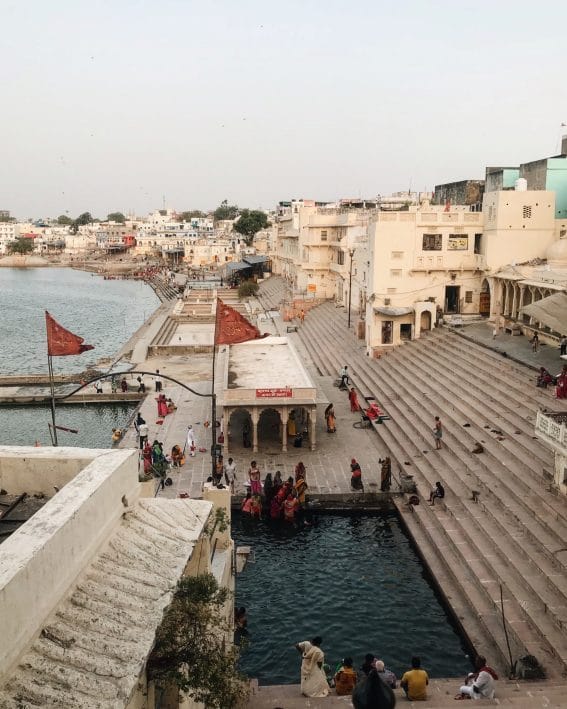 Day 5: Pushkar to Udaipur (taxi to Ajmer, train to Udaipur)
It's important to book a taxi at a reputable place with a STRICT meeting point. Because of the confusion surrounding the pickup point, Phil and I had a no-show taxi. So frustrating. We ended up having to take a rickshaw to Ajmer with very little time to spare (but our rickshaw driver was an absolute rockstar and got us there!).
Day 6: Udaipur
This is one of my favourite cities in India from what I've seen. Udaipur is nicknamed India's most romantic city, and I can totally see why. Try to book accommodation on the lakefront and eat at lakefront restaurants. I highly recommend going to the city palace- spend a couple hours there, as it is amazing!!! Watch the sunset from the park near the palace and walk along the promenade- it's the BEST sunset spot. There are millions of bats flying around and it truly is stunning.
Day 7: Udaipur
This would be a great day to do a cooking class, which is one thing I wish we didn't miss out on whilst in India. Also wander around and visit all the temples- there are loads in Udaipur!
Day 8: Udaipur to Jodhpur (bus)
Bus travel in India isn't bad. You drive mainly on the highway, which means minimal travel sickness. It's pretty comfortable!
Day 9: Jodhpur
Spend the day wandering through the alleyways of the old town, and then head out to Umaid Bhawan Palace. The museum is quite small, but I really liked looking at all of the old cars outside of the palace!
Day 10: Jodhpur
We chose not to go into the fort- it's quite expensive. All of the guidebooks and some tourists say you can go to the other side (not in the museum) to see the view for free, but the guards were super rude and told us we couldn't, and then waved loads of locals right by. This isn't uncommon according to some angry TripAdvisor reviews (which resonated with me!). It doesn't matter if you choose to go into the fort or not, because wandering around the fort to the back will put you into the Blue City! It is absolutely beautiful and definitely worth a visit.
Day 11: Jodhpur to Jaisalmer
Definitely spend your time in Jaisalmer walking around the fort and getting lost within it. It's easy to spend half a day doing this and it's so beautiful
Day 12: Jaisalmer Camel Safari
This is absolutely worth splurging on. I had the BEST experience and would recommend it to everyone. The camels are well taken care of and it's amazing.
Day 13: Jaisalmer to Delhi (overnight train)
Have a quick shower after the camel safari if you can- you'll probably have some sand stuck to you!
Day 14:  Arrive Delhi (morning)