Barcelona – a wonderful, vibrant city with so much to see and do! Here's a 2 day itinerary to see some of Barcelona's highlights, WITH budget tips, too!
Barcelona is an absolutely magical city, with stunning architecture, lively streets, and iconic sights. Whether it's your final destination or just a stop along the way, Barcelona is a must-see city. While it's easy to spend over a week in Barcelona, you can definitely see the highlights in a short amount of time. Here's my favourite way to spend 2 days in Barcelona!
2 Days in Barcelona Itinerary
This itinerary is jam-packed with my favourite Barcelona sights. If you want to enjoy the city slowly and avoid running around from attraction to attraction, it's easy to leave any of the sights out – this itinerary is totally customisable to what you want to do!
Day 1: Morning
Start your day out with breakfast. The Spanish typically have small breakfasts, usually a pastry or tostada and a coffee. There are plenty of places lining Barcelona's main streets that sell freshly baked pastries – I recommend grabbing one of these and a cafe con leche to kick start your day. I like to have busy mornings, packed with things to do when I'm freshest, and then take it easier in the afternoons, but if you like to wake up slowly, I've got some great breakfast recommendations in my Day 2 morning section.
Las Ramblas
After breakfast, head on over to the Columbus Monument. While Christopher Columbus is quite a controversial figure, which is understandable, the monument is a good landmark to help you find your way to the beginning of Las Ramblas!
Tip: If you have a backpack, make sure you carry it in front of you. If you have a purse, keep your hand over it! Las Ramblas is a busy, touristy street known for being a popular place for pickpockets to hang around unsuspecting tourists.
My Favourite Market in Barcelona
One of my favourite touristy sights in Barcelona is Mercat de Sant Josep de la Boqueria, commonly shortened to La Boqueria. It's a beautiful, lively market right off Las Ramblas that houses amazing fresh fruits and juices, ham, salami, fish, and veggies. There's quite a bit of prepared food for you to buy and walk around the market with. While touristy, this market is so fun to walk around – the fruit juices with coconut are my favourite!
When you're done touring around, keep walking up Las Ramblas. There's plenty to see around this super lively area, so I recommend taking your time walking up it! Something is always going on.
Walking up Las Ramblas, you'll come across plenty of cafes, restaurants, and souvenir shops. SKIP these – they're super expensive and way overpriced!
Afternoon
Grab a lunch near the end of Las Ramblas – there's loads to choose from around the area. If you're keen to eat paella in Barcelona, eat it now! Whilst loads of tourists grab it for dinner, it's traditionally a lunchtime food, so now's when you'll find the best and freshest paella around.
My Lunch Recommendations near Plaça de Catalunya
The Greenhouse: absolutely lush decor, full of greenery. The food has an emphasis on fresh flavours and healthy eating, though you should definitely try some of their sweet treats, too!
Brunch & Cake: brunch all day, baby! Here you can find comforting, delicious brunch foods, served until the evening. Be prepared to wait though, it's a super popular spot!
Flax & Kale: come if you're vegan or vegetarian! Even if you aren't, the healthy food is absolutely delicious and the flavours are bright in every dish!
Bloom: modern tapas meet traditional Spanish flavours. The paella set is especially well-loved, but don't miss out on some of their treats! Carrot cake? Yes, please.
Gaudi's Famous Houses
Some of my favourite architecture can be found in Gaudi's incredible houses.
Tip: Book your tickets ahead of time online so you don't have to wait! It's also cheaper by €3-4 to book online.
Casa Batlló, also nicknamed the 'house of bones' is a colourful, jaw-droppingly beautiful home. The exterior is amazing, but the inside of the home is even more stunning. Head up to the roof for even MORE beauty.
Admission: €25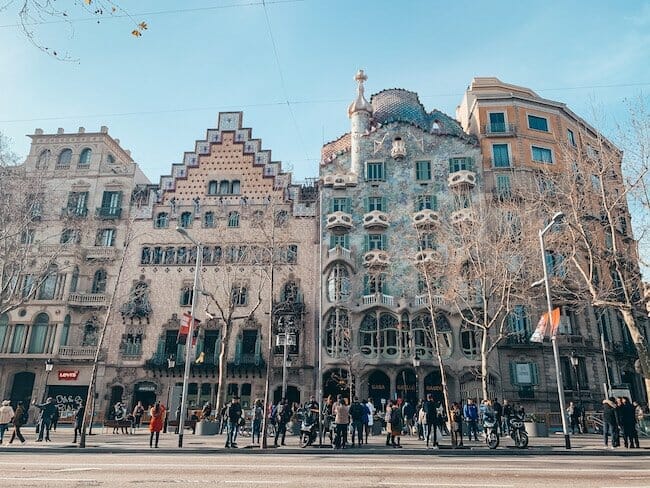 Tip: The best way to get a photo of the exterior of the home is to cross over the busy street!
Walk a little further up Passeig de Gracia, and you'll get to Casa Milà. Casa Milà, also called La Pedrera, looks slightly less impressive than Casa Batlló from the outside, but the interior of the home is incredible. The interior garden area is tall, beautiful, and otherworldly. Like Casa Batlló, the rooftop is lovely.
Admission: €24; €31 to skip the line. Audioguides included.
If you're looking for a Casa Milà experience like no other, consider taking the night tour, where you get a guided visit in the evening. It's one of the best unique things to do in Barcelona that's a little more private and intimate of an experience. These tours cost €34.
Churros & Chocolate
After all of that exploring, it's time for a little pick me up! While more of a Madrid delicacy, you can still enjoy some really delicious and well-made churros in Barcelona. And if you aren't keen on churros, there's always the hot chocolate! This isn't your usual hot chocolate – Spanish hot chocolate is THICK, creamy, and soooo decadent.
Here are some recommended places:
Granja La Pallaresa (Gothic area)
Xurreria Manuel San Román (Gothic area)
If you're looking to just wander, the best street for chocolate is Calle Petritxol, in the Gothic area.
Evening
Barcelona comes alive in the evening. Once the sun sets and the moon rises, people come out to drink, eat, play, and revive the city. The best way to experience Barcelona's evening scene? A food tour.
Tapas Tour & the Gothic Area
Ooooooh my. This is definitely the way to go if you want to find all of the best spots to eat. I recommend getting a tapas tour that takes you into the Gothic area and El Born, where the locals eat and the best underground places can be found! You can do this yourself by picking and choosing a selection of restaurants, order a dish or two before moving on, or you can take a guided tour.
Draw out your evening by hopping to multiple places, and make sure you get a drink everywhere you go. Spain is known for their wine and their vermouth, served neat.
As for food, don't leave Barcelona without trying their cured meats (hello ham & chorizo!) and their seafood (soo fresh!).
Day 2: Morning
First up, breakfast!
Recommendations: The Benedict Barcelona, Milk Bar & Bistro, Caravelle – all cosy and serve the best food!!!
After breakkie, I've got two options depending on how you're feeling.
First Option: Gothic Neighbourhood
Head on BACK to the Gothic Neighbourhood, where you can explore the alleyways and spend a little bit more time getting lost. Don't miss the Cathedral of Barcelona! I definitely recommend this option if you decided to skip out on the tapas tour. This neighbourhood is worth seeing!
Second Option: Barcelona's Promenade
If you've done a tapas tour or have already explored the Gothic Neighbourhood, head towards the sea. In the summertime, the beach is lively, loud, and energetic. In the winter, it's a little more peaceful and you can admire the views with fewer interruptions. Either way, head on over to the seaside and soak up the promenade. You can either walk or rent a bike!
There are also city bike hubs throughout Barcelona, where you can get a commuter bike for a few hours.
Afternoon
This afternoon is JAM-PACKED. If you want to linger a little bit, choose to skip at least one of these sights, or do one in the morning!
Parc Guell
Parc Guell is a colourful park that draws Gaudi fans from all over the world. Known for its incredible tiles and colourful towers, there's a great view from the park, and so many amazing things to photograph here.
Admission: €10
Casa Vicens
This is another one of Gaudi's houses. I find this house one of the most stunning – the bright red colour and unique architecture of the house are different from Gaudi's other works.
Admission: €16
La Sagrada Familia
You didn't think I'd have a 2 day Barcelona itinerary without the Sagrada Familia, did you?!
The best time to visit La Sagrada Familia, in my opinion, is the late afternoon when the sun shines through and spreads a golden glow around the church. La Sagrada Familia is one of the most jaw-droppingly beautiful cathedrals in the world, and I highly recommend visiting. The highlight to me is always the towers, which cost extra, but are so worth it.
Evening
After a full day of exploring, take an evening to slowly stroll around your newfound favourite parts of the city. Grab a great dinner, have a glass of wine (or two), and make memories of Barcelona to take home with you!
Barcelona Budget Tips for 2 days in Barcelona
If you want to see one of Casa Milà's courtyards without buying a ticket, the gift shop has a window where you can see quite a bit of it!
You can get inside the Sagrada Familia for FREE if you attend a service there. Services are held on Sundays at 9 am in multiple languages, but get there early! Admission is based on a first-come, first-serve basis!
Say on the outskirts of Barcelona – if you're looking for basic accommodation, the EasyHotel starts at around 20 euros per night! There are plenty of hotels in the area around the Gran Via 2 Shopping Mall – it's conveniently located and WAY more affordable than staying in the city centre.
Go to Parc Guell RIGHT after it opens or before it closes. There's a 10-15 minute window where park is open, but tickets aren't required because the 'attraction' isn't open.
Free Museums! Every Sunday after 3 pm, quite a few museums are free to the public! Every Saturday after 3 pm, the Museum of Cataluyna is free!
Thrift Shopping in Barcelona
Alright alright alright. Let's talk about something a little off the beaten path, but oh so fun.
The best area to go thrifting in Barcelona is near the Universitat Metro station. Oooh, baby, there's a lot around there! These are two of my favourites, one higher-end, one true, cheap thrifting.
Flamingo Vintage Kilo
This shop is a little pricer than the other one I mention, but it's so fun to rummage through. A LOT of clothes are sold by the kilo, so you can buy light clothes for a pretty great price. They also sell items that they've tailored or modernised, but these aren't by the kilo. This store is trendy (aka, you'll definitely find vintage Levi's here).
Hours: 11 am – 9 pm, closed Sundays
Addres: Carrer de Ferlandina, 20
Texas Thrift Store
Come here if you want to search through big bins and racks rilled to the brim with clothes. These clothes are sold SO cheaply – I'm talking around 2 to 15 euros. It's definitely the kind of place where you need to search to find something good, but every once in awhile, you'll find an absolute gem (sold at a great price).
Hours: 11 am – 9 pm, closed Sundays
Address: Carrer de Floridablanca, 152
The Best Time to Spend 2 days in Barcelona
Summer is definitely when most people visit Barcelona, with hot temperatures perfect for spending days at the beach. The downside? It can get TOO hot, and there will be the most crowds around now.
Spring and Autumn are fantastic times to spend a weekend in Barcelona, with temperatures in the low to mid-20s. The shoulder seasons are a lot less crowded!
Winter in Barcelona is so underrated. The city experiences really mild winters, with temperatures in the mid-teens. The upside to this is that there will be fewest crowds, AND prices are much more affordable now.
General Barcelona Tips
If you're going to visit the Sagrada Familia, get the tower tickets!
Don't pay for a taxi to take you from the airport to your hotel unless you have loads of luggage – the bus, train, and metro can get you anywhere you need to be!
Hold onto your personal belongings! Pickpockets are either really sneaky or really obvious. They'll trick you and distract you, OR they'll grab your phone and run. I got my phone stolen in Paris – not fun! Here are some tips on what to do if your phone is stolen in Barcelona.
Book attraction tickets online – it's almost always going to get you inside quicker (and often it's cheaper!)
Barcelona's thrift scene is amazing. If you like thrift shopping, this is the place to do it.
---
Like this post? Pin it!